What is Monel Metal?
Monel is a special metal that has been used in many industrial processes, such as chemical processing, oil and gas extraction, and naval engineering. Monel metal is an alloy of nickel and copper, with trace quantities of silicon, carbon, and manganese. The International Nickel Company alsa owns the registered brand Monel.
Manufacturer of Monel® Forgings, Monel Shafts Forging, Monel Forging Suppliers in Mumbai, India.
Monel Forging
Monel Forging is a process that involves the shaping and forming of Monel alloy to create a desired shape like, Forged Blocks, Forged Bars, Circles and more. It also involves heating the metal to a certain temperature and then rapidly cooling it to achieve specific properties. This process is essential for creating high-quality monel products that are corrosion-resistant, durable, and have excellent mechanical properties. However, the machinability and weldability of monel can be affected by the heat treatment process. Despite its challenging machinability, monel remains a popular choice for a variety of applications due to its excellent resistance to saltwater, acids, and other harsh environmental conditions. When it comes to weldability, it is important to choose the right welding method and parameter settings to ensure a strong, long-lasting bond. Overall, heat treatment plays a crucial role in the properties and performance of monel forgings, and proper care must be taken to ensure superior quality and performance.
Several varieties of Monel Forgings that Renine Metalloys offer's are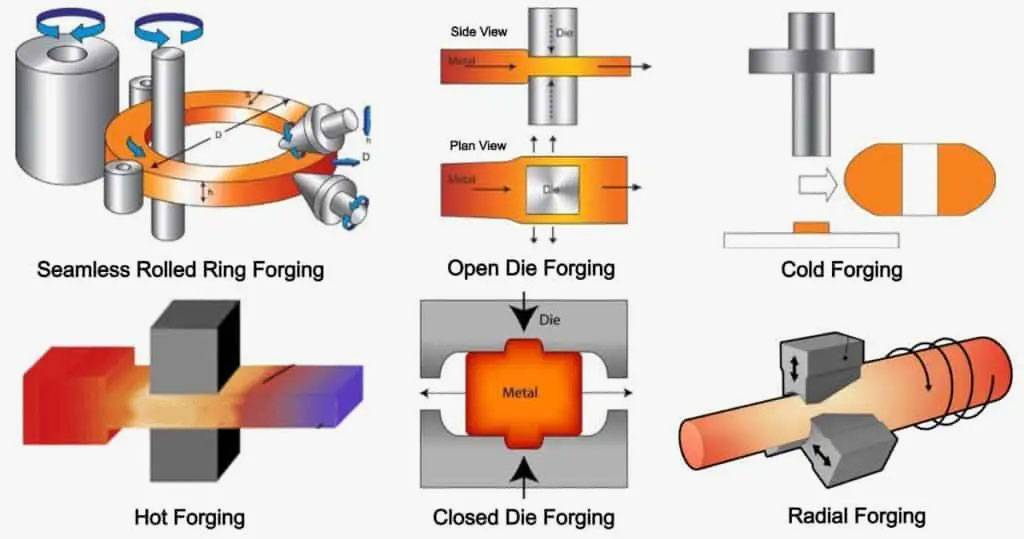 Monel Forging Temperature
The forging temperature is a crucial factor because it affects the metal's malleability and ductility throughout the forging process. The forging temperature depends on the type of metal being used, its chemical composition, and the desired final product.The forging temperature of monel is between 2150ºF (1175ºC) and 1200ºF (650ºC).
Applications of Monel Forging
Monel is a nickel-copper alloy that is resistant to corrosion and has a high strength-to-weight ratio.
It is often used in the food and beverage industry due to its resistance to corrosion from acidic foods and beverages.
It is used in the chemical industry for its resistance to corrosion from chemicals and its high strength-to-weight ratio.
Monel is also used in the marine industry for its resistance to corrosion from salt water and its high strength-to-weight ratio.
It is used in the oil and gas industry for its resistance to corrosion from oil and gas.
Monel is also used in the power generation industry for its resistance to corrosion from steam and its high strength-to-weight ratio
Monel Forgings, Monel Forgings Suppliers, Forged Monel Seamless Rings, Monel Forgings Exporters.
The exceptional properties and applications of this metal make it a reliable option for Monel Forging. Renine Metalloys company is a famous organization that is engaged in providing variety of Monel Forging
Now that You've got some Idea on Monel Forging, Contact us today and let's get the job done!
Monel Forgings Specification
Specifications ASTM B564 / ASME SB564
Flat bar blocks up to 27" width and 15,000 lbs.
Cylinders and sleeves up to 50" maximum O.D. and 65" maximum length
Discs and hubs up to 50" diameter and 20,000 lbs.
Rolled, hand forged or mandrel forged rings up to 84" maximum O.D. and 40" maximum length
Rounds, shafts and step shafts up to 144" maximum length and 20,000 lbs.
Grades Monel 400, Monel K500
Get Quote
Monel Material Properties
Monel Metal Composition
| | | | | | | | |
| --- | --- | --- | --- | --- | --- | --- | --- |
| Grade | C | Mn | Si | S | Cu | Fe | Ni |
| Monel 400 | 0.30 max | 2.00 max | 0.50 max | 0.024 max | 28.00 – 34.00 | 2.50 max | 63.00 min |
| Monel K500 | 0.25 max | 1.5 max | 0.5 max | 0.010 max | 27.00 – 33.00 | 0.5 – 2 | 63.00 min |
Monel Mechanical Properties
| | | | | | |
| --- | --- | --- | --- | --- | --- |
| Element | Density | Melting Point | Tensile Strength | Yield Strength (0.2%Offset) | Elongation |
| Monel 400 | 8.8 g/cm3 | 1350 °C (2460 °F) | Psi – 80,000 , MPa – 550 | Psi – 35,000 , MPa – 240 | 40 % |
| Monel K500 | 8.44 g/cm3 | 1350 °C (2460 °F) | Psi – 160000 , MPa – 1100 | Psi – 115000 , MPa – 790 | 20 % |
Explore the variety of forging materials we offer at Renine Metalloys
We are Suppliers and Exporters of Monel Forgings in Cities Like
Thane, Pune, Ranchi, Nagpur, Kanpur, Hyderabad, Pimpri-Chinchwad, Faridabad, Ahmedabad, Navi Mumbai, Chandigarh, Surat, Howrah, New Delhi, Noida, Gurgaon, Ernakulam, Bengaluru, Jamshedpur, Nashik, Visakhapatnam, Bhopal, Rajkot, Ludhiana, Chennai, Jaipur, Haryana, Kolkata, Thiruvananthapuram, Secunderabad, Indore, Mumbai.
We are Suppliers and Exporters of Monel® Alloy Forgings in Countries Like
Macau, Azerbaijan, Germany, Russia, columbia, Lithuania, Romania, Japan, Kenya, Hungary, Costa Rica, Denmark, Trinidad & Tobago, Lebanon, Algiera, Philippines, Australia, Italy, Egypt, Afghanistan, Yemen, Czech Republic, Pakistan, Portugal, Morocco, Vietnam, Bulgaria, Bangladesh, Oman, Sri Lanka, Ecuador, Gambia, Gabon, Brazil, Malaysia, Kuwait, Argentina, United Arab Emirates, Taiwan, Bolivia, Turkey, Zimbabwe, Estonia, Belarus, Austria, Netherlands, Mexico, Serbia, Greece, New Zealand, Nepal, Venezuela, Algeria, Poland, Saudi Arabia, France, Iraq, China, Hong Kong, India, Croatia, Spain, Qatar, Israel, Mongolia, Switzerland, South Africa, Lahore, Angola, Canada, Nigeria, South Korea, Ghana, Tunisia, Peru, Bahrain, Iran, Chile, Singapore, Sweden, Libya, Thailand, Namibia, United States, Tibet, Jordan, Belgium, Bhutan, Indonesia, Kazakhstan, Slovakia, Puerto Rico, Ireland, Norway, Ukraine, United Kingdom, Finland, Colombia.
Looking for forging parts manufacturers in India? Choose Renine Metalloys for reliable and efficient solutions. Contact us today to learn more and place your order.