Nitronic 60® Forgings, Alloy 218 Forgings, UNS S21800 Forgings, Nitronic 60 Stainless Steel Forgings, Nitronic 60 Forged Rolled Ring Suppliers, AMS 5764 Nitronic 60 SS Forgings, ASTM A193 Nitronic 60 Die Forging, Alloy 218 Machined Hot Forging Dealer, ASME SA194 Nitronic® 60 UNS S21800 Upset Forging Stockists in Mumbai, India.
Alloy 218 Forging Parts, Nitronic 60® Forging Flanges, UNS S21800 Seamless Rings Forging Suppliers, Alloy 218 Circle Forgings, Nitronic 60 Bars Forgings Wholesaler, UNS S21800 Forging Sleeves, Stainless Steel Nitronic 60 Forged Blocks Exporters.
Renine Metalloys is a known manufacturer of NITRONIC 60 Forgings, which is an anti-galling stainless steel that has excellent wear resistance. Alloy 218 Forgings exhibits very good self-mated galling and metal-to-metal wear resistance. UNS S21800 Forgings is found in a variety of high wear applications where galling and seizing are a concern. The increased 4 % silicon and 8 % manganese level inhibit wear, galling and fretting and makes NITRONIC 60 Forged Flat Bars fit for temperatures up to 1000 Degree C. Alloy 218 Forged Blocks subsequently has good high temperature properties for temperatures around 1800 Degree F. The uniform corrosion resistance of NITRONIC 60 Forged Circles is better than Type 304 in most media. The nitrogen is homogenous throughout Alloy 218 Forged Discs, where further they have about twice the yield strength of 304L and 316L.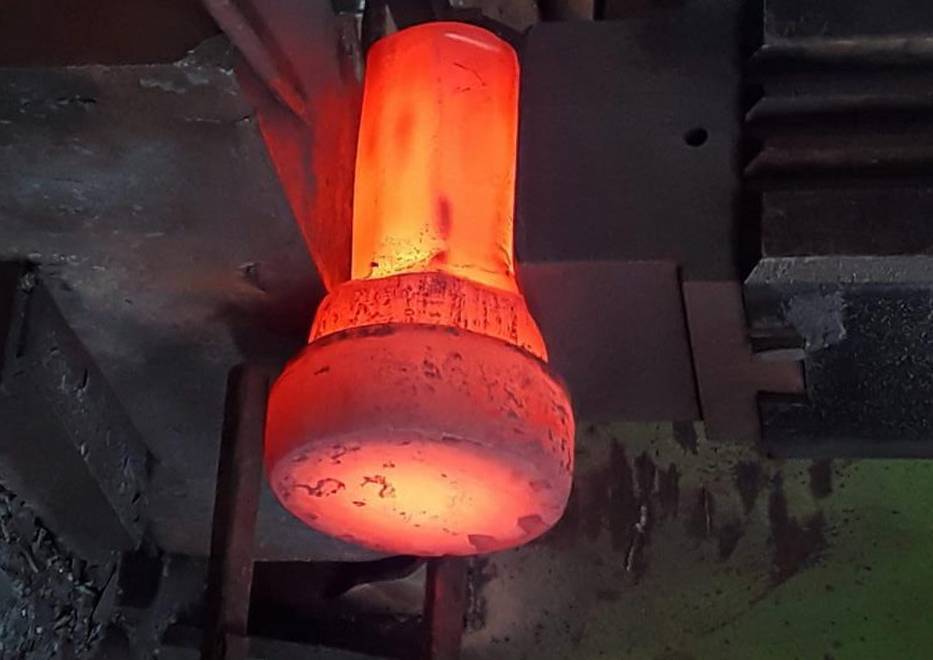 Nitronic 60 Forgings
NITRONIC 60 Forged Circular Plates provides a significantly lower cost alternative to combat wear and galling when compared with cobalt-bearing and high nickel alloys. As it has corrosion resistance better than 304, our Alloy 218 Forged Shafts also has pitting resistance better than 316. The high strength of these NITRONIC 60 Forged Seamless Rings is achieved through cold working. Our Alloy 218 Forged Hollow Bars has high shear strength, excellent cavitation erosion resistance and good high-temperature oxidation resistance. These NITRONIC 60 Forged Blocks will be considered where parts are in relative motion, under load without lubricants.
UNS S21800 Open Die Forging, Nitronic 60 Closed Die Forging, Nitronic® 60 Shafts Forging Traders, ASTM A193 Alloy 218 Hand Forgings Suppliers, AMS 5764 Nitronic 60 Forged Discs Forgings, Nitronic 60 Gear Blanks Forgings, Alloy 218 Circular Plates Forgings, UNS S21800 Nitronic 60 Forging Bushing Exporters.
Nitronic Alloy 60 Forgings Specification
Specifications ASTM A193, A194 / ASME SA193, SA194 AMS 5764
Flat bar blocks up to 27" width and 15,000 lbs.
Cylinders and sleeves up to 50" maximum O.D. and 65" maximum length
Discs and hubs up to 50" diameter and 20,000 lbs./p>
Rolled, hand forged or mandrel forged rings up to 84" maximum O.D. and 40" maximum length
Rounds, shafts and step shafts up to 144" maximum length and 20,000 lbs.
Get Quote
Nitronic 60® Forgings Equivalent Indian Standard
| | | |
| --- | --- | --- |
| STANDARD | UNS | WERKSTOFF NR. |
| Nitronic 60 | S21800 | - |
ASTM A193, A194 Alloy 218 Forgings Chemical Composition
Grade
C
Ni
Si
Mn
Cr
Mo
S
Nitronic 60
min.
-
8.00
3.5
7.00
16.00
-
-
max.
0.10
9.00
4.5
9.00
18.00
0.75
-
AMS 5764 NITRONIC® 60 Forgings Mechanical Properties
| | | | | |
| --- | --- | --- | --- | --- |
| Grade | Tensile Strength (ksi) min | Elongation (% in 50mm) min | Yield Strength 0.2% Proof (ksi) min | Hardness |
| Nitronic 60 | 105 | 35 | 55 | - |
Other Types of NITRONIC 60 (Alloy 218, UNS S21800) Forgings
NITRONIC® 60 Forgings, UNS S21800 Forgings, Alloy 218 Forgings, AMS 5764 NITRONIC 60 Stainless Steel Forgings Importers, Cheap Nitronic 60® Seamless Rolled Ring Forgings, AMS 5764 Nitronic 60 Flat Bars Forgings, UNS S21800 Forgings, Nitronic 60 Forgings, ASTM A193 Nitronic 60 Hub Forgings, ASME SA193 Nitronic Alloy 60 Blocks Forgings Exporters in Mumbai, Alloy 218 Stainless Steel Circles Forgings Traders, UNS S21800 Circular Plates Forging Suppliers, ASTM A194 Nitronic® 60 Forged Ring Forging Stockholders, Nitronic 60 Forged Discs Forgings, Nitronic 60 Alloy Custom Forged Shapes Forgings, Nitronic 60 SS Gear Blanks Forgings Dealers Maharashtra, Nitronic 60 Shafts Forgings, Nitronic 60 Sleeves Forging, Alloy 218 Hooks Forgings, UNS S21800 Forged Cylinders Forgings, Nitronic 60® Blind Hole Cylinders Forgings, Nitronic 60 Forging Billets, ASME SA194 Nitronic 60 Open Die Forging Manufactures in India, Stainless Steel Nitronic 60 Closed Die Forging, Nitronic® 60 Forging Rolled Rings, Nitronic 60 Upset Forgings, Nitronic 60 UNS S21800 Machined Hot Forgings, Alloy 218 Hand Forgings, Nitronic 60® Forgings Round Bars, Alloy 218 Forged Disks, Nitronic 60 Forging Bushings, NITRONIC 60® Forging Sleeves, UNS S21800 Forging Tube Sheets, NITRONIC® 60 Forging Pipes, NITRONIC 60® Hollow Bars Forgings, UNS S21800 Flanges Forgings.
We are Suppliers and Exporters of Nitronic 60 (Alloy 218, UNS S21800) Forgings in Cities Like
Australia, Aberdeen, Jeddah, Kuwait City, Moscow, Haryana, Granada, Kuala Lumpur, Sharjah, London, Baroda, Bhopal, Bangkok, Edmonton, Ho Chi Minh City, Howrah, Ludhiana, Vung Tau, Indore, Thiruvananthapuram, Milan, Jaipur, Cairo, Port-of-Spain, Chennai, Faridabad, Kanpur, Houston, Petaling Jaya, Algiers, Colombo, Dubai, Perth, Doha, Abu Dhabi, Muscat, Seoul, Gurgaon, Singapore, Lahore, Los Angeles, Hong Kong, Busan, Visakhapatnam, Toronto, Chiyoda, Santiago, Atyrau, Nagpur, Dammam, Dallas, Ranchi, Thane, Jamshedpur, Istanbul, Rio de Janeiro, Hanoi, Al Jubail, Courbevoie, Kolkata, Tehran, Geoje-si, Turkey, Montreal, Bengaluru, Calgary, Ahmedabad, Rajkot, Pune, New Delhi, Pimpri-Chinchwad, Hyderabad, Ulsan, Brisbane, Secunderabad, Nashik, Sydney, Navi Mumbai, Mumbai, Gimhae-si, Riyadh, Mexico City, Surat, Ernakulam, Ahvaz, New York, Karachi, Vadodara, La Victoria, Jakarta, Coimbatore, Lagos, Al Khobar, Bogota, Chandigarh, Caracas, Noida, Manama, Madrid.
We are Suppliers and Exporters of Nitronic 60 Stainless Steel Forgings in Countries Like
Ghana, Philippines, Argentina, Singapore, Bolivia, Bulgaria, Norway, Saudi Arabia, Finland, Serbia, Italy, Venezuela, Bahrain, Ecuador, United Arab Emirates, Nigeria, Sri Lanka, Israel, India, Malaysia, Kazakhstan, Ireland, Vietnam, Libya, Peru, Afghanistan, Denmark, Czech Republic, Chile, Bhutan, Bangladesh, Zimbabwe, Ukraine, Lithuania, Estonia, Gambia, United States, Jordan, Macau, Morocco, Portugal, Austria, Slovakia, Nigeria, Poland, Sweden, Puerto Rico, Netherlands, Kuwait, Oman, France, Belgium, Croatia, Romania, Indonesia, Poland, Canada, South Korea, Colombia, Germany, Trinidad & Tobago,Tunisia, Hungary, Switzerland, Mongolia, Gabon, brazil, Turkey, South Africa, Russia, Australia, cyprus, Spain, Hong Kong, China, mexico, srilanka, thailand, malaysia, New Zealand, Namibia, Egypt, Kenya, Chile, Lebanon, Yemen, Iran, Mexico, Iran, Thailand, Mexico, Nepal, United Kingdom, Costa Rica, Belarus, Greece, Taiwan, Brazil, Azerbaijan, Japan, Tibet, Qatar, Algeria.