Renine Metalloys is a known manufacturer of NITRONIC 60 Washers, which is used in marine environments including boat shafting and solid rod rigging. The uniform corrosion resistance of Alloy 60 Washers is better than Type 304 in most media.
Nitronic 60 Fasteners, UNS S21800 Spring Washer, Distributors of Nitronic 60 Stainless Steel Dock Washers, Alloy 218 Ogee Washers, ASTM A193 Nitronic 60® Washers, Nitronic 60 Plain Washers Dealer, Alloy 218 Industrial Washers Stockists, UNS S21800 Square Washer Suppliers in Mumbai, India.
Alloy 218 Washers may be heated to 2100 Degree F / 2300 Degree F (1150 Degree C / 1260 Degree C) as a start-forge temperature. Speeds and feeds similar to those employed with 316 or 317 stainless are appropriate in UNS S21800 Washers.
Nitronic 60 Tab Washers Wholesaler, Alloy 218 Tooth Lock Washer, DIN 125 Nitronic 60 Stainless Steel Flat Washers Exporters, UNS S21800 Star Washer Manufacturer, Alloy 218 Washers, ASME B18.22.1 Nitronic 60 Customized Washer.
Due to its grain structure, the galling resistance of NITRONIC 60 Flat Washers is superior to that of any other stainless steel. Galling of Alloy 218 Lock Washers is the tearing of metal surfaces which suddenly renders a component unserviceable. Other uses of NITRONIC 60 Sealing Washers include wear rails guides, plates, and bridge pins.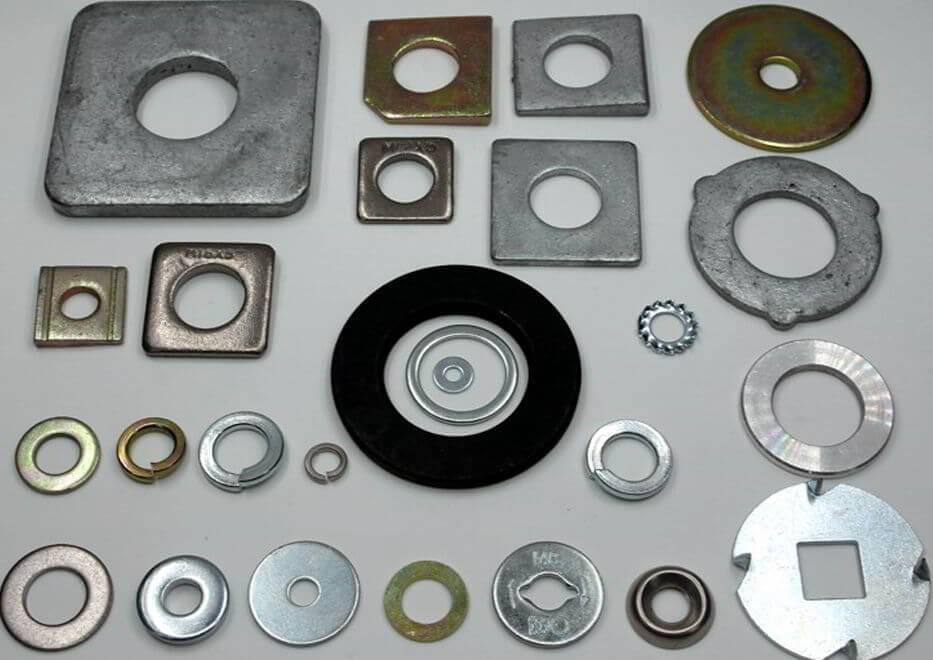 Nitronic 60 Washers
Higher strengths of Alloy 218 Split Washers are attainable through cold working the material and are still fully austenitic after severe cold-working. NITRONIC 60 Slot Washers differs from more familiar austenitic stainless steels in containing 8 % manganese and 4 % silicon. In common with most austenitic stainless steels, for example SS 304 and SS 316, our Alloy 218 Star Washers may suffer stress corrosion cracking in hot chloride ion containing environments. These NITRONIC 60 Machine Washers is an all-purpose stainless steel alloy, ideal for parts that require wear and gall resistance at a lower cost.
DIN 127 Nitronic 60 Stainless Steel Fender Washer, UNS S21800 Lock Washers, ISO 7090 Alloy 218 Hexagonal Washer, Nitronic® 60 Bevel Washers Exporters, Nitronic 60® Slant Washer, UNS S21800 Plate Washer Suppliers, Alloy 218 Countersunk Washers Traders.
Nitronic 60® Washer Specification
Standard ASTM A193 / ASME SA193
Dimensions DIN 125/127, ISO 7089/7090, ASME B18.22.1
Type Cold Forged, Hot Forged, Bar Stock Machined, Bar Stock Milling
Size M02 to M33
Length 3 mm to 200 mm
Get Quote
Nitronic 60 Stainless Steel Washers Equivalent Indian Standard
| | | |
| --- | --- | --- |
| STANDARD | UNS | WERKSTOFF NR. |
| Nitronic 60 | S21800 | - |
ASTM A193 Nitronic 60 Washers Chemical Composition
Grade
C
Ni
Si
Mn
Cr
Mo
S
Nitronic 60
min.
-
8.00
3.5
7.00
16.00
-
-
max.
0.10
9.00
4.5
9.00
18.00
0.75
-
ASME A193 Alloy 218 Washers Mechanical Properties
| | | | | |
| --- | --- | --- | --- | --- |
| Grade | Tensile Strength (ksi) min | Elongation (% in 50mm) min | Yield Strength 0.2% Proof (ksi) min | Hardness |
| Nitronic 60 | 105 | 35 | 55 | - |
Other Types of NITRONIC 60 (Alloy 218, UNS S21800) Washers
Nitronic 60 Fasteners, Nitronic 60 Washer, Alloy 218 Washer Suppliers, UNS S21800 Washers Exporters, ASTM A193 Nitronic 60 Stainless Steel Flat Washer, UNS S21800 Lock Washers, Nitronic 60® SS Finishing Washers, Alloy 218 Bonded Sealing Washer, Nitronic 60 Alloy Hillside Washers, Nitronic 60 Stainless Steel Belleville Washers, UNS S21800 Nitronic® Industrial Washers, Nitronic 60 Conical Washers, Nitronic 60 Round-Mall Washers, Nitronic® 60 Wave Washers, Nitronic 60 Fender Washers, Nitronic 60 Tooth Washer, Nitronic 60 Stainless Steel Internal Tooth Lock, Nitronic® 60 SS External Tooth Lock, Nitronic 60® Plain Washers Exporter, ASME SA193 Nitronic 60 Flat plain Washers, Nitronic 60® Square Washers Supplier, Alloy 218 Dome Plain Washers, UNS S21800 Countersunk Washers, Nitronic 60® Dock Washers, Nitronic 60® Ogee Washers, Alloy 218 Bevel Washers Stockist, UNS S21800 USS flat washers, Alloy 218 SAE flat washer, Nitronic 60 Split Lock Washers, UNS S21800 Spherical Washer, Nitronic 60 Spring Washer, Nitronic 60® Slant Washer, Nitronic 60 Stainless Steel Custom Washer Stockists, Nitronic 60 Star Washers Stockists, ASTM A193 Nitronic 60 Tab Washer, Nitronic 60 Double Tab Washers Traders, Alloy 218 one Tab Washers Dealer, Nitronic 60 Taper Washers, ASME SA193 Nitronic 60 Round Washers, UNS S21800 Square Plate Washer, Nitronic 60 Dome Tooth Washer Stockholder, Nitronic 60® Torque Washers, Supplier of High Quality Nitronic 60 Stainless Steel phenolic Washers, Manufacturer of Nitronic 60® split Washers Traders, Exporters of Nitronic 60 Special Washers, Nitronic 60® Hex Washers Dealer, Nitronic® 60 Customized Washer Stockholders, DIN Standard Nitronic 60 Washers, ANSI Standard Nitronic 60 Washer, BS Standard Nitronic 60® Washers, ISI Standard Nitronic 60 Washer, ISO Standard Nitronic 60 Washers.
We are Suppliers and Exporters of Nitronic 60 Washers in Cities Like
Ulsan, Sharjah, Manama, Perth, Jamshedpur, Turkey, Ahmedabad, Howrah, Hanoi, Aberdeen, Brisbane, Bhopal, Gurgaon, Gimhae-si, Nashik, Algiers, Montreal, Toronto, New Delhi, Hong Kong, Dammam, Edmonton, Hyderabad, Pimpri-Chinchwad, Nagpur, Jeddah, Surat, Lagos, Kanpur, Vung Tau, Colombo, Pune, Thane, Busan, Port-of-Spain, Chiyoda, Abu Dhabi, Calgary, Moscow, Madrid, Mumbai, Kolkata, Ludhiana, Al Jubail, Indore, Courbevoie, Houston, Navi Mumbai, Secunderabad, Caracas, Santiago, Atyrau, Chandigarh, Los Angeles, Doha, Cairo, Faridabad, London, Dallas, Lahore, Riyadh, Tehran, Kuwait City, Visakhapatnam, Haryana, Singapore, Ahvaz, Al Khobar, Ho Chi Minh City, Coimbatore, Bangkok, Sydney, La Victoria, Bengaluru, Noida, Rio de Janeiro, Muscat, Bogota, Australia, Thiruvananthapuram, Karachi, New York, Granada, Baroda, Chennai, Ernakulam, Vadodara, Milan, Mexico City, Ranchi, Kuala Lumpur, Seoul, Geoje-si, Jakarta, Petaling Jaya, Dubai, Istanbul, Rajkot, Jaipur.
We are Suppliers and Exporters of Nitronic 60 Washers in Countries Like
Oman, France, Chile, Russia, Hong Kong, Norway, Ireland, Croatia, Ecuador, Mexico, Algeria, Estonia, Switzerland, Iran, Poland, South Africa, Tibet, Turkey, Italy, Denmark, Japan, Bangladesh, mexico, srilanka, thailand, malaysia, Afghanistan, Azerbaijan, Austria, China, Costa Rica, United States, Kazakhstan, Morocco, Mongolia, Vietnam, Indonesia, Namibia, Argentina, Belgium, Libya, Lithuania, Peru, India, Kenya, Kuwait, United Arab Emirates, Romania, Nigeria, New Zealand, Trinidad & Tobago,Tunisia, Spain, Mexico, Bulgaria, Zimbabwe, Serbia, Puerto Rico, Malaysia, Israel, Gabon, Ukraine, Bolivia, Sri Lanka, Ghana, South Korea, Portugal, Philippines, Finland, Singapore, Bahrain, Sweden, brazil, Saudi Arabia, Greece, Qatar, Macau, Jordan, Egypt, Venezuela, Nigeria, Chile, Nepal, Brazil, Poland, Germany, Thailand, Belarus, Bhutan, Slovakia, Yemen, Taiwan, Canada, cyprus, Netherlands, Australia, United Kingdom, Hungary, Czech Republic, Iran, Colombia, Gambia, Lebanon.