Stainless steel plates are some of the most versatile and durable materials available. Not only are they extremely useful for a variety of purposes, but they also have a number of benefits that make them an attractive choice for a wide range of applications. Stainless Steel Plates come in a variety of grades and finishes. The most common grade is 304 stainless steel, which is typically used in food preparation and medical equipment due to its high level of corrosion resistance. Nickel Alloy Plates is another popular grade that offers better corrosion resistance than 304 stainless steel but is slightly more expensive. Other grades include 410 stainless steel (used in heavy-duty industrial applications) and 430 stainless steel (which provides good corrosion resistance).
Steel Industrial Plate Dealers, Hot rolled Plates Manufactures, Hot Rolled Steel Plates, Chequered Plates Exporters, Cold Drawn Plate Traders, Super Duplex Steel Plates, Diamond Plates Suppliers in Mumbai India.
The uses for Stainless Steel Plates are virtually limitless. They can be used in residential homes as countertops or backsplashes, in commercial kitchens as dishwashers or sinks, and even in industrial settings such as machine components or food processing equipment. The malleability of the material makes it easy to cut into custom shapes, so it can be used to create intricate designs like decorative wall panels or even sculptures. Inconel 600 Plates, Inconel 617 Plates and many more grades are also available.
ASTM A240 Austenitic Stainless Steel Plates Stockholders, Carbon Steel Plates, Monel Chequered Plates Dealers, Monel Alloy Plates, ASME SA240 Duplex Steel Diamond Plate Distributors, Aluminium Hot Rolled Plates, Alloy Steel HR Plates in Mumbai, SS Industrial Plate in India.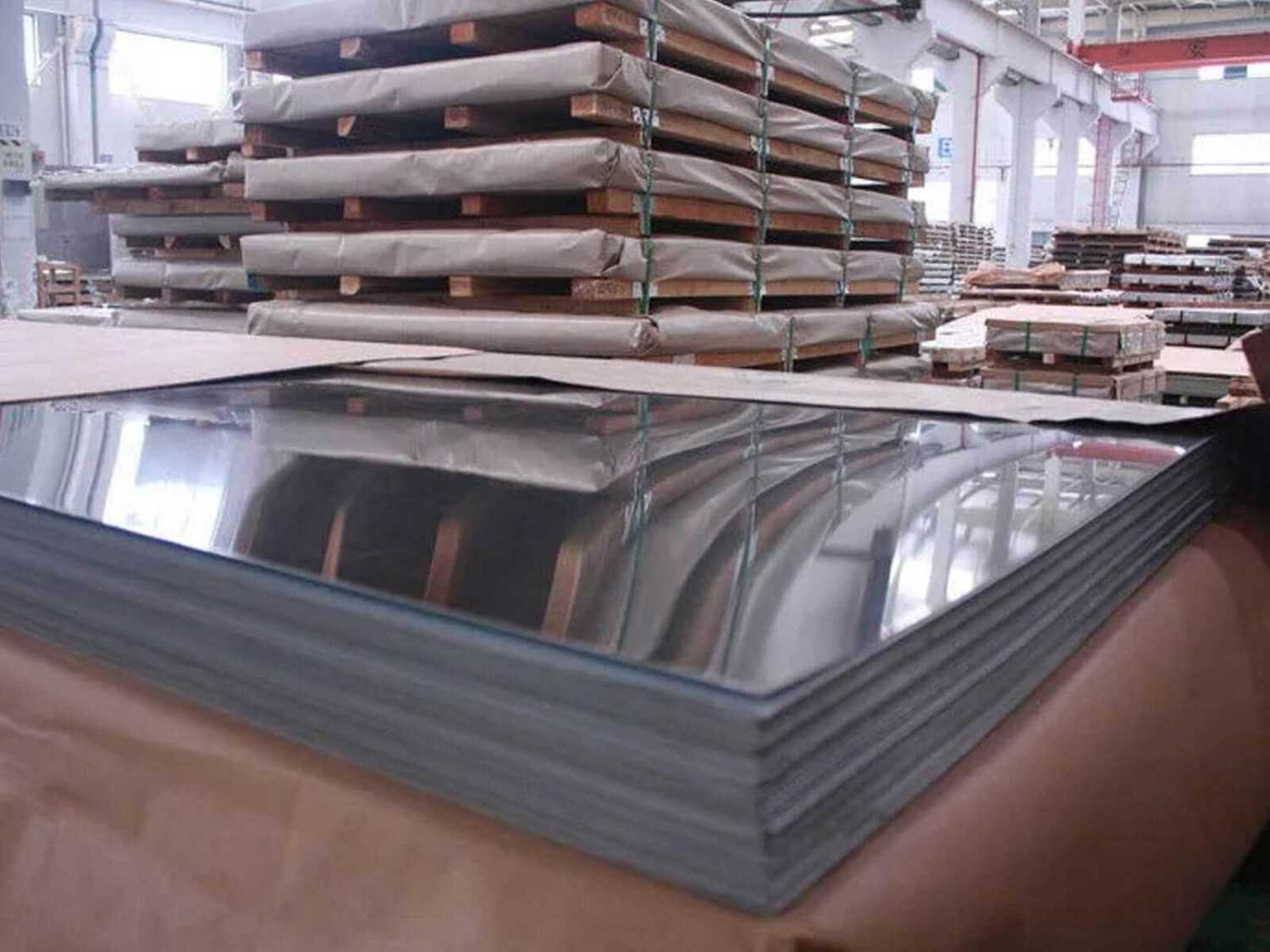 Steel Plate Supplier and Exporters
The primary benefit of using Nickel Plates is their durability. The material is highly resistant to corrosion and rusting, which makes it ideal for use outdoors or in areas with high humidity levels. It also has excellent heat resistance properties which make it an ideal choice for cookware or kitchen appliances such as ovens and microwaves. Different types of products are available, such as Hastelloy C2000 Flange, Waspaloy Bolts etc.
Inconel Plate are some of the most versatile materials available. From residential homes to commercial kitchens to industrial settings, these plates offer superior durability without sacrificing aesthetic appeal or functionality.
What is the use of stainless steel plates?
Stainless steel plates are used for various applications, including food processing and storage, medical equipment, exhaust systems, chemical processing, oil and gas production, automotive parts, and construction. They are also used in heat exchangers and thermowell due to their excellent heat resistance. They can be used on food service equipment due to their non-porous surface & ability to resist corrosion.
What is stainless plate made of?
Stainless plates are made of stainless steel, an alloy of iron, chromium & other metals. It is highly corrosion-resistant, making it an ideal material for various uses. Stainless Steel has excellent strength & good formability, making it suitable for fabrication into complex shapes.
Are stainless steel plates good?
Stainless steel plates are a great choice due to their many advantageous properties. They are durable & corrosion-resistant, making them ideal for applications that require protection from harsh environments also they can be formed into complex shapes and have excellent heat resistance, making them suitable for various uses.
Nickel Alloy Plates Suppliers in Mumbai, Industrial Aluminum Plates, Inconel Plate, ASTM A240 Super Duplex Steel Polished Plates, Inconel Alloy Plates, Hastelloy Plates Stockists, Titanium Embossed Plates Stockyards, Copper Nickel Plates Exporters.
Plate Specification
Standard : JIS, AISI, ASTM, GB, DIN, EN, etc
Size : 1000 mm x 2000mm, 1220mm x 2440mm, 4′ x 8′, 1250mm x 2500mm, 1500mm x 3000mm to 6000mm, 2000mm x 4000mm to 6000mm
Length : 2000mm, 2440mm, 3000mm, 5800mm, 6000mm, etc
Thickness : 0.01~200mm, 4.0mm – 100mm
Finish : Hot rolled plate (HR), Cold rolled sheet (CR), 2B, 2D, BA NO(8), SATIN (Met with Plastic Coated)
Form : Coils, Foils, Rolls, Plain Sheet, Shim Sheet, Perforated Sheet, Chequered Plate, Strip, Flats, Blank (Circle), Ring (Flange)
Condition : Cold Drawn & Polished Cold Drawn, Centreless Ground & Polished
Other Services : Machining (CNC), Centreless Grinding (CG), Heat Treatment, Anneling, Pickling, Polish, Rolling, Forging, Cutting, Bending, Minor Fabrication
Get Quote
Plate Materials and Grades
Stainless Steel Plates : ASTM A 240, SA 240, AISI 301, 302, 303, 304, 304L, 310, 316, 316L, 317, 321, 347, 410, 416, 420, 430, 431, 904L, PH13-8Mo, 17-4ph, 15-5ph, 17-7ph, Ph15-7 Mo, 254Smo, Al-6Xn, 654SMO
Duplex & Super Duplex Steel Plates : ASTM A182 F51, ASTM / ASME SA 240, UNS No. S31803, S32205, F53, F55, S 32550, S32750, S32760, 2205, 2507
Carbon Steel Plates : ASTM A515 - 60, 70, ASTM A516 - 60 / 70, ASTM A537 - Class1, Class2.
Alloy Steel Plates : ASTM / ASME A/SA 387 F 5, F 9, F 11, F 12, F 22, F 91
Nickel Alloy Plates : Nickel 200, Nickel 201, Monel 400, Monel K-500,Hastelloy C-22, Hastelloy C-276, Hastelloy C-2000, Hastelloy B, Nimonic 75, Nimonic 90, Nimonic 80A, Inconel 600, inconel 601, inconel 617, inconel 625, inconel 718, inconel 725, inconel X-750, incoloy 800, incoloy 800H, incoloy 800HT, Incoloy 825, Incoloy 926, Incoloy 890, Incoloy 925, Incoloy A-286, Udimet 500, Rene 41, Waspalloy, Invar 36, Invar 42, Stellite 6B, Kovar alloy
Titanium Plates : 6AL4V, Commercially Pure, Grade 2, Grade 7 and Grade 12
Aluminum Plates : 2014, 2024, 2025, 2219, 2618, 3003, 5083, 6061, 7049, 7050, 7075, 7079, 7149, 7150, and 7175
Other Types of Plates
Hastelloy C276 Plate, Hastelloy C2000 Plates, Hastelloy B Plates, Inconel 600 Plates, Inconel 601 Plates, Inconel 617 Industrial Plates, Inconel 625 Plates Supplier in India, AISI 316 Stainless Steel No.8 Mirror Finish Plate Traders in C.P.Tank Road, SS TP317L No.4 Finish Plate, SS 310 Mill Finished Plate, Buy Grade 321 Steel Bright annealed BA Finish Plate, ASME SA240 Duplex Steel Plate, ASTM A240 Super Duplex Steel hot finished Plates, Nickel Alloy hot Rolled Plates, Alloy Steel Chequered Floor Plates, Suppliers of Carbon Steel Black Plates, Exporters of Inconel Diamond Plates, Tantalum Plates Stockholders, Waspaloy Plates Stockists, Cheap SMO 254 Plates, Mild Steel Plate, High Performance Alloy Plate, NITRONIC 50 Plates, NITRONIC 60 Hot Rolled Plates Distributors in Maharashtra, Super Alloy Plates, 15-5 PH Plates, 17-4 PH Polished Plates, High Speed Steel Plate vendors, Alloy 20 Plate, Monel 400 Plates, Cupro Nickel Chequered Plates, Aluminium Plates Exporter, Stainless Steel BA Surface Finish Plates, SS 2B Finish Plates, Cold-Worked Austenitic Stainless Steel Plates Dealers in Maharashtra, SS 304L Hard Tempered Plates Stockists, 304H Full Hard Tempered Stainless Steel Plate, Cheap Steel Plates, Alloy 20 HR Plates Manufactures, #4 Polish Finish SS 317 Plate, #8 Mirror Polish Finish Stainless Steel 304 Plates, Special Alloy Plates, High Temperature Alloy Plate, Super Alloy Plates, Nickel 200 Plates, Nickel 201 Plates, Monel K500 Plates importers, Hastelloy C22 Plate, Low price Duplex Steel Decorative Plate Plates, PE or PVC coating surface Finish Stainless Steel Plates Stocks, Inconel 718 Plate, Copper Nickel Plate, Inconel 725 Plates, Inconel X-750 Plates, Incoloy 800 Plates, Incoloy 800H Plates Stockholders, Incoloy 800HT Plates, Incoloy 825 Plates, Incoloy 925 Plates, Commercially Pure Titanium Grade 2 Plates, Titanium Gr.7 Plates Exporters in Mumbai India.
We are Suppliers and Exporters of Plates in Cities Like
Vadodara, Atyrau, Ahmedabad, Chiyoda, Doha, Pune, Surat, Noida, Nagpur, Bogota, Rio de Janeiro, Jeddah, Edmonton, Istanbul, Geoje-si, Chandigarh, Karachi, Ernakulam, Dammam, Al Khobar, Kuala Lumpur, Thiruvananthapuram, Hong Kong, Pimpri-Chinchwad, Jamshedpur, Sydney, London, Nashik, Indore, Sharjah, Jakarta, Rajkot, Montreal, Bangkok, Dallas, Houston, Vung Tau, Chennai, Turkey, Thane, Ludhiana, Perth, Granada, Caracas, Ranchi, Bhopal, Bengaluru, Algiers, La Victoria, Cairo, Busan, Manama, Madrid, Colombo, Hanoi, Aberdeen, Abu Dhabi, Ulsan, Ahvaz, Faridabad, Jaipur, Australia, Courbevoie, Mumbai, Petaling Jaya, Gimhae-si, Visakhapatnam, Gurgaon, Brisbane, Moscow, Mexico City, Kuwait City, Muscat, Ho Chi Minh City, Toronto, Santiago, New Delhi, Haryana, Al Jubail, Lahore, Tehran, Coimbatore, Navi Mumbai, Baroda, Singapore, Secunderabad, Lagos, Howrah, New York, Riyadh, Hyderabad, Kanpur, Los Angeles, Calgary, Milan, Seoul, Dubai, Kolkata, Port-of-Spain.
We are Suppliers and Exporters of Plates in Countries Like
Switzerland, Azerbaijan, Venezuela, Indonesia, Spain, Iran, Serbia, United Arab Emirates, Colombia, Ecuador, Finland, Poland, Netherlands, United States, India, Brazil, Chile, Costa Rica, Nigeria, Poland, Tibet, mexico, srilanka, thailand, malaysia, Bangladesh, Philippines, Namibia, Trinidad & Tobago,Tunisia, cyprus, Ghana, Gambia, Italy, Belarus, Bulgaria, Afghanistan, South Korea, Malaysia, Libya, Russia, Chile, Denmark, Kuwait, Egypt, Austria, Vietnam, Bahrain, Ukraine, Lebanon, Peru, Portugal, Thailand, Puerto Rico, Sweden, Yemen, Argentina, Turkey, Jordan, Greece, United Kingdom, Iran, Zimbabwe, China, Morocco, Canada, Hungary, Bhutan, Germany, Bolivia, Czech Republic, South Africa, Mongolia, Macau, Nepal, Croatia, Taiwan, Gabon, Kenya, Singapore, Algeria, Nigeria, Romania, Belgium, Mexico, Saudi Arabia, Norway, Ireland, France, Oman, Sri Lanka, Slovakia, Qatar, Israel, Estonia, Japan, brazil, Lithuania, Mexico, Kazakhstan, Hong Kong, Australia, New Zealand.