We are involved in supplying Stainless Steel Washers, which found its prime uses in shot lambasting machineries. These Carbon Steel Washers are manufactured by using high grade raw material by using advanced technology. We are efficiently graded as the leading trader and manufacturer of our Duplex Steel Washers, which are offered on varied conditions according to the requirement of clienteles in a specified time frame.
Industrial Steel Washers Dealers, Hex Washers Manufactures, Star Washers Exporters, Stainless Steel Flat Washers, Plain Washer Traders, Copper Washers, Ogee Washers Stockists, Spring Washers Suppliers in Mumbai India.
Backed by the sound experience of varied aspects of the industry, we have been able to offer a range of these Alloy Steel Washers, which are developed as per the guidance of experienced quality inspectors in tandem by means of the norms laid down by the industry. Renine Metalloys is a recognized firm that offers a wide range of our Inconel Washers, which finds application in various industries and known for the durability.
Austenitic Stainless Steel Tooth Lock Washer Stockholders, High Carbon Steel Washers, Carbon Steel Flat Washers, Monel Dock Washers Dealers, Duplex Steel Hexagonal Washers Distributors, Mild Steel Flat Washer, Alloy Steel Bevel Washers in Mumbai, SS Countersunk Washers in India.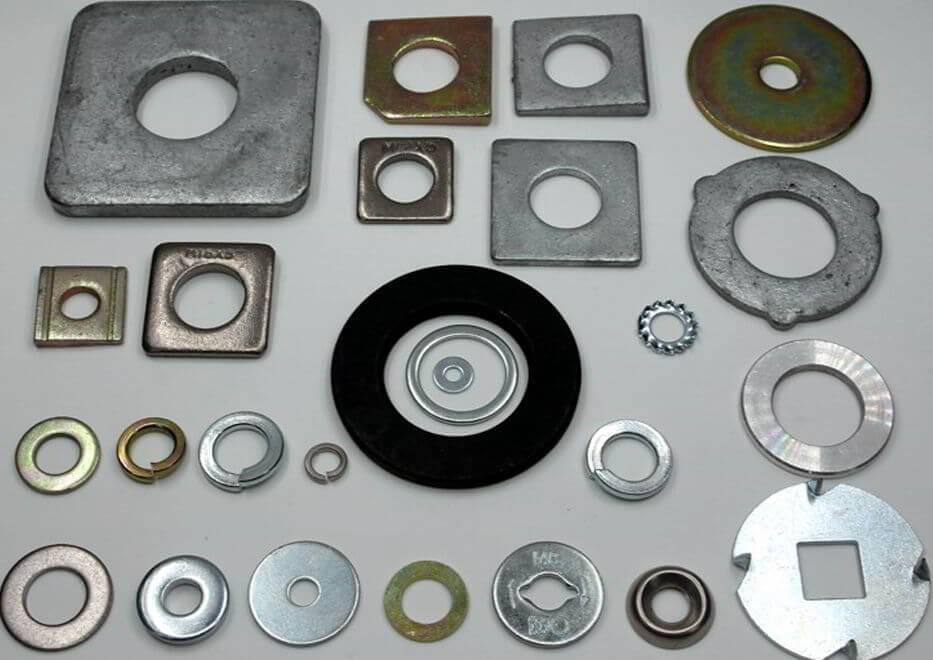 Steel Washers Supplier and Exporters
Our Monel Washers is known for its Tough, High Durability, No wear and tear, High accuracy, Superb finishing, Handles large pressure and variable temperature, Very long service life, Least maintenance, Optimum strength, Rugged construction, and so on. The price range of these Hastelloy Washers is the lowest one available in the market. Prior to the final shipment, our Nickel Washers are severely inspected by our quality inspectors on a number of constraints to ensure their perfection. For the purpose of maintaining the best possible quality of these Titanium Washers, we have set up a well - equipped in - house quality testing unit.
What are stainless steel washers?
Stainless steel washers are thin, flat rings with a hole in the center used to distribute the load of a threaded fastener such as a bolt or nut. They are made from stainless steel, which provides excellent corrosion resistance and durability.
What are the benefits of using stainless steel washers?
Stainless steel washers offer numerous benefits, including corrosion resistance, high strength, and durability. They can withstand harsh environments & are suitable for use in applications where hygiene and cleanliness are essential, such as the food and pharmaceutical industries.
What are the different types of stainless steel washers?
There are different types of stainless steel washers, including flat washers, lock washers, fender washers, & spring washers. Each type has specific properties that make it suitable for different applications.
Nickel Alloy Custom Washer Suppliers in Mumbai, Inconel Dome Tooth Washer, Super Duplex Steel Split Lock Washers, Plain Washers, Industrial Aluminum Plain Washers, Hastelloy SAE Flat Washer Stockists, Titanium Wave Washer Stockyards, Copper Nickel Fender Washers Exporters.
Washers Specification
Standard : DIN, ASME, ASTM, BS, ISO & IS and all International Standards
Size : M1.0 upto M150. | 3/6" to 2" | Custom Size
Process : Cold Forged, Hot Forged, Bar Stock Machined, Threading, Forged Blanks, CNC machined Process etc.
Types : Fender Washer, Dome Plain Washer, Wave Washer, Bevel Washer, External Tooth Lock, Star Washer, Plain Washer, Lock Washer, Countersunk Washer, Internal Tooth Lock, Flat Washer - SAE Flat Washer - U Split Lock Washer, Finishing Washer, Round-Mall Washer, Hillside Washer, Flat Washer, Ogee Washer, Dock Washer, Belleville Washer, Square Washer, Bonded Sealing Washer, Conical Washer
Get Quote
Washers Materials and Grades
Stainless Steel Washers : ASTM A193, ASTM A194, A240, ASTM A479 F304, F304L, F 304H, 316, 316L, 316Ti, F310, F310S, F 321, 321H, 317, 347, 347H, F904L, PH13-8Mo, 17-4ph, 15-5ph, 17-7ph, Ph15-7 Mo, 254Smo, Al-6Xn, 654SMO
Duplex & Super Duplex Steel Washers : ASTM A182, ASME SA479 UNS NO S31803, S32205 / UNS S32750, S32950 / F 44, F 45, F51, F53, F55, F60, F61, 2205, 2507
Carbon Steel Washers : ASTM A307, A193
Alloy Steel Washers : ASTM / ASME A/SA 193 / 194 B 6, B 7/ B 7M, B 16, 2, 2HM, 2H, GR 6, B 7, B 7M
Nickel Alloy Washers : Nickel 200, Nickel 201, Monel 400, Monel K-500,Hastelloy C-22, Hastelloy C-276, Hastelloy C-2000, Hastelloy B, Nimonic 75, Nimonic 90, Nimonic 80A, Inconel 600, inconel 601, inconel 617, inconel 625, inconel 718, inconel 725, inconel X-750, incoloy 800, incoloy 800H, incoloy 800HT, Incoloy 825, Incoloy 926, Incoloy 890, Incoloy 925, Incoloy A-286, Udimet 500, Rene 41, Waspalloy, Invar 36, Invar 42, Stellite 6B, Kovar alloy
Titanium Washers : 6AL4V, Commercially Pure, Grade 2, Grade 7 and Grade 12
Aluminum Washers : 2014, 2024, 2025, 2219, 2618, 3003, 5083, 6061, 7049, 7050, 7075, 7079, 7149, 7150, and 7175
Other Types of Washers
Inconel 601 Custom Washer, Copper Nickel Star Washers, Inconel Spring Washer Stockholders, NITRONIC 60 Internal Tooth Lock Washer Dealer, Manufacturer of 17-4 PH Washers Traders, NITRONIC 50 Industrial Washers, SS Washers, SMO 254 Finishing Washers, Austenitic Stainless Steel Hex Washer, Carbon Steel Countersunk Washers, DIN Standard Washers, Nickel Alloy Fender Washers Traders, Alloy 2205 Double Tab Washers Manufacturer, Duplex UNS S31803 Flat Washer Wholesaler in India, Hastelloy C2000 SAE flat washer Exporters, Exporters of SS 304 one Tab Washers, ISO Standard Washers, Incoloy 925 Wave Washers Supplier, Inconel 600 Ogee Washers, Mild Steel Belleville Washers, ANSI Standard Washers, Supplier of High Quality Stainless Steel Square Washers, Inconel X-750 Washer Stockists, High Performance Alloy Flat plain Washers, Inconel 625 Washers, Hastelloy C276 Taper Washer, Monel K500 External Tooth Lock Washers, Monel 400 Washers Stockholder, 15-5 PH Bevel Washers Dealer, Incoloy 800H Industrial Washers, Super Duplex Steel Dock Washers, Hastelloy C22 Dome Tooth Washer, Incoloy 800HT Lock Washers Stockholders, Incoloy 800 Bonded Sealing Washer, Pure Titanium Grade 2 Plain Washers, Inconel 725 Washers Exporter, Nickel 201 Washers, Hastelloy Gr.B Spherical Washer, Tantalum Washers Stockists, Fasteners Washers, Duplex Steel Dome Plain Washer, High Temperature Alloy Taper Washer, Titanium Gr.7 Tooth Washer, SS 904L Finishing Washers, BS Standard Washers, Distributors of UNS S32750 Washers, Alloy 20 Countersunk Washer, Alloy Steel Conical Washer, Aluminium USS flat washers, ISI Standard Washer, Inconel 617 Split Lock Washers, Nickel 200 Round-Mall Washers, Inconel 718 Bonded Sealing Washer, Cupro Nickel Hillside Washer Stockist.
We are Suppliers and Exporters of Washers in Cities Like
Hyderabad, Pimpri-Chinchwad, Al Khobar, Chennai, Petaling Jaya, Bengaluru, Edmonton, Hanoi, Ahvaz, Lagos, Houston, Montreal, Thane, Howrah, Milan, Rio de Janeiro, Geoje-si, Bogota, Jeddah, Sydney, Karachi, Cairo, Surat, Australia, Vadodara, Istanbul, Bangkok, Aberdeen, Baroda, Algiers, Caracas, Visakhapatnam, Chiyoda, Faridabad, Tehran, Jamshedpur, Gimhae-si, Kanpur, London, Toronto, Hong Kong, Kuwait City, Ho Chi Minh City, Madrid, Gurgaon, Ahmedabad, Thiruvananthapuram, Kolkata, Ulsan, Kuala Lumpur, New York, Brisbane, Calgary, Dubai, Nashik, Dallas, Manama, Chandigarh, Jaipur, Ludhiana, Perth, Muscat, Doha, Colombo, Lahore, Navi Mumbai, Noida, Nagpur, Ranchi, Seoul, Dammam, Secunderabad, Rajkot, Granada, Los Angeles, Indore, Pune, Bhopal, New Delhi, Ernakulam, Abu Dhabi, Atyrau, Haryana, Moscow, Courbevoie, Port-of-Spain, Mumbai, Sharjah, Al Jubail, Mexico City, La Victoria, Santiago, Busan, Jakarta, Singapore, Turkey, Vung Tau, Riyadh, Coimbatore.
We are Suppliers and Exporters of Washers in Countries Like
Indonesia, United Kingdom, Azerbaijan, Finland, Venezuela, Russia, New Zealand, Mexico, Serbia, Trinidad & Tobago,Tunisia, Iran, Nepal, Ghana, Gambia, Israel, Mongolia, Chile, Estonia, Costa Rica, Yemen, mexico, srilanka, thailand, malaysia, China, Japan, Colombia, Nigeria, Morocco, brazil, Mexico, Jordan, Gabon, Bahrain, Philippines, Algeria, Singapore, Switzerland, Argentina, Taiwan, Sri Lanka, Libya, Denmark, Norway, Zimbabwe, Saudi Arabia, Australia, Bolivia, Czech Republic, South Korea, Egypt, Brazil, Lithuania, South Africa, Turkey, Croatia, Thailand, Canada, Tibet, Vietnam, Kenya, Hungary, Italy, Malaysia, Spain, United Arab Emirates, Ukraine, India, Poland, Poland, Oman, Portugal, Belarus, Qatar, United States, Peru, France, Belgium, Nigeria, Netherlands, Iran, Austria, Ecuador, Ireland, Macau, Bangladesh, Hong Kong, Sweden, Lebanon, Namibia, Kuwait, Bulgaria, Romania, Kazakhstan, cyprus, Chile, Greece, Puerto Rico, Bhutan, Afghanistan, Germany, Slovakia.