Renine Metalloys manufacturers a wide range of Hastelloy Alloy B3 Round Bars, which may also be produced through cold processing. Hastelloy B3 Bars may form when iron or copper is present in a system containing hydrochloric acid. Hastelloy B3 Rods has become a global market leader in high-performing nickel - molybdenum alloys.
B3 Hastelloy® Alloy Peeled / Turned Round Bars Stockholders, B3® Hastelloy Round Bars Stockist, JIS NW 0675 Hastelloy® Cold Drawn Round Bars, Hastelloy® Alloy B-3® Bars, Nickel Alloy B-3 Black Round Bar Suppliers, Hastelloy B3 Round Bar, Hastelloy® B-3 Rods, ASTM B335 Hastelloy® B3 Bright Round Rod Manufactures, Hastelloy® B-3 Forged Bars, Grade B3 Hastelloy Hot–Finished Round Bars Exporters in Mumbai India.
Hastelloy B3 Bright Bars can be forged or otherwise hot-worked, providing that it is held at 2250 Degree F for a sufficient amount of time to bring the entire piece to temperature. Hastelloy B3 Square Bars exhibits extremely high resistance to pure hydrochloric, hydrobromic, and sulfuric acids. Hastelloy B3 Flat Bars has been primarily used for their resistance to corrosion in non-oxidizing environments such as HCl.
Hastelloy Alloy B3 Welding Rod, Hastelloy® Alloy B-3 Forged Round Bars Distributors, Hastelloy® B3 Rods Exporter, Hastelloy® B3 Hex Rods Dealers in India, UNS N10675 Hastelloy Polished Bars Stockists, Type B-3 Nickel Alloy Square Bar, Hastelloy® B-3 Hexagon Bars in Mumbai.
Hastelloy B3 Threaded Bars is not recommended in the presence of ferric or cupric salts. Nickel-, cobalt-, and iron-base alloy products such as Hastelloy B3 Hollow Bars may contain, in varying concentration,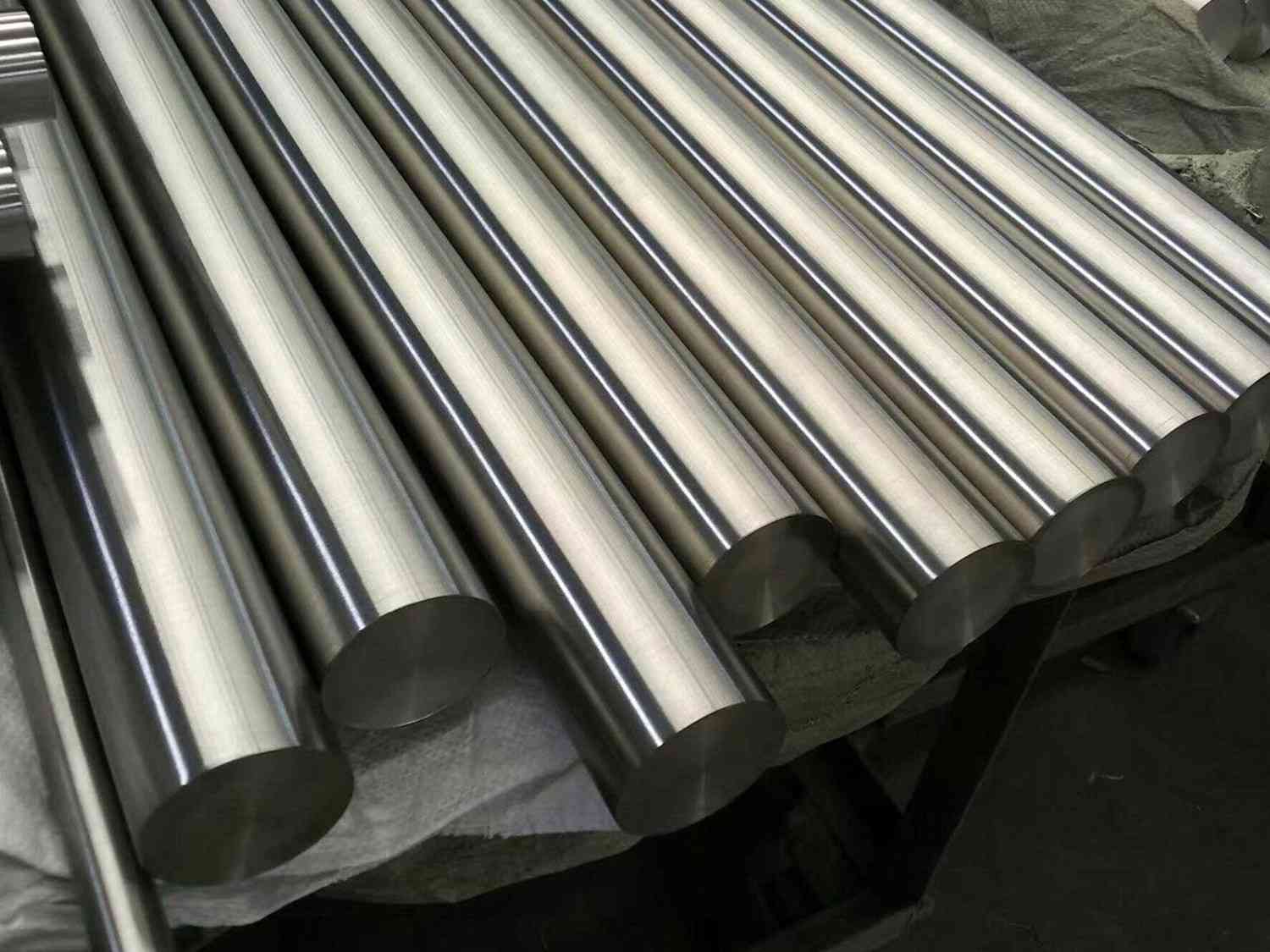 Hastelloy B3 Round Bars
the following elemental constituents: chromium, copper, aluminum, cobalt, iron, manganese, nickel, molybdenum, and tungsten. Hastelloy B3 Hexagonal Bars has low carbon content, which should permit its use in the as-welded condition. Ferric or cupric salts in Hastelloy B3 Triangular Bars may develop when hydrochloric acid comes into contact with iron or copper. Hastelloy UNS N10675 Round Bars can be cold rolled to various tempers. Alloy B3 Rods has excellent resistance to pitting corrosion, to stress - corrosion cracking and to knife-line and heat - affected zone attack.
B-3 Hastelloy Threaded Rods, B3 Hastelloy® Alloy Spring Bars Exporters, Hastelloy® B3 Rectangular Bars Traders, Alloy B3 Bars Stockholder, DIN 2.4600 Nickel Alloy Hot-Rolled Round Rods Stockyards, ASME SB335 Hastelloy Alloy B3 Octagons Bar, Hastelloy® B3 Cold Finish Round Bar, Hastelloy® B-3 Flat Bar Suppliers in Mumbai
Hastelloy B3 Bars Specification
SpecificationsASTM B335 / ASME SB335
StandardASTM, ASME and API
Range5 mm to 500 mm Dia
Length100 mm to 6000 mm
FinishingBright, Polish & Black
FormRound, Square, Hex (A/F), Rectangle, Wire (Coil Form), Wire-mesh, Billet, Ingot, Forging Etc.
Grade Hastelloy B3 Round Bars UNS (N10675), DIN (2.4600)
Get Quote
JIS NW 0675 Hastelloy® Alloy B3 Round Bar Equivalent Indian Standard
| | | |
| --- | --- | --- |
| STANDARD | UNS | WNR. |
| Hastelloy B3 | N10675 | 2.4600 |
ASTM B335 Hastelloy B-3 Cold Drawn Round Bar Chemical Composition
| | | | | | | | | | | | | |
| --- | --- | --- | --- | --- | --- | --- | --- | --- | --- | --- | --- | --- |
| Grade | Ni | Mo | Fe | C | Co | Cr | Mn | Si | Ti | W | Al | Cu |
| Hastelloy B3 | 65.0 min | 28.5 | 1.5 | .01 max | 3.0 max | 1.5 | 3.0 max | .10 max | .2 max | 3.0 max | .50 max | .20 max |
ASME SB335 Hastelloy® B3 Hot-Rolled Round Bars Mechanical Properties
| | | | | |
| --- | --- | --- | --- | --- |
| Grade | Density | Melting Point | Tensile Strength | Modulus of elasticity ( GPa ) |
| Hastelloy B3 | 9.22 g/cm3 | 1418 °C | 1000-2000 MPa | 216 |
Other Types of B-3 Hastelloy Round Bars & Rods
Suppliers of Hastelloy B3 Round Bars, Exporters of B-3 Hastelloy Alloy Round Rods, Hastelloy® B3 Bars Stockholders, B-3 Hastelloy® Alloy Rods Stockists, Cheap Hastelloy® B3 Round Bars, Hastelloy B-3 - UNS N10675 Common Trade Names (Hastelloy B3®, Hastelloy® B-3, Alloy B3), Hastelloy Alloy B-3 Round Bars, Hastelloy® B3 Forged Round Bars, Hastelloy® Alloy B-3 Bright Bars, Hastelloy® B3 Black Round Bars, ASTM B335 Hastelloy DIN 2.4600 Bars Traders, ASME SB335 Hastelloy Alloy B3 Square Bar, Hastelloy® Alloy B-3 Bars, Grade B3 Hastelloy® hot finished hexagon Rods, Cold Finished Hastelloy Alloy B-3 Hex Bars, Lowest Price Hastelloy bars wholesalers, UNS N10675 Hastelloy® Alloy Cold Drawn Bars, Hastelloy B3 Hot Rolled Round Bars Distributors in Maharashtra, Hastelloy® B3 Half Round Rods, Hastelloy B-3 Flat Bars, Hastelloy® B3 Rectangular Bars vendors, Buy B-3 Hastelloy Threaded Rod, Hastelloy® B3 Triangle Bars, Incoloy Alloy B-3 Round Profile Bars, B3 Hastelloy Polished Round Bars Stockyard, Hastelloy® B-3 Smooth Turned Round Bars, Hastelloy B3 Rough Turned Bar, Hastelloy B-3 Peeled Round Bar, JIS NW 0675 Hastelloy® Threaded Rods, B3 Hastelloy Alloy Octagonal Bars, B-3 Hastelloy® Welding Rods, Hastelloy® B3 Bars Manufactures in Mumbai India
We are Suppliers and Exporters of Hastelloy B-3 Round Bars in Cities Like
La Victoria, Ho Chi Minh City, Petaling Jaya, Vung Tau, Kolkata, Chiyoda, Aberdeen, Atyrau, Lagos, Secunderabad, Kanpur, Karachi, Chandigarh, Turkey, Dammam, Ernakulam, Faridabad, Jamshedpur, Jakarta, Rio de Janeiro, Mexico City, Hong Kong, Ahvaz, New Delhi, Calgary, Geoje-si, Pune, Chennai, Toronto, Nashik, Noida, Santiago, Algiers, Thane, Al Jubail, Singapore, Dubai, Ranchi, Jaipur, Coimbatore, Los Angeles, Ulsan, Pimpri-Chinchwad, Madrid, Sharjah, Courbevoie, London, Visakhapatnam, Riyadh, Milan, Ahmedabad, Indore, Houston, Nagpur, Gimhae-si, Kuwait City, Vadodara, Howrah, Jeddah, Moscow, Granada, Dallas, Edmonton, Montreal, Istanbul, Muscat, Caracas, Seoul, Brisbane, Thiruvananthapuram, Baroda, Hanoi, Bhopal, Surat, New York, Cairo, Gurgaon, Hyderabad, Kuala Lumpur, Abu Dhabi, Perth, Bengaluru, Mumbai, Bangkok, Australia, Sydney, Manama, Colombo, Tehran, Ludhiana, Rajkot, Doha, Haryana, Port-of-Spain, Busan, Al Khobar, Lahore, Bogota, Navi Mumbai.
We are Suppliers and Exporters of Hastelloy B3 Round Bars in Countries Like
Bolivia, Colombia, Turkey, Poland, New Zealand, Slovakia, Chile, Spain, Venezuela, Estonia, China, Denmark, Romania, Zimbabwe, Australia, Kuwait, Kenya, Thailand, Philippines, Trinidad & Tobago,Tunisia, Czech Republic, Tibet, Vietnam, Peru, Saudi Arabia, Afghanistan, Lithuania, Poland, Serbia, Japan, Bahrain, Hungary, Libya, Puerto Rico, Gabon, Canada, Croatia, Algeria, Kazakhstan, Morocco, Egypt, Netherlands, Bulgaria, Taiwan, Germany, Portugal, Ecuador, cyprus, Oman, Russia, Austria, Italy, Chile, Norway, Nepal, Brazil, Finland, Indonesia, India, mexico, srilanka, thailand, malaysia, Sri Lanka, Greece, Namibia, Iran, Mexico, Macau, South Korea, Ukraine, Sweden, Jordan, Iran, brazil, Nigeria, United Arab Emirates, France, Bangladesh, Yemen, Mongolia, United States, Singapore, Israel, Mexico, Ghana, Switzerland, United Kingdom, Azerbaijan, Gambia, Malaysia, Ireland, Argentina, Belgium, Qatar, Nigeria, South Africa, Costa Rica, Belarus, Bhutan, Lebanon, Hong Kong.