Renine Metalloys is an acknowledged manufacturer and exporter of Hastelloy Alloy C22 Round Bars, which is the most adaptable nickel alloy in the Hastelloy C category. Hastelloy C22 Bars is the most versatile Nickel – Chromium – Molybdenum – Tungsten alloy with controlled Iron.
Hastelloy Round Bar, Hastelloy® Rods, Hastelloy Round Bars Stockist, Hastelloy® Alloy Bars, Grade C22 Hastelloy Hot–Finished Round Bars Exporters, JIS NW 6022 Hastelloy® Cold Drawn Round Bars, Nickel Alloy C-22 Black Round Bar Suppliers, ASTM B574 Hastelloy® C22 Bright Round Rod Manufactures, Hastelloy® C-22 Forged Bars, C22 Hastelloy® Alloy Peeled / Turned Round Bars Stockholders in Mumbai India.
Hastelloy C22 Rods is stiffer than most austenitic stainless steels, and more energy is required during cold forming. Hastelloy C22 Square Bars is used for Home & Personal Care, such as in process equipment for personal hygiene and home care products.
Hastelloy® C22 Hex Rods Dealers in India, Hastelloy® Alloy C-22 Forged Round Bars Distributors, Hastelloy® C22 Rods Exporter, UNS N06022 Hastelloy Polished Bars Stockists, Hastelloy® C-22 Hexagon Bars, Hastelloy Alloy C22 Welding Rod, Type C-22 Nickel Alloy Square Bar in Mumbai.
Parts of our Hastelloy C22 Rectangular Bars which have been hot formed or severely cold formed should be heat treated at 2050 Degree F and rapid quenched prior to final fabrication or installation. These Hastelloy C22 Hexagonal Bars contains chromium, tungsten, molybdenum, and iron which makes the alloy resistant to corrosion in stagnant or flowing seawater.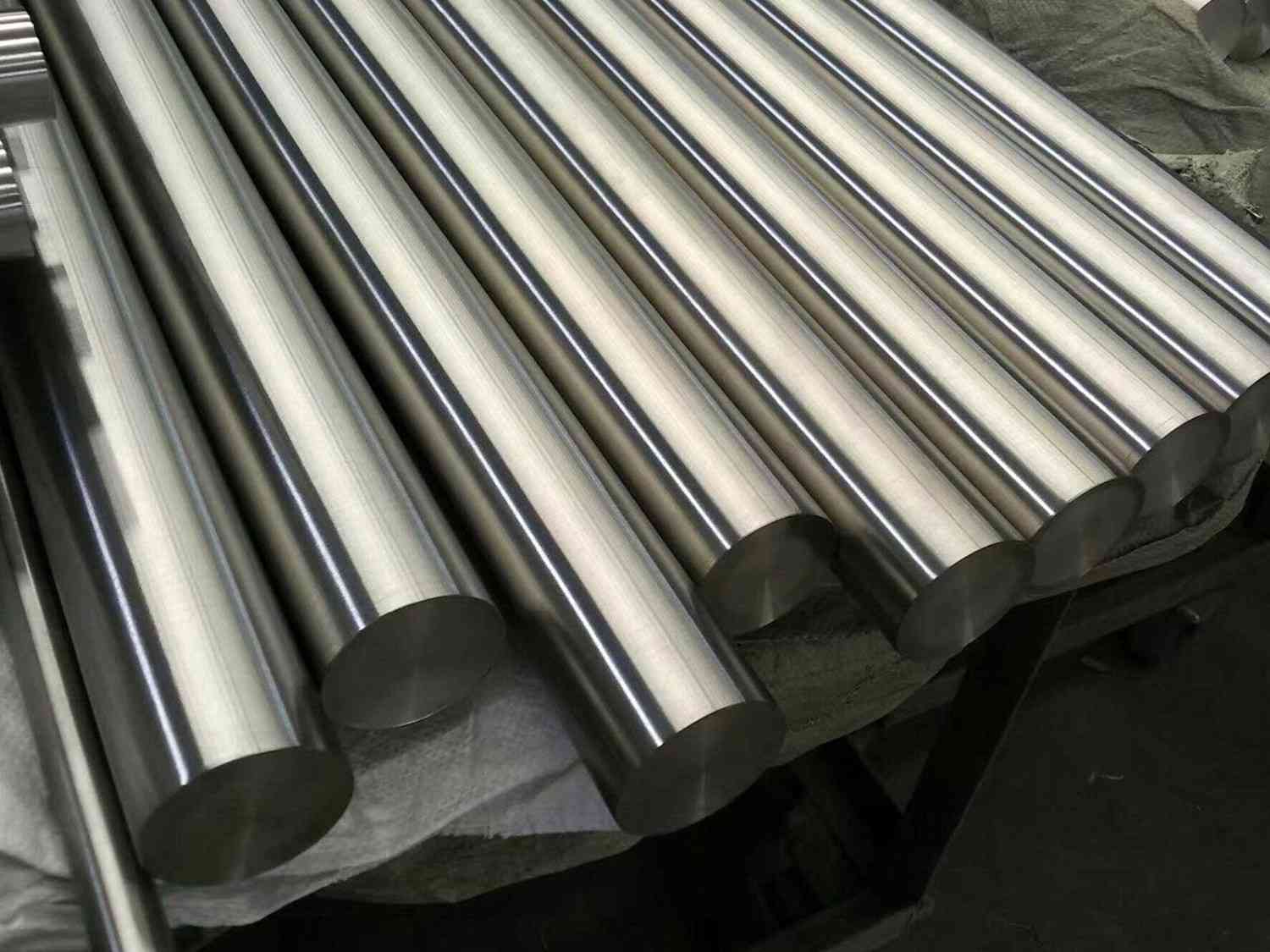 Hastelloy C22 Round Bars
In order to be called as Alloy C22 Bars, an alloy must be composed of a balanced level of Nickel. Whether you need on - demand delivery of finished goods of these Alloy C22 Rods, end - use technical support or a partner with global presence, we provide value far beyond the alloys themselves. More energy is required because our Hastelloy UNS N06022 Bars is generally stiffer than austenitic stainless steels in the heat - treated at 2050 Degree F. These Hastelloy DIN 2.4602 Bars has excellent resistance to localised corrosion and to a variety of mixed industrial chemicals.
DIN 2.4602 Nickel Alloy Hot-Rolled Round Rods Stockyards, Hastelloy® C22 Cold Finish Round Bar, Hastelloy® C-22 Flat Bar Suppliers in Mumbai, Hastelloy® C22 Rectangular Bars Traders, Nicrofer® 5621 Bars Stockholder, ASME SB574 Hastelloy Alloy C22 Octagons Bar, C-22 Hastelloy Threaded Rods, C22 Hastelloy® Alloy Spring Bars Exporters
Hastelloy C22 Bars Specification
SpecificationsASTM B574 / ASME SB574
StandardASTM, ASME and API
Range5 mm to 500 mm Dia
Length100 mm to 6000 mm
FinishingBright, Polish & Black
FormRound, Square, Hex (A/F), Rectangle, Wire (Coil Form), Wire-mesh, Billet, Ingot, Forging Etc.
Grade Hastelloy C22 Round Bars UNS (N06022), DIN (2.4602)
Get Quote
JIS NW 6022 Hastelloy® Alloy C22 Round Bar Equivalent Indian Standard
| | | | | | |
| --- | --- | --- | --- | --- | --- |
| STANDARD | UNS | WNR. | AFNOR | EN | JIS |
| Hastelloy C22 | N06022 | 2.4602 | - | NiCr21Mo14W | NW 6022 |
ASTM B574 Hastelloy C-22 Cold Drawn Round Bar Chemical Composition
| | | | | | | | | | | | | |
| --- | --- | --- | --- | --- | --- | --- | --- | --- | --- | --- | --- | --- |
| Grade | Ni | C | Mo | Mn | Si | Fe | P | S | Co | Cr | W | V |
| Hastelloy C22 | Balance | 0.010 max | 12.5-14.5 | 0.50 max | 0.08 max | 2-6 | 0.02 max | 0.02 max | 2.5 max | 20-22.5 | 2.5-3.5 | 0.35 max |
ASME SB574 Hastelloy® C22 Hot-Rolled Round Bars Mechanical Properties
| | | | | | |
| --- | --- | --- | --- | --- | --- |
| Grade | Density | Melting Point | Tensile Strength | Yield Strength (0.2%Offset) | Elongation |
| Hastelloy C22 | 8.69 g/cm3 | 1399 °C (2550 °F) | Psi – 1,00,000, MPa – 690 | Psi – 45000, MPa – 310 | 45 % |
Other Types of C-22 Hastelloy Round Bars & Rods
Suppliers of Hastelloy Round Bars, Exporters of Hastelloy Alloy Round Rods, Hastelloy® C22 Bars Stockholders, C-22 Hastelloy® Alloy Rods Stockists, Cheap Hastelloy® C22 Round Bars, Hastelloy C-22 - UNS N06022 Common Trade Names (Hastelloy C22®, Hastelloy® C-22, Nicrofer® 5621), Hastelloy Alloy C-22 Round Bars, Hastelloy® C22 Forged Round Bars, Hastelloy® Alloy C-22 Bright Bars, Hastelloy® C22 Black Round Bars, ASTM B574 Hastelloy DIN 2.4602 Bars Traders, ASME SB574 Hastelloy Alloy C22 Square Bar, Hastelloy® Alloy C-22 Bars, Grade C22 Hastelloy® hot finished hexagon Rods, Cold Finished Hastelloy Alloy C-22 Hex Bars, Lowest Price Hastelloy bars wholesalers, UNS N06022 Hastelloy® Alloy Cold Drawn Bars, Hastelloy C22 Hot Rolled Round Bars Distributors in Maharashtra, Hastelloy® C22 Half Round Rods, Hastelloy C-22 Flat Bars, Hastelloy® C22 Rectangular Bars vendors, Buy C-22 Hastelloy Threaded Rod, Hastelloy® C22 Triangle Bars, Incoloy Alloy C-22 Round Profile Bars, C22 Hastelloy Polished Round Bars Stockyard, Hastelloy® C-22 Smooth Turned Round Bars, Hastelloy C22 Rough Turned Bar, Hastelloy C-22 Peeled Round Bar, JIS NW 6022 Hastelloy® Threaded Rods, C22 Hastelloy Alloy Octagonal Bars, C-22 Hastelloy® Welding Rods, Hastelloy® C22 Bars Manufactures in Mumbai India
We are Suppliers and Exporters of Hastelloy C-22 Round Bars in Cities Like
Granada, Colombo, Milan, Vadodara, Pune, Pimpri-Chinchwad, Ernakulam, Moscow, Seoul, Nagpur, Secunderabad, Jamshedpur, Geoje-si, Ulsan, Ludhiana, Sharjah, Sydney, Hong Kong, Kanpur, Turkey, Istanbul, Santiago, Chandigarh, New Delhi, Busan, Karachi, Abu Dhabi, Brisbane, Visakhapatnam, Mexico City, Manama, Ahvaz, Kolkata, Navi Mumbai, Singapore, Riyadh, Chennai, Madrid, Calgary, Dubai, Doha, Los Angeles, Bogota, Petaling Jaya, Atyrau, Bengaluru, Algiers, Bangkok, Perth, Al Khobar, Edmonton, Chiyoda, Al Jubail, Vung Tau, Toronto, Hanoi, Tehran, London, Courbevoie, Kuwait City, Ranchi, Ahmedabad, Indore, Rio de Janeiro, Howrah, Mumbai, La Victoria, Gurgaon, Cairo, Thane, Kuala Lumpur, Rajkot, Noida, Jakarta, Gimhae-si, Bhopal, Faridabad, Caracas, Jaipur, Lahore, Australia, Baroda, New York, Montreal, Aberdeen, Coimbatore, Ho Chi Minh City, Lagos, Nashik, Surat, Jeddah, Dammam, Houston, Haryana, Port-of-Spain, Hyderabad, Muscat, Dallas, Thiruvananthapuram.
We are Suppliers and Exporters of Hastelloy C22 Round Bars in Countries Like
Vietnam, Philippines, Brazil, Portugal, Nepal, New Zealand, Australia, Norway, Bulgaria, Singapore, Iran, Ireland, Indonesia, Bolivia, Ecuador, Qatar, Mongolia, Mexico, China, South Africa, Spain, Poland, Japan, Thailand, Yemen, Puerto Rico, Sweden, Hungary, Lebanon, Jordan, Kuwait, Nigeria, Finland, Morocco, Kenya, Israel, Algeria, Kazakhstan, Saudi Arabia, Gabon, Zimbabwe, Egypt, Argentina, Afghanistan, Chile, Mexico, Tibet, Russia, Bhutan, Peru, United Arab Emirates, Venezuela, Turkey, Namibia, France, Denmark, United States, Netherlands, Libya, Lithuania, India, Chile, Malaysia, Bangladesh, Italy, Germany, Poland, United Kingdom, Estonia, Bahrain, cyprus, Iran, Romania, Belgium, Hong Kong, Greece, mexico, srilanka, thailand, malaysia, Serbia, Sri Lanka, Ghana, Switzerland, Belarus, Canada, Gambia, Czech Republic, brazil, Croatia, Ukraine, Oman, Costa Rica, Trinidad & Tobago,Tunisia, Azerbaijan, South Korea, Austria, Macau, Taiwan, Slovakia, Nigeria, Colombia.