Renine Metalloys is a renowned distributor and supplier of Duplex S31803 Round Bars, which has a higher corrosion resistance compared to the austenite steels. With our manufacturing capability we also offer fabrications and part-machined or finish - machined products such as Duplex S31803 Bars to the client's specification.
Duplex Steel Round Bar, Duplex Steel Rods, Duplex Steel UNS S31803 Industrial Bars, Grade F51 UNS S31803 Duplex Stainless Steel Hot –Finished Round Bars Exporters, DIN 1.4462 Cold Drawn Round Bars, Duplex 2205 Black Round Bar Suppliers, ASTM A276 Duplex UNS S31803 Bright Round Rod Manufactures, ASME SA479 Duplex Steel UNS S31803 Forged Bars, Duplex Steel UNS S31803 Peeled / Turned Round Bars Stockholders in Mumbai India
These Duplex S31803 Rods is not generally suitable for use at temperatures above 300 Degree C as it suffers from precipitation neither of brittle micro constituents, nor below -50 Degree C because of its ductile-to-brittle-transition. This combination of properties of Duplex S31803 Bright Bars can mean some compromise when compared with pure austenitic and pure Ferritic grades.
Ferritic / Austenitic Duplex Steel UNS S31803 Hexagon Bars, Duplex 2205 Stainless Steel Welding Rod, Duplex F51 UNS S31803 Square Bar, DIN 1.4462 Hex Rods Dealers in India, UNS S31803 Polished Bars Stockists, Duplex Steel UNS S31803 Forged Round Bars Distributors in Mumbai.
These Duplex S31803 Flat Bars has high resistance to corrosion fatigue and erosion. Duplex S31803 Square Bars has higher strength which is around twice that of Type 304 austenitic stainless steel.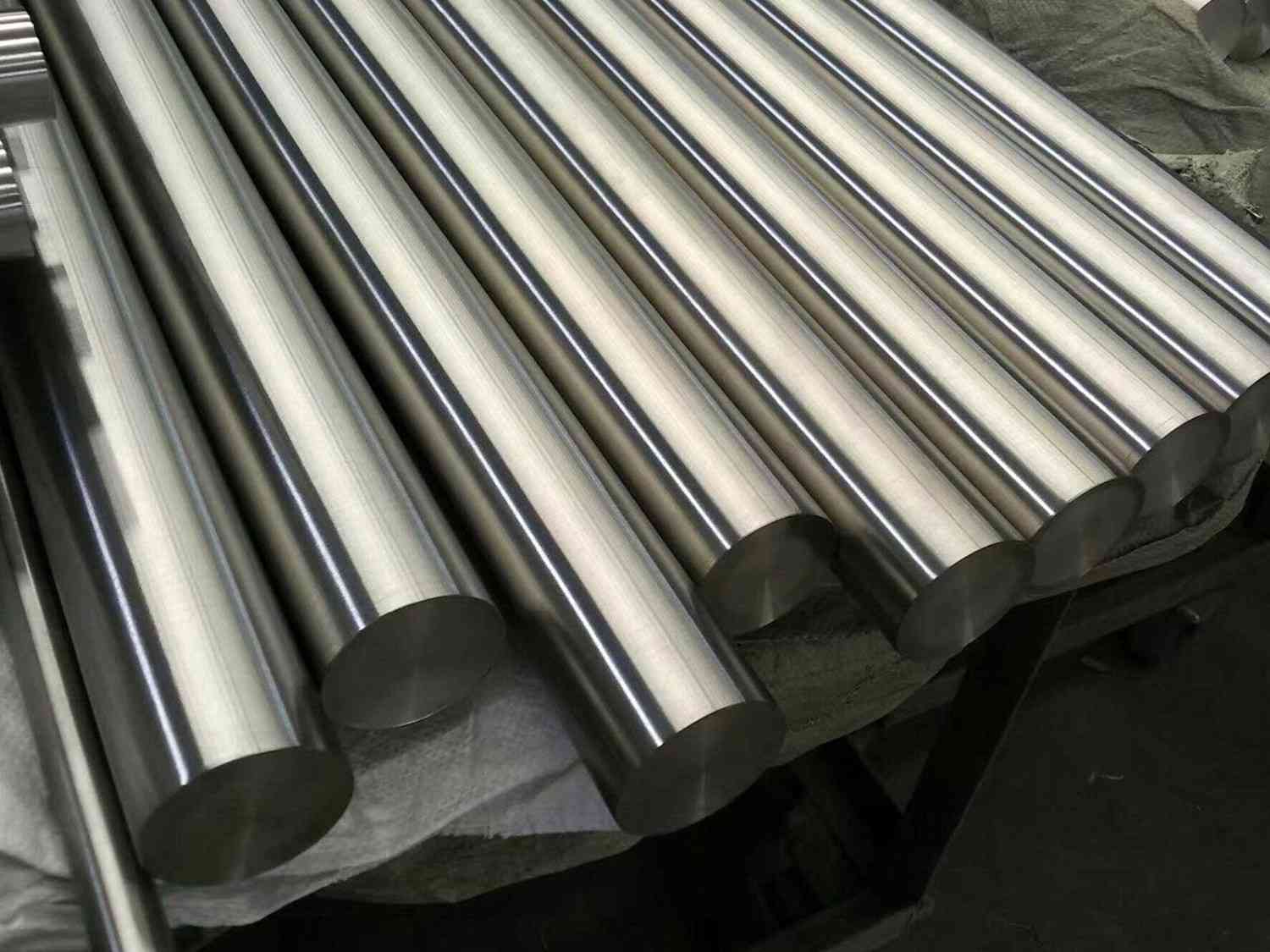 Duplex Steel UNS S31803 F51 Round Bars
These Duplex S31803 Threaded Bars cannot be hardened by heat treatment but stronger surface strengths can be achieved by cold working. Duplex S31803 Hollow Bars is used for chemical processing, transport and storage – pressure vessels, tanks, piping, and heat exchangers. These Duplex S31803 Hexagonal Bars is a duplex stainless steel whose design enables combining improved resistance to pitting, high strength, stress corrosion, crevice corrosion and cracking. In the annealed condition, Duplex S31803 Triangular Bars contains approximately 40 % - 50 % ferrite. The oxidation resistance of these Duplex Stainless Steel UNS S31803 Round Bars is good at high temperature.
ASTM A479 Duplex SAF 2205 Cold Finish Round Bar, Duplex Steel UNS S31803 Flat Bar Suppliers in Mumbai, Duplex UNS S31803 Stainless Steel Threaded Rods, DIN 1.4462 Rectangular Bars Traders, ASME SA276 Duplex UNS S31803 Octagons Bar, UNS S31803 Hot-Rolled Round Rods Stockyards, Duplex S31803 Spring Steel Bars Exporters
F51 Duplex Steel UNS S31803 Bars Specification
Standard ASTM A276, A479 / ASME SA276, SA479
Specification ASTM, ASME and API
Size 10 mm To 100 mm Dia in 100 mm TO 6000 mm Length.
Length 3 to 6 meter, Custom Cut Lengths
Finishing Black, Bright Polished, Rough Turned, NO.4 Finish, Matt Finish, BA Finish
Form Round, Square, Hex (A/F), Rectangle, Wire (Coil Form), Wiremesh, Billet, Ingot, Forging Etc.,
Condition Cold Drawn & Polished Cold Drawn, Centreless Ground & Polished
Other Services Machining (CNC), Centreless Grinding (CG), Heat Treatment, Anneling, Pickling, Polish, Rolling, Forging, Cutting, Bending, Minor Fabrication
Get Quote
UNS S31803 Duplex Steel Round Bar Equivalent Indian Standard
| | | |
| --- | --- | --- |
| STANDARD | UNS | WERKSTOFF NR. |
| Duplex 2205 | S31803 | 1.4462 |
ASTM A276 Duplex 2205 Cold Drawn Round Bar Chemical Composition
| | | | | | | | | | | |
| --- | --- | --- | --- | --- | --- | --- | --- | --- | --- | --- |
| Grade | C | Mn | Si | P | S | Cr | Mo | Ni | N | Fe |
| S31803 | 0.030 max | 2.00 max | 1.00 max | 0.030 max | 0.020 max | 22.0 – 23.0 | 3.0 – 3.5 | 4.50 – 6.50 | 0.14 – 0.20 | 63.72 min |
ASME SA276 Duplex Steel UNS S31803 Hot-Rolled Round Bars Mechanical Properties
| | | | | | |
| --- | --- | --- | --- | --- | --- |
| Grade | Density | Melting Point | Tensile Strength | Yield Strength (0.2%Offset) | Elongation |
| S31803 | 7.8 g/cm3 | 1350 °C (2460 °F) | Psi – 116000 , MPa – 800 | Psi – 80000 , MPa – 550 | 15 % |
Other Types of Duplex Stainless Steel F51 S31803 Round Bars & Rods
Ferritic / Austenitic stainless steel UNS S31803 Black Round Bars, ASTM A276 Duplex Steel Bars Traders, ASME SA276 Duplex Steel UNS S31803 Square Bar, UNS S31803 Bars, ASTM A479 Grade F51 UNS S31803 Duplex Steel hot finished hexagon Rods, ASME SA479 cold finished Duplex UNS S31803 Hex Bars, Lowest Price Duplex 2205 Stainless Steel bars wholesalers, UNS S31803 Duplex Steel Cold Drawn Bars, Suppliers of Duplex Steel Round Bars, Exporters of Duplex Steel Round Rods, F51 S31803 Bars Stockholders, F51 S31803 Rods Stockists, Cheap SAF 2205 Round Bars, Duplex Steel 2205 Round Bars, 2205 Duplex Forged Round Bars, Duplex Steel UNS S31803 Bright Bars, Duplex Steel UNS S31803 Hot Rolled Round Bars Distributors in Maharashtra, Duplex Steel UNS S31803 Half Round Rods, Duplex Steel UNS S31803 Flat Bars, Duplex Steel UNS S31803 Rectangular Bars vendors, Buy UNS S31803 Duplex Steel Threaded Rod, Duplex Steel UNS S31803 Triangle Bars, DIN 1.4462 Round Profile Bars, UNS S31803 Duplex Steel Polished Round Bars Stockyard, Duplex Steel S31803 Smooth Turned Round Bars, Duplex S31803 Rough Turned Bar, Duplex Stainless steel UNS S31803 Peeled Round Bar, DIN 1.4462 Duplex Threaded Rods, 2205 Duplex Octagonal Bars, UNS S31803 Welding Rods, Duplex Steel UNS S31803 Bars Manufactures in Mumbai India.
We are Suppliers and Exporters of Duplex S31803 Stainless Steel Round Bars in Cities Like
Navi Mumbai, Chandigarh, Vadodara, Lahore, Sharjah, Kuwait City, Houston, Jeddah, Kuala Lumpur, Milan, Tehran, Los Angeles, Hong Kong, Istanbul, Vung Tau, Moscow, Dammam, Ulsan, Coimbatore, Thiruvananthapuram, Ahmedabad, Ludhiana, Dallas, Ahvaz, Toronto, Australia, New Delhi, Ernakulam, Kolkata, Karachi, Petaling Jaya, Colombo, Manama, Indore, Sydney, Perth, Nagpur, Baroda, Visakhapatnam, Montreal, Al Jubail, Al Khobar, Granada, Mexico City, Calgary, Muscat, Kanpur, Madrid, Rajkot, Haryana, New York, Lagos, Port-of-Spain, Courbevoie, Pune, Bengaluru, Howrah, Dubai, Seoul, Geoje-si, Algiers, Cairo, Ho Chi Minh City, Bangkok, Atyrau, Gimhae-si, London, Turkey, Rio de Janeiro, Hyderabad, Jamshedpur, Hanoi, Bhopal, Secunderabad, Bogota, Aberdeen, Ranchi, Mumbai, Noida, Surat, Abu Dhabi, Chiyoda, Riyadh, Brisbane, Busan, Edmonton, Chennai, Santiago, Nashik, Doha, Thane, Jaipur, Singapore, Jakarta, Pimpri-Chinchwad, Faridabad, La Victoria, Gurgaon, Caracas.
We are Suppliers and Exporters of Duplex UNS S31803 Round Bars in Countries Like
Turkey, South Korea, Afghanistan, Poland, Estonia, Chile, Lebanon, Bhutan, Bulgaria, United States, Romania, Ghana, Oman, Gabon, Zimbabwe, cyprus, Tibet, Argentina, Namibia, Iran, Japan, Colombia, Netherlands, Finland, Ecuador, Saudi Arabia, Ukraine, Venezuela, Indonesia, Poland, United Kingdom, Norway, Mexico, Kuwait, Spain, Qatar, China, United Arab Emirates, Belgium, France, Algeria, Mexico, Belarus, Thailand, Singapore, Switzerland, Puerto Rico, brazil, Sri Lanka, Philippines, Bahrain, Australia, Nigeria, Russia, Yemen, Costa Rica, Germany, Azerbaijan, Czech Republic, Peru, Hungary, Mongolia, Nigeria, Ireland, Nepal, Iran, Taiwan, Lithuania, mexico, srilanka, thailand, malaysia, Gambia, Kenya, Chile, Sweden, Denmark, Kazakhstan, Italy, Portugal, Trinidad & Tobago,Tunisia, New Zealand, India, Israel, Malaysia, Morocco, Serbia, Hong Kong, Bolivia, Canada, Brazil, Croatia, South Africa, Egypt, Jordan, Macau, Slovakia, Libya, Greece, Vietnam, Bangladesh, Austria.