Duplex Steel UNS S32205 Industrial Bars, Grade F60 UNS S32205 Duplex Stainless Steel Hot –Finished Round Bars Exporters, Duplex Steel Round Bar, Duplex Steel Rods, DIN 1.4462 Cold Drawn Round Bars, Duplex 2205 Black Round Bar Suppliers, ASTM A276 Duplex UNS S32205 Bright Round Rod Manufactures, ASME SA479 Duplex Steel Bars, Duplex Steel UNS S32205 Peeled / Turned Round Bars Stockholders in Mumbai India
DIN 1.4462 Hex Rods Dealers in India, UNS S32205 Polished Bars Stockists, Duplex Steel UNS S32205 Forged Round Bars, Ferritic / Austenitic Duplex Steel UNS S32205 Hexagon Bars, Duplex 2205 Stainless Steel Welding Rod, Duplex F60 UNS S32205 Square Bar Distributors in Mumbai.
Renine Metalloys is a prominent manufacturer and distributor of Duplex S32205 Round Bars, which is a duplex grade with a Ferritic - austenitic microstructure. Duplex UNS S32205 Bars is a nitrogen-enhanced stainless steel, and provides high strength and high hardness. Duplex UNS S32205 Rods are extremely corrosion resistant, work hardenable alloys. Duplex UNS S32205 Bright Bars is used in chemical processing, transport and storage. Duplex UNS S32205 Square Bars are much more resistant to stress corrosion cracking than standard austenitic steels. Duplex UNS S32205 Flat Bars has high resistance to corrosion fatigue and erosion. Duplex UNS S32205 Hexagonal Bars has higher strength which is around twice that of Type 304 austenitic stainless steel. Use powerful, rigid machines in Duplex UNS S32205 Triangular Bars with extremely strong rigid mounting of tools and work piece. At temperatures below -50 Degree C, the micro - constituents of Duplex UNS S32205 Threaded Bars undergo ductile-to-brittle transition.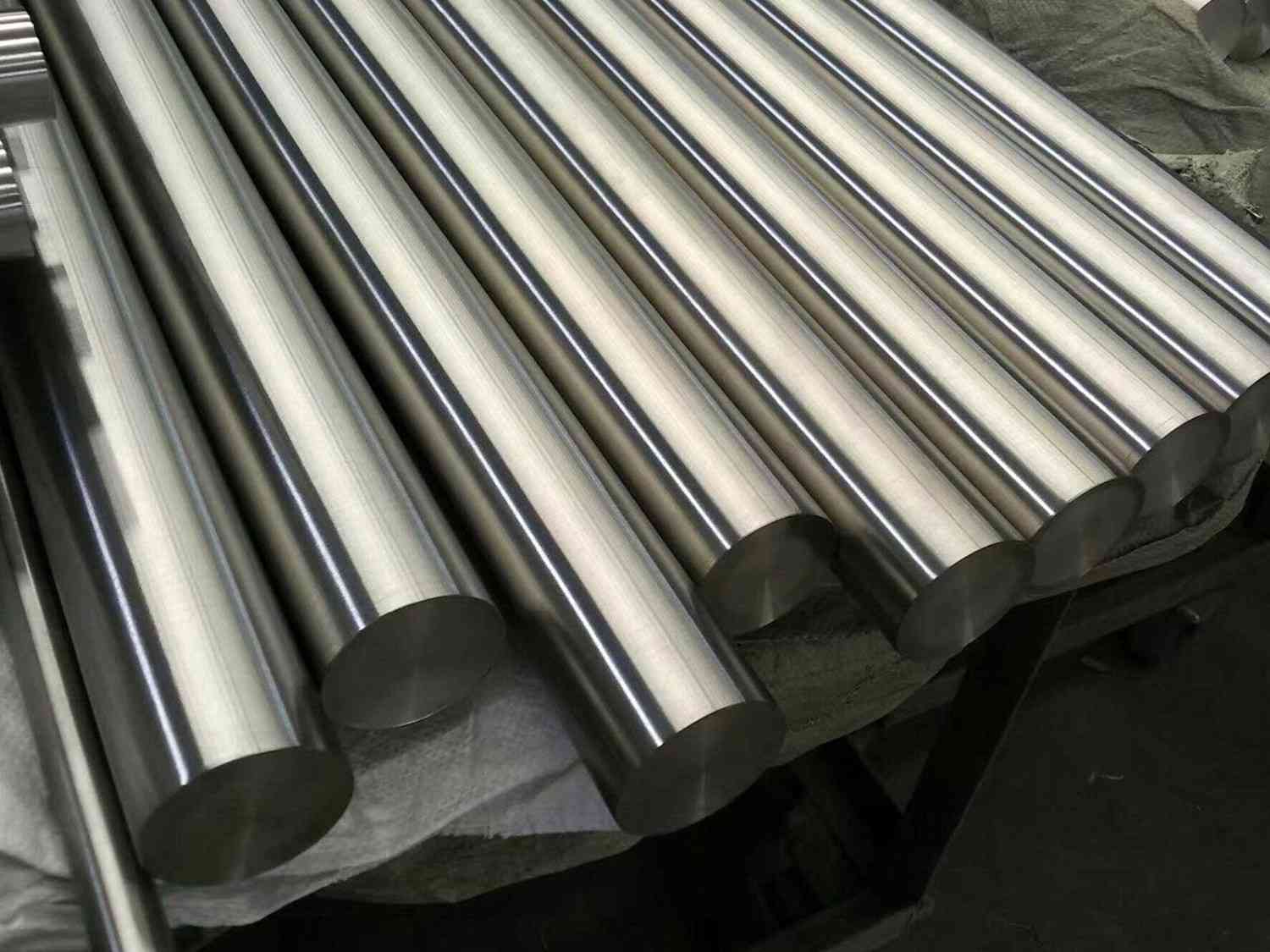 Duplex Steel UNS S32205 F60 Round Bars
Duplex UNS S32205 Hollow Bars has good weldability and workability, high resistance to corrosion fatigue, etc. Duplex 2205 Round Bars has excellent resistance to localized corrosion including inter - granular, pitting and crevice corrosion. The high chromium and molybdenum content, coupled with the nitrogen addition in Duplex 2205 Bars, provides general corrosion, pitting, and crevice corrosion resistance superior to 316L and 317L. Duplex 2205 Rods is applied in the industrial fields like chemical plant, seawater pump, seawater desalination plant, and so on.
Duplex UNS S32205 Stainless Steel Threaded Rods, DIN 1.4462 Rectangular Bars Traders, ASME SA276 Duplex UNS S32205 Octagons Bar, UNS S32205 Hot-Rolled Round Rods Stockyards, Duplex S32205 Spring Steel Bars Exporters, ASTM A479 Duplex SAF 2205 Cold Finish Round Bar, Duplex Steel UNS S32205 Flat Bar Suppliers in Mumbai.
F60 Duplex Steel UNS S32205 Bars Specification
Standard ASTM A276, A479 / ASME SA276, SA479
Specification ASTM, ASME and API
Size 10 mm To 100 mm Dia in 100 mm TO 6000 mm Length.
Length 3 to 6 meter, Custom Cut Lengths
Finishing Black, Bright Polished, Rough Turned, NO.4 Finish, Matt Finish, BA Finish
Form Round, Square, Hex (A/F), Rectangle, Wire (Coil Form), Wiremesh, Billet, Ingot, Forging Etc.,
Condition Cold Drawn & Polished Cold Drawn, Centreless Ground & Polished
Other Services Machining (CNC), Centreless Grinding (CG), Heat Treatment, Anneling, Pickling, Polish, Rolling, Forging, Cutting, Bending, Minor Fabrication
Get Quote
UNS S32205 Duplex Steel Round Bar Equivalent Indian Standard
| | | |
| --- | --- | --- |
| STANDARD | UNS | WERKSTOFF NR. |
| Duplex 2205 | S32205 | 1.4462 |
ASTM A276 Duplex 2205 Cold Drawn Round Bar Chemical Composition
| | | | | | | | | | | |
| --- | --- | --- | --- | --- | --- | --- | --- | --- | --- | --- |
| Grade | C | Mn | Si | P | S | Cr | Mo | Ni | N | Fe |
| S32205 | 0.030 max | 2.00 max | 1.00 max | 0.030 max | 0.020 max | 21.0 – 23.0 | 2.50 - 3.50 | 4.50 – 6.50 | 0.8 – 0.20 | 63.54 min |
ASME SA276 Duplex Steel UNS S32205 Hot-Rolled Round Bars Mechanical Properties
| | | | | | |
| --- | --- | --- | --- | --- | --- |
| Grade | Density | Melting Point | Tensile Strength | Yield Strength (0.2%Offset) | Elongation |
| S32205 | 7.8 g/cm3 | 1350 °C (2460 °F) | Psi – 116000 , MPa – 800 | Psi – 80000 , MPa – 550 | 15 % |
Other Types of Duplex Stainless Steel F60 S32205 Round Bars & Rods
Ferritic / Austenitic stainless steel UNS S32205 Black Round Bars, ASTM A276 Duplex Steel Bars Traders, ASME SA276 Duplex Steel UNS S32205 Square Bar, UNS S32205 Bars, ASTM A479 Grade F60 UNS S32205 Duplex Steel hot finished hexagon Rods, ASME SA479 cold finished Duplex UNS S32205 Hex Bars, Lowest Price Duplex 2205 Stainless Steel bars wholesalers, UNS S32205 Duplex Steel Cold Drawn Bars, Suppliers of Duplex Steel Round Bars, Exporters of Duplex Steel Round Rods, F60 S32205 Bars Stockholders, F60 S32205 Rods Stockists, Cheap SAF 2205 Round Bars, Duplex Steel 2205 Round Bars, 2205 Duplex Forged Round Bars, Duplex Steel UNS S32205 Bright Bars, Duplex Steel UNS S32205 Hot Rolled Round Bars Distributors in Maharashtra, Duplex Steel UNS S32205 Half Round Rods, Duplex Steel UNS S32205 Flat Bars, Duplex Steel UNS S32205 Rectangular Bars vendors, Buy UNS S32205 Duplex Steel Threaded Rod, Duplex Steel UNS S32205 Triangle Bars, DIN 1.4462 Round Profile Bars, UNS S32205 Duplex Steel Polished Round Bars Stockyard, Duplex Steel S32205 Smooth Turned Round Bars, Duplex S32205 Rough Turned Bar, Duplex Stainless steel UNS S32205 Peeled Round Bar, DIN 1.4462 Duplex Threaded Rods, 2205 Duplex Octagonal Bars, UNS S32205 Welding Rods, Duplex Steel UNS S32205 Bars Manufactures in Mumbai India.
We are Suppliers and Exporters of Duplex S32205 Stainless Steel Round Bars in Cities Like
Navi Mumbai, Chandigarh, Vadodara, Lahore, Sharjah, Kuwait City, Houston, Jeddah, Kuala Lumpur, Milan, Tehran, Los Angeles, Hong Kong, Istanbul, Vung Tau, Moscow, Dammam, Ulsan, Coimbatore, Thiruvananthapuram, Ahmedabad, Ludhiana, Dallas, Ahvaz, Toronto, Australia, New Delhi, Ernakulam, Kolkata, Karachi, Petaling Jaya, Colombo, Manama, Indore, Sydney, Perth, Nagpur, Baroda, Visakhapatnam, Montreal, Al Jubail, Al Khobar, Granada, Mexico City, Calgary, Muscat, Kanpur, Madrid, Rajkot, Haryana, New York, Lagos, Port-of-Spain, Courbevoie, Pune, Bengaluru, Howrah, Dubai, Seoul, Geoje-si, Algiers, Cairo, Ho Chi Minh City, Bangkok, Atyrau, Gimhae-si, London, Turkey, Rio de Janeiro, Hyderabad, Jamshedpur, Hanoi, Bhopal, Secunderabad, Bogota, Aberdeen, Ranchi, Mumbai, Noida, Surat, Abu Dhabi, Chiyoda, Riyadh, Brisbane, Busan, Edmonton, Chennai, Santiago, Nashik, Doha, Thane, Jaipur, Singapore, Jakarta, Pimpri-Chinchwad, Faridabad, La Victoria, Gurgaon, Caracas.
We are Suppliers and Exporters of Duplex UNS S32205 Round Bars in Countries Like
Turkey, South Korea, Afghanistan, Poland, Estonia, Chile, Lebanon, Bhutan, Bulgaria, United States, Romania, Ghana, Oman, Gabon, Zimbabwe, cyprus, Tibet, Argentina, Namibia, Iran, Japan, Colombia, Netherlands, Finland, Ecuador, Saudi Arabia, Ukraine, Venezuela, Indonesia, Poland, United Kingdom, Norway, Mexico, Kuwait, Spain, Qatar, China, United Arab Emirates, Belgium, France, Algeria, Mexico, Belarus, Thailand, Singapore, Switzerland, Puerto Rico, brazil, Sri Lanka, Philippines, Bahrain, Australia, Nigeria, Russia, Yemen, Costa Rica, Germany, Azerbaijan, Czech Republic, Peru, Hungary, Mongolia, Nigeria, Ireland, Nepal, Iran, Taiwan, Lithuania, mexico, srilanka, thailand, malaysia, Gambia, Kenya, Chile, Sweden, Denmark, Kazakhstan, Italy, Portugal, Trinidad & Tobago,Tunisia, New Zealand, India, Israel, Malaysia, Morocco, Serbia, Hong Kong, Bolivia, Canada, Brazil, Croatia, South Africa, Egypt, Jordan, Macau, Slovakia, Libya, Greece, Vietnam, Bangladesh, Austria.