Distributors of Hastelloy Alloy B-2 Dock Washers, DIN 2.4617 Hastelloy ASME SB574 Ogee Washers, Hastelloy B2 Washers, ASTM B574 Hastelloy B2® Washers, Alloy B-2 Plain Washers Dealer, Nickel Alloy UNS N10665 Spring Washer, Nimofer® 6928 Square Washer Suppliers, Nickelvac® HB-2 Industrial Washers Stockists, Hastelloy B2 Fasteners in Mumbai, India.
DIN 125 Hastelloy Alloy B2® Flat Washers Exporters, ISO 7089 Nimofer® 6928 Washer, ASTM B574 Nickelvac® HB-2 Washers, ASME B18.22.1 Hastelloy B-2 Customized Washer, Hastelloy B2 Tab Washers Wholesaler, Alloy B-2 Tooth Lock Washer, Hastelloy Gr.B2 Star Washer Manufacturer.
Renine Metalloys is a known manufacturer and exporter of Hastelloy Alloy B2 Washers, which has great resistance to stress corrosion cracking and pitting. Our Hastelloy B2 Flat Washers prevents the production of grain boundary carbides in the weld HAZ; therefore it's as-welded form is suitable for use in the chemical processing environments. Temperature uses of these Hastelloy B2 Lock Washers vary from ambient temperature to 1500 Degree F depending on the environments. Our Hastelloy B2 Sealing Washers has many different industrial applications, some of which include: Chemical process applications, Vacuum furnaces, and Mechanical components in reducing environments. Re-heating of the work piece in these Hastelloy B2 Split Washers may be necessary. Limited tests indicate that the corrosion resistance of our Hastelloy B2 Slot Washers in boiling 20 percent hydrochloric acid is not affected by cold reductions of up to 50 percent as compared to tests on the solution heat-treated alloy.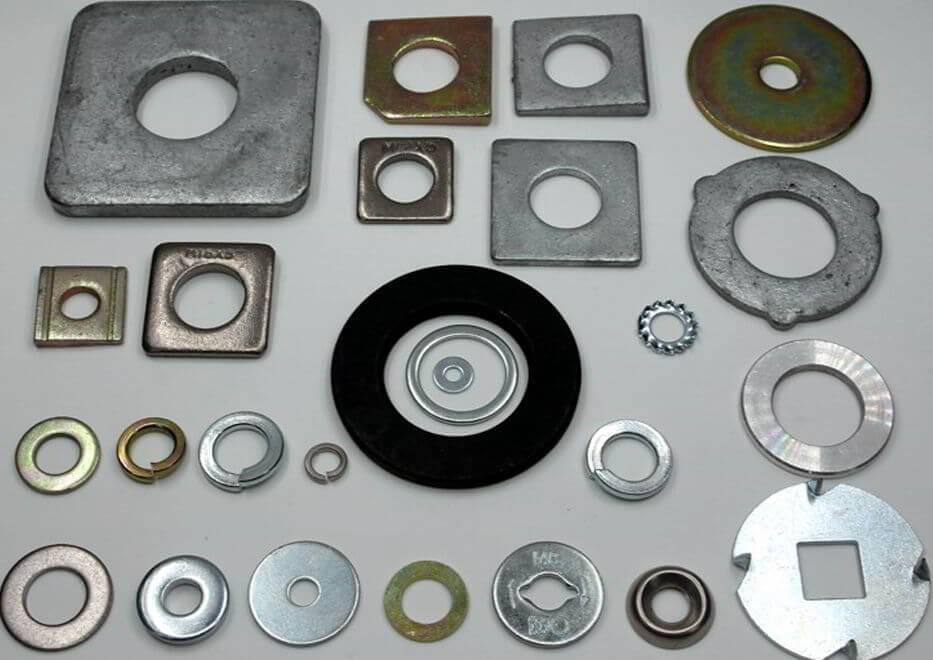 Hastelloy B2 ASTM B574 Washers
These Hastelloy B2 Star Washers should not be used in oxidizing media or where oxidizing contaminants are available in reducing media. Our Hastelloy B2 Machine Washers is used in gasoline refining, and also for most chemical process applications in the welded condition. In cases where Hollow product forms such as sheet and strip are required, these Hastelloy B2 Spring Washers can be solution treated at 1149 Degree C (2100 Degree F) and then cooled in a hydrogen atmosphere so as to avoid oxidation of the bright surface.
Nickel Alloy B2 Plate Washer Suppliers, Werkstoff No 2.4617 Hastelloy Countersunk Washers Traders, DIN 127 Hastelloy Alloy B-2 Fender Washer, Hastelloy B-2 Bevel Washers Exporters, UNS N10665 Hastelloy Lock Washers, Hastelloy B-2® Slant Washer, ISO 7090 Hastelloy B2 Hexagonal Washer.
Hastelloy B2® Washer Specification
Standard ASTM B574 / ASME SB574
Dimensions DIN 125/127, ISO 7089/7090, ASME B18.22.1
Type Cold Forged, Hot Forged, Bar Stock Machined, Bar Stock Milling
Size M02 to M33
Length 3 mm to 200 mm
Grade Hastelloy B2 Washer UNS (N10665), DIN (2.4617)
Get Quote
Hastelloy Alloy B-2 Washers Equivalent Indian Standard
| | | |
| --- | --- | --- |
| STANDARD | UNS | WNR. |
| Hastelloy B2 | N10665 | 2.4617 |
ASTM B574 Hastelloy Gr B2 Washers Chemical Composition
| | | | | | | | | | | |
| --- | --- | --- | --- | --- | --- | --- | --- | --- | --- | --- |
| Grade | Ni | C | Mo | Mn | Si | Fe | P | S | Co | Cr |
| Hastelloy B2 | Balance | .02 max | 26.0-30.0 | 1.0 max | .10 max | 2.0 max | .040 max | .030 max | 1.0 max | 1.0 max |
ASME B574 Hastelloy B-2 Washers Mechanical Properties
| | | | | | |
| --- | --- | --- | --- | --- | --- |
| Grade | Density | Melting Point | Tensile Strength | Yield Strength (0.2%Offset) | Elongation |
| Hastelloy B2 | 9.2 g/cm3 | 1370 °C (2500 °F) | Psi -1,10,000, MPa -760 | Psi - 51,000, MPa - 350 | 40 % |
Other Types of Hastelloy B2 Washers
Hastelloy B2 Fasteners, Hastelloy B-2 Washers, Hastelloy B2 Fasteners, Hastelloy B-2 Washer, Nickelvac® HB-2 Washer Suppliers, Nimofer® 6928 Washers Exporters, ASTM B574 Hastelloy Alloy B2 Flat Washer, Nickel Alloy UNS N10665 Lock Washers, Hastelloy B2® Finishing Washers, ASME SB574 Alloy B-2 Bonded Sealing Washer, Nickel Alloy B2 Hillside Washers, Hastelloy Alloy B-2 Belleville Washers, UNS N10665 Hastelloy® Industrial Washers, Hastelloy B2 Conical Washers, DIN 2.4617 Hastelloy Round-Mall Washers, B-2 Hastelloy® Wave Washers, Werkstoff No 2.4617 Fender Washers, Hastelloy B2 Tooth Washer, Alloy B2 Internal Tooth Lock, Hastelloy Alloy B-2 External Tooth Lock, Hastelloy B2® Plain Washers Exporter, ASME SB574 B2 Hastelloy Flat plain Washers, Nickelvac® HB-2 Square Washers Supplier, Hastelloy B2 Dome Plain Washers, Hastelloy B2 Countersunk Washers, Hastelloy B-2® Dock Washers, Hastelloy B2® Ogee Washers, Hastelloy B-2® Bevel Washers Stockist, Alloy B2 USS flat washers, Nimofer® 6928 SAE flat washer, B574 Hastelloy B-2 Split Lock Washers, Nickel Alloy UNS N10665 Spherical Washer, Hastelloy B2 Spring Washer, Hastelloy B2® Slant Washer, Hastelloy Alloy B-2® Custom Washer Stockists, Hastelloy B2 Star Washers Stockists, ASTM B574 Hastelloy B2 Tab Washer, Hastelloy B2 Double Tab Washers Traders, Nickelvac® HB-2 one Tab Washers Dealer, Hastelloy B2 Taper Washers, ASME SB574 Hastelloy Grade B-2 Round Washers, Nimofer® 6928 Square Plate Washer, Hastelloy B2 Dome Tooth Washer Stockholder, Hastelloy B2® Torque Washers, Supplier of High Quality Hastelloy Alloy B-2 phenolic Washers, Manufacturer of Hastelloy B2® split Washers Traders, Exporters of Hastelloy B-2 Special Washers, Hastelloy B2® Hex Washers Dealer, Hastelloy B-2 Customized Washer Stockholders, DIN Standard Hastelloy B2 Washers, ANSI Standard Hastelloy B-2 Washer, BS Standard Hastelloy B2® Washers, ISI Standard Hastelloy Alloy B-2 Washer, ISO Standard Hastelloy B2 Washers.
We are Suppliers and Exporters of Hastelloy B-2 Washers in Cities Like
Abu Dhabi, Port-of-Spain, Caracas, Hanoi, Indore, Noida, Al Jubail, Thane, Sydney, Bengaluru, Visakhapatnam, New Delhi, Surat, La Victoria, Dallas, Madrid, Nagpur, Chennai, Houston, Baroda, Chiyoda, Bogota, Rio de Janeiro, Geoje-si, Pimpri-Chinchwad, Ho Chi Minh City, Bangkok, Nashik, Calgary, Istanbul, Milan, Manama, Sharjah, Turkey, Chandigarh, Los Angeles, Howrah, Doha, Hong Kong, Petaling Jaya, Dubai, Ranchi, Vung Tau, Al Khobar, Kanpur, Brisbane, Jamshedpur, Thiruvananthapuram, Jaipur, Ahvaz, Faridabad, New York, Mexico City, Santiago, Moscow, Riyadh, Perth, Australia, Gimhae-si, Granada, Aberdeen, Rajkot, Ludhiana, Ernakulam, Tehran, Coimbatore, Jeddah, Haryana, London, Hyderabad, Muscat, Pune, Kolkata, Colombo, Courbevoie, Vadodara, Algiers, Busan, Kuwait City, Bhopal, Navi Mumbai, Jakarta, Gurgaon, Lagos, Dammam, Atyrau, Montreal, Secunderabad, Mumbai, Ulsan, Karachi, Cairo, Toronto, Kuala Lumpur, Lahore, Seoul, Edmonton, Ahmedabad, Singapore.
We are Suppliers and Exporters of Hastelloy B2 Washers in Countries Like
Macau, Australia, Namibia, mexico, srilanka, thailand, malaysia, Costa Rica, France, Bangladesh, China, Japan, Netherlands, Bolivia, Qatar, Chile, Finland, Slovakia, Iran, Venezuela, Algeria, cyprus, South Korea, Mongolia, Gambia, Mexico, Norway, Kazakhstan, United Arab Emirates, Trinidad & Tobago, Tunisia, Lebanon, Morocco, Lithuania, Brazil, South Africa, Bahrain, Gabon, Yemen, Jordan, Ecuador, Croatia, Hong Kong, Spain, brazil, Belgium, Ukraine, Philippines, Kenya, Bulgaria, Iran, Israel, Italy, Colombia, Russia, Poland, Ghana, Hungary, Belarus, Peru, Saudi Arabia, Chile, Oman, Nigeria, Canada, Poland, Libya, New Zealand, Ireland, Estonia, Sweden, Tibet, Serbia, Zimbabwe, Mexico, Sri Lanka, Thailand, Vietnam, Afghanistan, Switzerland, Malaysia, Nigeria, Azerbaijan, Romania, Kuwait, Portugal, Denmark, Austria, Indonesia, Puerto Rico, United States, Czech Republic, Nepal, Bhutan, Singapore, Greece, United Kingdom, India, Argentina, Turkey, Germany, Egypt, Taiwan.