Stainless steel is a type of steel that contains a minimum of 10.5% chromium by mass. The addition of chromium provides a protective layer on the surface of the steel, which makes it highly resistant to corrosion and staining. 304 Stainless Steel Plate also has excellent mechanical properties, including high strength and ductility, and is known for its durability, aesthetic appeal, and ease of maintenance. It is commonly used in a variety of applications, including kitchen appliances, cutlery, construction, automotive, and aerospace industries, among others.
Stainless Steel Sheets, SS Plates, Steel Coils, Grade TP304 Stainless Steel Shim Sheets Exporters, SUS 304L SS chequer (floor) Plate, AISI Steel 304H Perforated Sheet Suppliers, SS 304L Sheet, ASTM A240 SS 304 BA finish cold rolled Coil Manufactures, 304H SS Coil, ASME SA240 SS TP304L Plain Sheets, 304H Austenitic stainless steel Chequered Plates Stockholders in Mumbai India
Stainless Steel 304 Sheets is made up of 18% chromium and 8% nickel. It offers excellent corrosion resistance in a wide range of environments and temperatures. It has a low carbon content which helps to prevent intergranular corrosion when welding. This SS 304 Sheet type of sheeting is often used in kitchen appliances as well as outdoor structures such as fencing or railings. Stainless Steel 310S Sheets, Stainless Steel 316Ti Plates and many more grades are also available.
SS Coil, UNS S30400 Stainless Steel Polished Sheet Stockists, SS 304 Hot rolled (HR) Plates, SS 304L Slit Coils, 304 Stainless Steel Plate, Type TP304H Stainless Steel 2B finish decorative Sheets, No. 8 Mirror Finishes Stainless Steel Plates, SS UNS S30403 Cold rolled (CR) Sheets Dealers in India, UNS S30409 Mill Finished Plates Distributors in Mumbai.
Stainless Steel 304L Plates is often used in structural applications due to its higher carbon content than 304 sheets. Its added strength makes it ideal for use in bridges and other large structures where extra durability is needed. 304L Austenitic stainless steel Plates its corrosion resistance allows it to be used in chemical processing plants or marine environments without fear of rust or damage from saltwater or other corrosive elements. Different types of products are available, such as Duplex Steel UNS S32205 Round Bars, Hastelloy B3 Pipe Fittings, etc.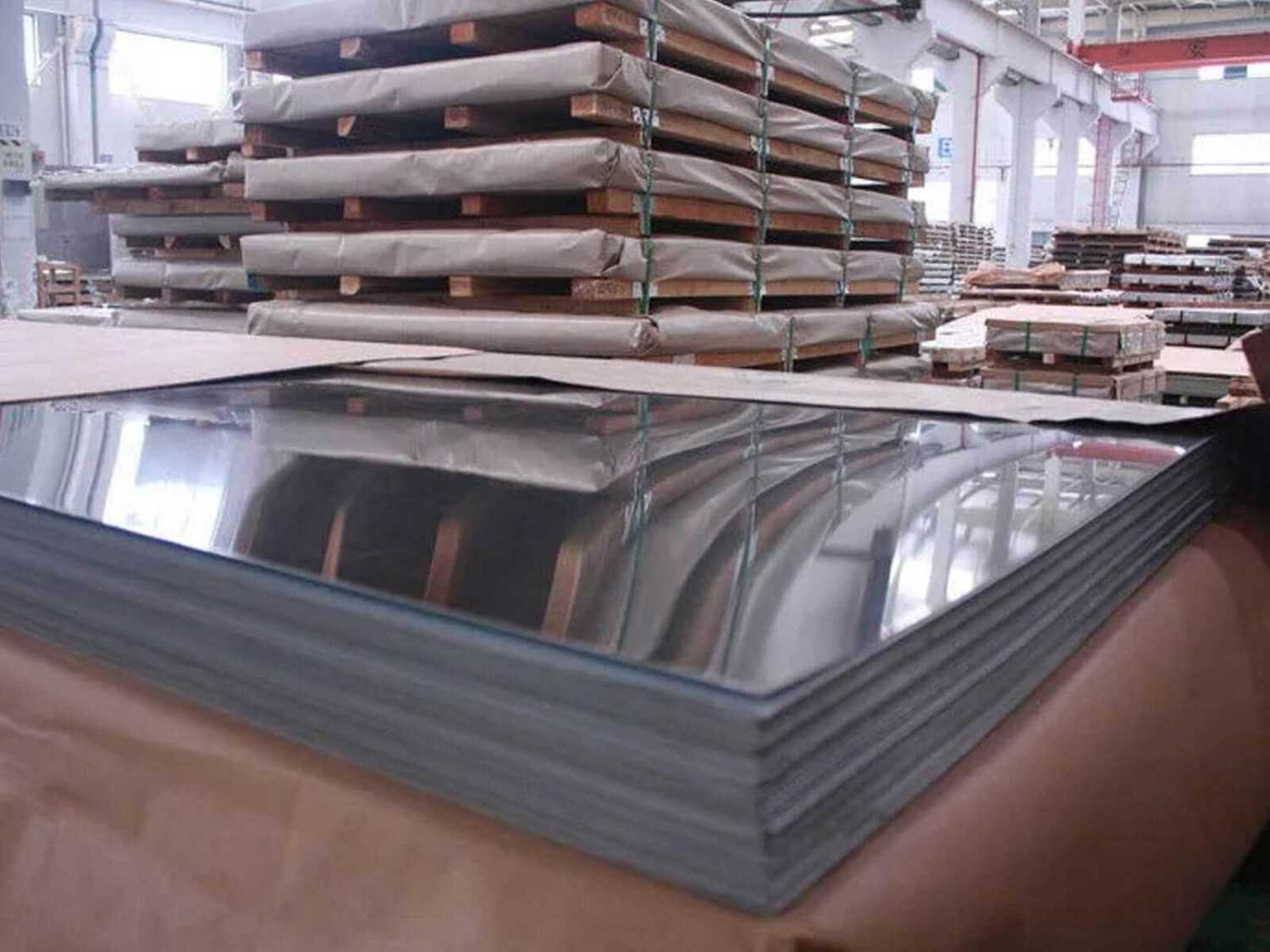 Stainless Steel 304/304L/304H Sheets & Plates
Stainless Steel 304H Coils offers superior heat resistance and can hold up against higher temperatures than other types. It also does not suffer from stress corrosion cracking which can occur at lower temperatures with other types. This makes it ideal for use in boilers or power plants where higher temperatures are common. its oxidation resistance makes it perfect for use outdoors where it might be exposed to harsh weather conditions such as rain or snow without fear of damage over time.
What is the difference between Stainless Steel 304 & 304L & 304H Sheets Sheets?
Stainless Steel 304, 304L and 304H are all variations of the popular grade 304. The main difference between the three grades is their carbon content. Stainless Steel 304 is a versatile & widely used grade with good corrosion resistance, suitable for a wide range of applications. Stainless Steel 304L has a lower carbon content than 304, making it ideal for welding & corrosion resistance also Stainless Steel 304H has higher carbon content, making it suitable for high-temperature applications such as heat exchangers and furnace parts.
What are the uses of Stainless Steel 304?
Stainless Steel 304 is widely used in various industries due to its excellent corrosion resistance, high strength & versatility. One of the most common applications of Stainless Steel 304 is in the food & beverage industry, where it is used to manufacture equipment such as kitchen appliances, food processing equipment & storage tanks. It is also widely used in chemical processing equipment, architecture, and construction.
SS 304 Strips Traders, ASME SA240 Stainless Steel Embossed Sheets, DIN 1.4301 Steel Foils Stockyards, Stainless Steel 304 Sheet, Stainless Steel 304H Coils, ASTM A240M SS 304H Coils, SS DIN 1.4306/1.4307 Circles Suppliers in Mumbai, Stainless Steel 304H Coil, 304 Stainless Steel Rings, SS Sheet, Stainless Steel TP304L Blanks, SS 304H Flats, SUS 304 Steel Diamond Plates Exporters
Stainless Steel 304/304L/304H Sheets, Plates & Coils Specification
Standard ASTM A240 / ASME SA240, JIS4304-2005, ASTM A167, EN10088-2-2005, GB/T3280-2007, etc
Range 0.5 mm To 150 mm thick in 1000 mm TO 2000 mm width & 2500 mm to 6000 mm Length available with NACE MR 01-75.
Surface Finishing Hot rolled plate (HR), Cold rolled sheet (CR),2B, 2D, BA, NO.1, NO.4, NO.8, 8K, mirror, Chequered, embossed, hair line, sand blast, Brush, etching, SATIN (Met with Plastic Coated) etc
Form Coils, Foils, Rolls, Plain Sheet, Shim Sheet, Perforated Sheet, Chequered Plate, Strip, Flats, Blank (Circle), Ring (Flange) etc.
Get Quote
SUS 304/304L/304H Steel Sheet, Plate, Coil Equivalent Indian Standard
| | | | | | | | |
| --- | --- | --- | --- | --- | --- | --- | --- |
| STANDARD | UNS | WNR. | AFNOR | EN | JIS | BS | GOST |
| SS 304 | S30400 | 1.4301 | Z7CN18‐09 | X5CrNi18-10 | SUS 304 | 304S31 | 08Х18Н10 |
| SS 304L | S30403 | 1.4306/1.4307 | Z3CN18‐10 | X2CrNi18-9 / X2CrNi19-11 | SUS 304L | 304S11 | 03Х18Н11 |
| SS 304H | S30409 | 1.4301 | - | - | - | - | - |
ASTM A240 Stainless Steel 304/304L/304H Hot rolled Sheets, Plates & Coils Chemical Composition
| | | | | | | | | |
| --- | --- | --- | --- | --- | --- | --- | --- | --- |
| Grade | C | Mn | Si | P | S | Cr | Ni | N |
| SS 304 | 0.08 max | 2 max | 0.75 max | 0.045 max | 0.030 max | 18 – 20 | 8 – 11 | - |
| SS 304L | 0.035 max | 2.0 max | 1.0 max | 0.045 max | 0.03 max | 18 – 20 | 8 – 13 | - |
| SS 304H | 0.10 max | 2.0 max | 0.75 max | 0.045 max | 0.03 max | 18 – 20 | 8 – 10.5 | - |
ASME SA240 SS 304/304L/304H Cold Rolled Sheets, Plates & Coils Mechanical Properties
| | | | | |
| --- | --- | --- | --- | --- |
| Density | Melting Point | Tensile Strength | Yield Strength (0.2%Offset) | Elongation |
| 8.0 g/cm3 | 1400 °C (2550 °F) | Psi – 75000, MPa – 515 | Psi – 30000, MPa – 205 | 40 % |
Other Types of 304/304L/304H Stainless Steel Sheets, Plates and Coils
Stainless Steel Sheets, SS Sheets, Stainless Steel Plates, SS Plates, SS Coils, Stainless Steel Coils, Stainless Steel 304 Sheet, Stainless Steel 304L Plates, Stainless Steel 304H Coils, SS 304 Sheets, SS 304L Plates, SS 304H Coils Suppliers, ASTM A240 Stainless Steel Sheets Plates and Coils, Grade 304 / 304L / 304H Austenitic stainless steel Sheet Plate & Coil Stockholders, AMS 5519 Stainless Steel 304 Sheets, ASTM A666 Cold-Worked Austenitic Stainless Steel Plates Dealers in Maharashtra, SS 304L Hard Tempered Coils Stockists, 304H Full Hard Tempered Stainless Steel Sheet & Plate, Alloy 304 Sheets, Alloy 304L Plate, Alloy 304H Coils, SS UNS S30400 Shim Sheets, UNS S30403 Plain Sheets, Cheap SS TP304H Chequered Plates, UNS S30409 Coils, 304 SS Cold Rolled Plates wholesaler in Charni Road, ASME SA240 Steel 304L CR Sheets Manufactures, Stainless Steel TP 304/304L/304H Perforated Sheets, AISI 304 Stainless Steel No.8 Mirror Finish Sheet Coil Traders in C.P.Tank Road, SS TP304L No.4 Finish sheets, SS 304H Rolled Floor Plates Stockists in Mumbai, Steel SUS 304 HR Hot Rolled Coils, SS 304L Mill Finished Sheet, Buy Grade 304H SS Bright annealed BA Finish Sheet, TP 304 Stainless Steel 2B Finish Coils, SUS 304L Slitting Coils, SS 304H Cold Rolled CR Coil Exporters in India, DIN 1.4301 Floor Plates, DIN 1.4306/1.4307 Diamond Plates, Low price SS 304 Decorative Sheet Plates, PE or PVC coating surface Finish Stainless Steel 304L Sheets Stocks, #4 Polish Finish SS 304 Coils, #8 Mirror Polish Finish Stainless Steel 304H Plates, Type 304 Half Hard Stainless Steel Coils, SS 304L Slit Coils, Steel 304H embossed Plates Vendors, SS 304 hair line surface finish Sheets, sand blast Finish Stainless Steel 304L Plate, Brush Finish SS 304H Sheets Stockyards, ASTM A240M Cold Rolled (CR) Stainless Steel Coils, ASME SA240 SS 304L Strip Manufactures in Mumbai, Steel 304H Foils, SS 304 HR Coils, Stainless Steel TP304 Circles, SS 304L Rings, Stainless Steel 304H Blanks, SS 304 Flats, SS TP304L Profile, 304H Stainless Steel Rolls, ASTM A240 Stainless Steel 304 One side Polished Sheets, 304L SS Both Side Polished Sheet and Plate, SS 304H Bead Blast Finish Sheets Exporters in Mumbai India.
We are Suppliers and Exporters of Stainless Steel 304/304L/304H Sheets, Plates & Coils in Cities Like
Haryana, Ahvaz, Atyrau, Visakhapatnam, Chandigarh, Secunderabad, Vadodara, Ernakulam, Nagpur, Colombo, Rio de Janeiro, Abu Dhabi, Baroda, Surat, La Victoria, Rajkot, Mumbai, Noida, Pune, Milan, Manama, Howrah, Indore, Riyadh, Jamshedpur, Kuala Lumpur, Dallas, Turkey, Hyderabad, Bangkok, Nashik, Ho Chi Minh City, Moscow, Perth, Dubai, Edmonton, Hong Kong, Jaipur, Chennai, Dammam, Los Angeles, Doha, Jakarta, Houston, Vung Tau, Ulsan, Singapore, Busan, Thane, Montreal, Santiago, Lagos, Gimhae-si, New Delhi, Chiyoda, Ranchi, Cairo, Al Khobar, Ludhiana, Faridabad, Thiruvananthapuram, Sydney, Bhopal, Kolkata, Tehran, Lahore, London, Petaling Jaya, Muscat, Caracas, Jeddah, Hanoi, Pimpri-Chinchwad, Australia, Port-of-Spain, Coimbatore, Sharjah, Bengaluru, Madrid, New York, Seoul, Granada, Aberdeen, Istanbul, Calgary, Ahmedabad, Brisbane, Geoje-si, Al Jubail, Kanpur, Kuwait City, Mexico City, Gurgaon, Bogota, Toronto, Navi Mumbai, Algiers, Karachi, Courbevoie.
We are Suppliers and Exporters of Stainless Steel 304/304L/304H Sheets, Plates & Coils in Countries Like
France, Belarus, Yemen, Bahrain, Lithuania, Afghanistan, brazil, Saudi Arabia, Azerbaijan, Taiwan, Turkey, Gambia, Spain, Greece, Tibet, Nigeria, Serbia, Peru, Mongolia, Chile, Thailand, Norway, Austria, Zimbabwe, South Korea, Argentina, Nepal, United States, Hong Kong, Philippines, Belgium, Ukraine, Lebanon, Czech Republic, Malaysia, cyprus, Sweden, Estonia, Slovakia, New Zealand, Ghana, Venezuela, Kazakhstan, Singapore, Poland, South Africa, Ireland, Gabon, Colombia, Iran, Qatar, Australia, Macau, Trinidad & Tobago,Tunisia, Romania, United Arab Emirates, Hungary, Russia, Chile, Netherlands, Canada, Denmark, Bangladesh, Croatia, Switzerland, Bhutan, Puerto Rico, Poland, Kuwait, Bolivia, Algeria, Iran, Jordan, Indonesia, Vietnam, Morocco, mexico, srilanka, thailand, malaysia, India, Bulgaria, China, Nigeria, Sri Lanka, Germany, Finland, Ecuador, Italy, Portugal, Costa Rica, Mexico, Oman, Israel, Kenya, United Kingdom, Egypt, Namibia, Mexico, Libya, Japan, Brazil