Renine Metalloys is a known supplier and manufacturer of SS 321 / 321H Sheets and Plates, which has better high temperature properties than 304 or 304L. Our Stainless Steel 321 Sheets is used where corrosive conditions are not too severe; also because of its resistance to scaling and vibration fatigue.
SUS 321H SS chequer (floor) Plate, Steel 321/321H Coils, Stainless Steel 321 Sheets Stockholders, SS TP321H Plates, AISI Steel 321 Perforated Sheet Suppliers, ASTM A240 SS TP321 BA finish cold rolled Coil Manufactures, ASME SA240 SS 321H Plain Sheets, 321 Austenitic stainless steel Chequered Plates, Grade 321 Stainless Steel Shim Sheets Exporters in Mumbai India.
Other corrosive compounds in the hot atmosphere of these Stainless Steel 321 Plates such as water and sulphur compounds will significantly reduce the maximum service temperature. Annealing Heat of Stainless Steel 321 Coils is done from 1050 Degree C to 1150 Degree C and then cools in air, where this ensures maximum ductility of the steel. To ensure weld metal properties of these 321 Stainless Steel Sheets (e.g. strength, corrosion resistance) equivalent to those of the parent metal, a filler material with a matching composition should preferably be used.
SS TP321H Coil, DIN 1.4541 Mill Finished Plates Distributors, No. 8 Mirror Finishes Stainless Steel 321H Plates, SS 321 Hot rolled (HR) Plates, SS 321H Slit Coils, Type TP321 Stainless Steel 2B finish decorative Sheets, UNS S32100 Stainless Steel Polished Sheet Stockists in Mumbai, UNS S32109 Cold rolled (CR) Sheets Dealers in India.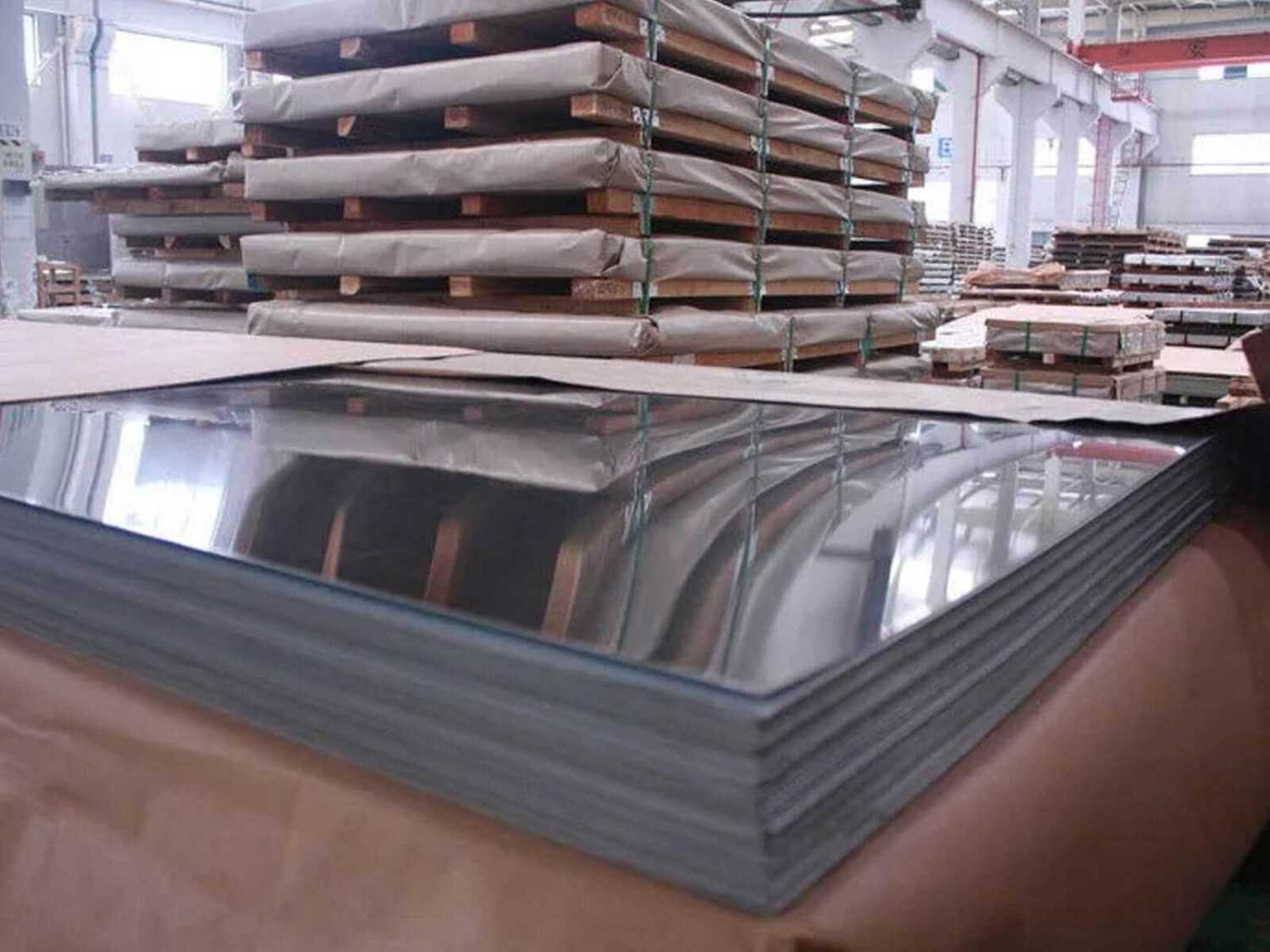 Stainless Steel 321/321H Sheets & Plates
Stainless Steel 321H Sheets was developed for enhanced creep resistance and for higher strength at temperatures above 1000 Degree F (537 Degree C). These Stainless Steel 321H Plates can be easily welded and processed by standard shop fabrication practices, and can also resists polythionic acid stress corrosion cracking. Stainless Steel 321H Coils does not perform well in chloride solutions, even in small concentrations, or in sulfuric acid service. This higher carbon version of these 321H Stainless Steel Plates offers a wide variety of benefits including: Excellent resistance oxidation to 1500 Degree F (816 Degree C).
SUS 321 Steel Diamond Plates, ASME SA240 Stainless Steel 321H Embossed Sheets, DIN 1.4878 Foils Stockyards, Stainless Steel TP 321 Blanks, SS 321H Flats, SS 321 Strips Traders, ASTM A240M SS 321 Coils, SS 321H Circles Suppliers in Mumbai, 321 Stainless Steel Rings, SS 321 / 321H Sheet Exporters in India.
Stainless Steel 321/321H Sheets, Plates & Coils Specification
Standard ASTM A240 / ASME SA240, JIS4304-2005, ASTM A167, EN10088-2-2005, GB/T3280-2007, etc
Range 0.5 mm To 150 mm thick in 1000 mm TO 2000 mm width & 2500 mm to 6000 mm Length available with NACE MR 01-75.
Surface Finishing Hot rolled plate (HR), Cold rolled sheet (CR),2B, 2D, BA, NO.1, NO.4, NO.8, 8K, mirror, Chequered, embossed, hair line, sand blast, Brush, etching, SATIN (Met with Plastic Coated) etc
Form Coils, Foils, Rolls, Plain Sheet, Shim Sheet, Perforated Sheet, Chequered Plate, Strip, Flats, Blank (Circle), Ring (Flange) etc.
Get Quote
SUS 321/321H Steel Sheet, Plate, Coil Equivalent Indian Standard
| | | | | |
| --- | --- | --- | --- | --- |
| STANDARD | WERKSTOFF NR. | UNS | JIS | EN |
| SS 321 | 1.4541 | S32100 | SUS 321 | X6CrNiTi18-10 |
| SS 321H | 1.4878 | S32109 | SUS 321H | X12CrNiTi18-9 |
ASTM A240 Stainless Steel 321/321H Hot rolled Sheets, Plates & Coils Chemical Composition
| | | | | | | | | | |
| --- | --- | --- | --- | --- | --- | --- | --- | --- | --- |
| Grade | C | Mn | Si | P | S | Cr | N | Ni | Ti |
| SS 321 | 0.08 max | 2.0 max | 1.0 max | 0.045 max | 0.030 max | 17.00 - 19.00 | 0.10 max | 9.00 - 12.00 | 5(C+N) – 0.70 max |
| SS 321H | 0.04 – 0.10 | 2.0 max | 1.0 max | 0.045 max | 0.030 max | 17.00 - 19.00 | 0.10 max | 9.00 – 12.00 | 4(C+N) – 0.70 max |
ASME SA240 SS 321/321H Cold Rolled Sheets, Plates & Coils Mechanical Properties
| | | | | |
| --- | --- | --- | --- | --- |
| Density | Melting Point | Tensile Strength | Yield Strength (0.2%Offset) | Elongation |
| 8.0 g/cm3 | 1457 °C (2650 °F) | Psi – 75000 , MPa – 515 | Psi – 30000 , MPa – 205 | 35 % |
Other Types of 321/321H Stainless Steel Sheets, Plates and Coils
UNS S32100 Shim Sheets, UNS S32109 Plain Sheets, SS TP321 Chequered Plates, Alloy 321H Coils, Cheap 321 SS Cold Rolled Plates wholesaler in Charni Road, ASME SA240 Steel 321H CR Sheets Manufactures, Stainless Steel TP 321/321H Perforated Sheets, ASTM A240 Stainless Steel Sheets Plates and Coils, Grade 321 / 321H Austenitic stainless steel Sheet Plate & Coil Stockholders, Stainless Steel 321 Sheet, Stainless Steel 321H Plates, Stainless Steel 321/321H Coils, SS 321 Sheets, SS 321H Plates, SS 321 Coils Suppliers, AMS 5519 Stainless Steel 321 Sheets, ASTM A666 Cold-Worked Austenitic Stainless Steel Plates Dealers in Maharashtra, SS 321H Hard Tempered Coils Stockists, 321 Full Hard Tempered Stainless Steel Sheet & Plate, AISI 321 Stainless Steel No.8 Mirror Finish Sheet Coil Traders in C.P.Tank Road, Stainless Steel Sheets, SS Sheets, Stainless Steel Plates, SS Plates, SS Coils, Stainless Steel Coils, SS TP321H No.4 Finish sheets, Alloy 321 Rolled Floor Plates Stockists in Mumbai, Steel SUS 321 HR Hot Rolled Coils, SS 321H Mill Finished Sheet, Buy Grade 321 SS Bright annealed BA Finish Sheet, TP 321 Stainless Steel 2B Finish Coils, SUS 321H Slitting Coils, SS 321 Cold Rolled CR Coil Exporters in India, DIN 1.4878 Floor Plates, DIN 1.4541 Diamond Plates, Low price SS 321 Decorative Sheet Plates, PE or PVC coating surface Finish Stainless Steel 321H Sheets Stocks, #4 Polish Finish SS 321 Coils, #8 Mirror Polish Finish Stainless Steel 321 Plates, Type 321 Half Hard Stainless Steel Coils, SS 321H Slit Coils, Steel 321H embossed Plates Vendors, SS 321 hair line surface finish Sheets, sand blast Finish Stainless Steel 321H Plate, Brush Finish SS 321 Sheets Stockyards, ASTM A240M Cold Rolled (CR) Stainless Steel Coils, ASME SA240 SS 321H Strip Manufactures in Mumbai, Steel 321 Foils, SS 321 HR Coils, Stainless Steel TP321 Circles, SS 321H Rings, Stainless Steel 321/321H Blanks, SS 321 Flats, SS TP321H Profile, 321 Stainless Steel Rolls, ASTM A240 Stainless Steel 321H One side Polished Sheets, 321 SS Both Side Polished Sheet and Plate, SS 321/321H Bead Blast Finish Sheets Exporters in Mumbai India.
We are Suppliers and Exporters of Stainless Steel 321/321H Sheets, Plates & Coils in Cities Like
Brisbane, Courbevoie, Seoul, Doha, Australia, Chennai, Istanbul, Noida, Ludhiana, Bangkok, Kuwait City, Mexico City, Abu Dhabi, Edmonton, Colombo, Pimpri-Chinchwad, Gurgaon, Rio de Janeiro, Surat, Kuala Lumpur, Bogota, Ranchi, Dallas, Ahmedabad, London, Hanoi, Ho Chi Minh City, Perth, Jakarta, Sydney, Nagpur, Riyadh, Sharjah, Vung Tau, Ahvaz, Montreal, Bengaluru, Hong Kong, Dammam, Lagos, Cairo, Manama, Moscow, Milan, Jeddah, Port-of-Spain, Chiyoda, Madrid, Los Angeles, Rajkot, Bhopal, Singapore, Gimhae-si, Granada, Karachi, Hyderabad, Al Khobar, Algiers, Petaling Jaya, Mumbai, Secunderabad, Howrah, Jaipur, Navi Mumbai, Toronto, Tehran, Houston, Indore, Thane, Jamshedpur, Busan, Lahore, Santiago, Geoje-si, Turkey, Ernakulam, Aberdeen, Kanpur, Atyrau, Calgary, New York, Al Jubail, Thiruvananthapuram, Baroda, Haryana, Faridabad, New Delhi, Coimbatore, Vadodara, Dubai, La Victoria, Kolkata, Chandigarh, Caracas, Pune, Nashik, Ulsan, Visakhapatnam, Muscat.
We are Suppliers and Exporters of Stainless Steel 321/321H Sheets, Plates & Coils in Countries Like
Bangladesh, Czech Republic, Bolivia, Kazakhstan, cyprus, Azerbaijan, Poland, United Kingdom, Slovakia, Morocco, Algeria, India, France, Ireland, Australia, Italy, Romania, Iran, Bhutan, Chile, Kenya, brazil, Gambia, Mexico, Lebanon, mexico, srilanka, thailand, malaysia, Macau, Namibia, Austria, Ecuador, Lithuania, Malaysia, Libya, Poland, Argentina, Russia, Venezuela, Canada, Thailand, Mexico, Ukraine, Germany, New Zealand, Japan, Indonesia, Norway, Afghanistan, Nigeria, Estonia, Netherlands, Portugal, Puerto Rico, Croatia, United States, Colombia, Egypt, Chile, Greece, Costa Rica, Kuwait, Israel, Mongolia, Nigeria, United Arab Emirates, Nepal, Saudi Arabia, Peru, Singapore, China, South Korea, Bahrain, Denmark, Switzerland, Belgium, Sweden, Tibet, Finland, Gabon, Belarus, Trinidad & Tobago,Tunisia, Brazil, Philippines, Ghana, South Africa, Turkey, Yemen, Qatar, Oman, Zimbabwe, Vietnam, Bulgaria, Sri Lanka, Jordan, Hungary, Taiwan, Hong Kong, Serbia, Iran, Spain.