Stainless Steel 321 is a type of austenitic stainless steel that is stabilized with the addition of titanium. This material is known for its excellent resistance to high temperatures. It is commonly used in applications with high temperatures, such as in the aerospace, chemical processing, and power generation industries. Stainless Steel 321 sheet is a flat-rolled sheet product made from this material. It is typically available in a range of thicknesses and sizes and can be supplied in either a cold-rolled or hot-rolled condition. The sheet is often used for applications requiring high strength, corrosion resistance, and heat resistance. 321 Stainless Steel Sheets is a titanium-stabilized austenitic stainless steel that contains 18% chromium, 8% nickel, and 0.08% carbon. This alloy is heat resistant up to 1500°F (816°C) and can be used in oxidizing and reducing environments. It has an excellent resistance to intergranular corrosion following exposure to temperatures in the chromium carbide precipitation range from 800–1500°F (427–816°C). Stainless Steel 904L Sheets, Stainless Steel 310S Plates and many more grades are also available.
SUS 321H SS chequer (floor) Plate, Steel 321/321H Coils, Stainless Steel 321 Sheets Stockholders, SS TP321H Plates, AISI Steel 321 Perforated Sheet Suppliers, 321 Stainless Steel Sheets, ASTM A240 SS TP321 BA finish cold rolled Coil Manufactures, ASME SA240 SS 321H Plain Sheets, SS 321H CR Sheets, 321 Austenitic stainless steel Chequered Plates, Grade 321 Stainless Steel Shim Sheets Exporters in Mumbai India.
AISI Steel 321 Plate has great weldability and formability properties and exceptional strength at elevated temperatures. It is commonly used in applications such as pressure vessels, aircraft exhaust systems, chemical process equipment, food processing machinery, and others where both formability and strength are needed. Stainless Steel 321H Plate is another variation of alloy 321 but with higher carbon content for better-elevated temperature strength. Adding carbon also allows this material to be heat treated at lower temperatures than other grades of stainless steel while providing good corrosion resistance at normal temperatures.
SS TP321H Coil, DIN 1.4541 Mill Finished Plates Distributors, No. 8 Mirror Finishes Stainless Steel 321H Plates, SS 321 Hot rolled (HR) Plates, SS 321H Slit Coils, Type TP321 Stainless Steel 2B finish decorative Sheets, SS UNS S32109 Plates, Stainless Steel 321 Slatting Coil, UNS S32100 Stainless Steel Polished Sheet Stockists in Mumbai, UNS S32109 Cold rolled (CR) Sheets Dealers in India.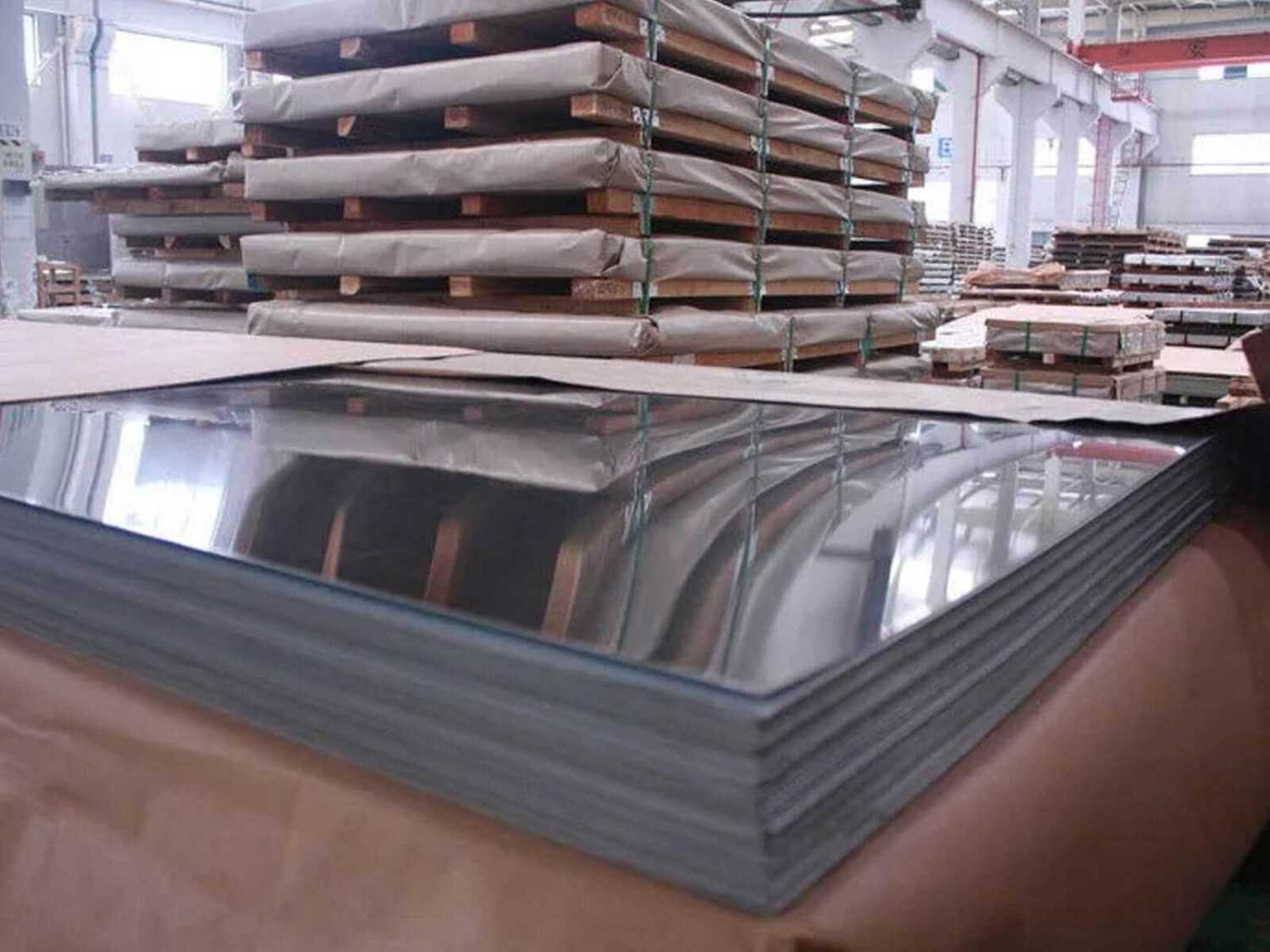 Stainless Steel 321/321H Sheets & Plates
This makes it ideal for use in applications that require higher strength but do not require frequent changes in temperature or exposure to corrosive environments. Some common services for ASME SA240 SS 321H Sheets include exhaust manifolds on industrial boilers, turbine blades on jet engines, and other components exposed to high-temperature environments with occasional exposure to corrosive elements like salt water spray or fumes from flue gasses. Different types of products are available, such as Duplex Steel UNS S32205 Forged Fittings, Incoloy 825 Flanges, etc.
Stainless Steel 321 Coils have many benefits that make them attractive choices for projects requiring superior performance characteristics. These include excellent formability allowing these alloys to be bent or formed into complex shapes with minimal effort, and good weldability, eliminating the need for expensive welding processes. Exceptional resistance against oxidation, and very good creep resistance, meaning they retain their shape even under extreme pressure. Outstanding toughness means they can handle bumps and impacts without breaking. Excellent corrosion resistance makes them suitable for use even in highly corrosive environments. Low permeability gives them superior protection against leaks when used in pipes or tanks that contain liquids or gasses under pressure.
What are stainless steel 321 sheets?
Stainless Steel 321 Sheet is normally used for aerospace, thermal, electrical, and structural applications. 321 stainless is reinforced with titanium, this alloy excels in high-temperature environments, providing resistance to cracking and corrosion.
What is the difference between stainless steel 321 and 321H sheets?
The difference between 321 and 321H grades lies in the amount of carbon contained within each metal. 321 has at most 0.08% while 321H contains between 0.04% and 0.10% carbon. They both contain at most 2.0% manganese, 0.75% silicon and 0.045% phosphorous.
What are the benefits of using stainless steel 321/321H sheets?
These grades are stabilized by the addition of Titanium. These grades are often utilized for applications in temperatures up to 1,650 ℉. These grades of plate combine high strength, resistance to scaling & phase stability, with resistance to subsequent aqueous corrosion.
SUS 321 Steel Diamond Plates, ASME SA240 Stainless Steel 321H Embossed Sheets, DIN 1.4878 Foils Stockyards, ASME SA240 Stainless Steel 321 Coils, SS ASTM A240 321 Plates, Stainless Steel TP 321 Blanks, SS 321H Flats, SS 321 Strips Traders, ASTM A240M SS 321 Coils, SS 321H Circles Suppliers in Mumbai, 321 Stainless Steel Rings, SS 321 / 321H Sheet Exporters in India.
Stainless Steel 321/321H Sheets, Plates & Coils Specification
Standard ASTM A240 / ASME SA240, JIS4304-2005, ASTM A167, EN10088-2-2005, GB/T3280-2007, etc
Range 0.5 mm To 150 mm thick in 1000 mm TO 2000 mm width & 2500 mm to 6000 mm Length available with NACE MR 01-75.
Surface Finishing Hot rolled plate (HR), Cold rolled sheet (CR),2B, 2D, BA, NO.1, NO.4, NO.8, 8K, mirror, Chequered, embossed, hair line, sand blast, Brush, etching, SATIN (Met with Plastic Coated) etc
Form Coils, Foils, Rolls, Plain Sheet, Shim Sheet, Perforated Sheet, Chequered Plate, Strip, Flats, Blank (Circle), Ring (Flange) etc.
Get Quote
SUS 321/321H Steel Sheet, Plate, Coil Equivalent Indian Standard
| | | | | |
| --- | --- | --- | --- | --- |
| STANDARD | WERKSTOFF NR. | UNS | JIS | EN |
| SS 321 | 1.4541 | S32100 | SUS 321 | X6CrNiTi18-10 |
| SS 321H | 1.4878 | S32109 | SUS 321H | X12CrNiTi18-9 |
ASTM A240 Stainless Steel 321/321H Hot rolled Sheets, Plates & Coils Chemical Composition
| | | | | | | | | | |
| --- | --- | --- | --- | --- | --- | --- | --- | --- | --- |
| Grade | C | Mn | Si | P | S | Cr | N | Ni | Ti |
| SS 321 | 0.08 max | 2.0 max | 1.0 max | 0.045 max | 0.030 max | 17.00 - 19.00 | 0.10 max | 9.00 - 12.00 | 5(C+N) – 0.70 max |
| SS 321H | 0.04 – 0.10 | 2.0 max | 1.0 max | 0.045 max | 0.030 max | 17.00 - 19.00 | 0.10 max | 9.00 – 12.00 | 4(C+N) – 0.70 max |
ASME SA240 SS 321/321H Cold Rolled Sheets, Plates & Coils Mechanical Properties
| | | | | |
| --- | --- | --- | --- | --- |
| Density | Melting Point | Tensile Strength | Yield Strength (0.2%Offset) | Elongation |
| 8.0 g/cm3 | 1457 °C (2650 °F) | Psi – 75000 , MPa – 515 | Psi – 30000 , MPa – 205 | 35 % |
Other Types of 321/321H Stainless Steel Sheets, Plates and Coils
UNS S32100 Shim Sheets, UNS S32109 Plain Sheets, SS TP321 Chequered Plates, Alloy 321H Coils, Cheap 321 SS Cold Rolled Plates wholesaler in Charni Road, ASME SA240 Steel 321H CR Sheets Manufactures, Stainless Steel TP 321/321H Perforated Sheets, ASTM A240 Stainless Steel Sheets Plates and Coils, Grade 321 / 321H Austenitic stainless steel Sheet Plate & Coil Stockholders, Stainless Steel 321 Sheet, Stainless Steel 321H Plates, Stainless Steel 321/321H Coils, SS 321 Sheets, SS 321H Plates, SS 321 Coils Suppliers, AMS 5519 Stainless Steel 321 Sheets, ASTM A666 Cold-Worked Austenitic Stainless Steel Plates Dealers in Maharashtra, SS 321H Hard Tempered Coils Stockists, 321 Full Hard Tempered Stainless Steel Sheet & Plate, AISI 321 Stainless Steel No.8 Mirror Finish Sheet Coil Traders in C.P.Tank Road, Stainless Steel Sheets, SS Sheets, Stainless Steel Plates, SS Plates, SS Coils, Stainless Steel Coils, SS TP321H No.4 Finish sheets, Alloy 321 Rolled Floor Plates Stockists in Mumbai, Steel SUS 321 HR Hot Rolled Coils, SS 321H Mill Finished Sheet, Buy Grade 321 SS Bright annealed BA Finish Sheet, TP 321 Stainless Steel 2B Finish Coils, SUS 321H Slitting Coils, SS 321 Cold Rolled CR Coil Exporters in India, DIN 1.4878 Floor Plates, DIN 1.4541 Diamond Plates, Low price SS 321 Decorative Sheet Plates, PE or PVC coating surface Finish Stainless Steel 321H Sheets Stocks, #4 Polish Finish SS 321 Coils, #8 Mirror Polish Finish Stainless Steel 321 Plates, Type 321 Half Hard Stainless Steel Coils, SS 321H Slit Coils, Steel 321H embossed Plates Vendors, SS 321 hair line surface finish Sheets, sand blast Finish Stainless Steel 321H Plate, Brush Finish SS 321 Sheets Stockyards, ASTM A240M Cold Rolled (CR) Stainless Steel Coils, ASME SA240 SS 321H Strip Manufactures in Mumbai, Steel 321 Foils, SS 321 HR Coils, Stainless Steel TP321 Circles, SS 321H Rings, Stainless Steel 321/321H Blanks, SS 321 Flats, SS TP321H Profile, 321 Stainless Steel Rolls, ASTM A240 Stainless Steel 321H One side Polished Sheets, 321 SS Both Side Polished Sheet and Plate, SS 321/321H Bead Blast Finish Sheets Exporters in Mumbai India.
We are Suppliers and Exporters of Stainless Steel 321/321H Sheets, Plates & Coils in Cities Like
Brisbane, Courbevoie, Seoul, Doha, Australia, Chennai, Istanbul, Noida, Ludhiana, Bangkok, Kuwait City, Mexico City, Abu Dhabi, Edmonton, Colombo, Pimpri-Chinchwad, Gurgaon, Rio de Janeiro, Surat, Kuala Lumpur, Bogota, Ranchi, Dallas, Ahmedabad, London, Hanoi, Ho Chi Minh City, Perth, Jakarta, Sydney, Nagpur, Riyadh, Sharjah, Vung Tau, Ahvaz, Montreal, Bengaluru, Hong Kong, Dammam, Lagos, Cairo, Manama, Moscow, Milan, Jeddah, Port-of-Spain, Chiyoda, Madrid, Los Angeles, Rajkot, Bhopal, Singapore, Gimhae-si, Granada, Karachi, Hyderabad, Al Khobar, Algiers, Petaling Jaya, Mumbai, Secunderabad, Howrah, Jaipur, Navi Mumbai, Toronto, Tehran, Houston, Indore, Thane, Jamshedpur, Busan, Lahore, Santiago, Geoje-si, Turkey, Ernakulam, Aberdeen, Kanpur, Atyrau, Calgary, New York, Al Jubail, Thiruvananthapuram, Baroda, Haryana, Faridabad, New Delhi, Coimbatore, Vadodara, Dubai, La Victoria, Kolkata, Chandigarh, Caracas, Pune, Nashik, Ulsan, Visakhapatnam, Muscat.
We are Suppliers and Exporters of Stainless Steel 321/321H Sheets, Plates & Coils in Countries Like
Bangladesh, Czech Republic, Bolivia, Kazakhstan, cyprus, Azerbaijan, Poland, United Kingdom, Slovakia, Morocco, Algeria, India, France, Ireland, Australia, Italy, Romania, Iran, Bhutan, Chile, Kenya, brazil, Gambia, Mexico, Lebanon, mexico, srilanka, thailand, malaysia, Macau, Namibia, Austria, Ecuador, Lithuania, Malaysia, Libya, Poland, Argentina, Russia, Venezuela, Canada, Thailand, Mexico, Ukraine, Germany, New Zealand, Japan, Indonesia, Norway, Afghanistan, Nigeria, Estonia, Netherlands, Portugal, Puerto Rico, Croatia, United States, Colombia, Egypt, Chile, Greece, Costa Rica, Kuwait, Israel, Mongolia, Nigeria, United Arab Emirates, Nepal, Saudi Arabia, Peru, Singapore, China, South Korea, Bahrain, Denmark, Switzerland, Belgium, Sweden, Tibet, Finland, Gabon, Belarus, Trinidad & Tobago,Tunisia, Brazil, Philippines, Ghana, South Africa, Turkey, Yemen, Qatar, Oman, Zimbabwe, Vietnam, Bulgaria, Sri Lanka, Jordan, Hungary, Taiwan, Hong Kong, Serbia, Iran, Spain.