Monel K500 Round Bars were first used in the 1940s as a replacement for existing metals due to their higher strength-to-weight ratio and superior corrosion resistance. They have since been widely adopted across various industries, particularly for applications such as chemical processing equipment, marine engineering components, fasteners and jet engines. Their unique copper, nickel and iron composition makes them extremely corrosion-resistant in fresh and saltwater environments.
Nickel Alloy K500 Black Round Bar Suppliers, Monel Round Bars Stockist, Monel® K500 Forged Bars, K500 Monel® Alloy Peeled / Turned Round Bars Stockholders in Mumbai India, Monel Alloy K500 Bar, Monel® Alloy Bars, K500 Monel® Cold Drawn Round Bars, Grade K500 Monel Hot –Finished Round Bars Exporters, Monel® Rods, ASTM B164 Monel® K500 Bright Round Rod Manufactures, Monel Round Bar.
Monel K500 round bars corrosion resistance
Monel K500 Rods have excellent corrosion resistance in various corrosive media, including saltwater, high-temperature acids, and alkalis. This superior corrosion resistance is due to its content of nickel-copper alloy that prevents pitting and crevice formation. In addition, the bar's strength is further enhanced by age, hardening up to double its initial strength.
Monel® K500 Hexagon Bars, Type K500 Nickel Alloy Square Bar in Mumbai, Nickelvac® K500 Rods Exporter, UNS N05500 Monel Polished Bars Stockists, Monel Alloy K500 Square Bars, Monel Alloy K500 Welding Rod, Monel® K500 Hex Rods Dealers in India, Monel® Alloy K500 Forged Round Bars Distributors.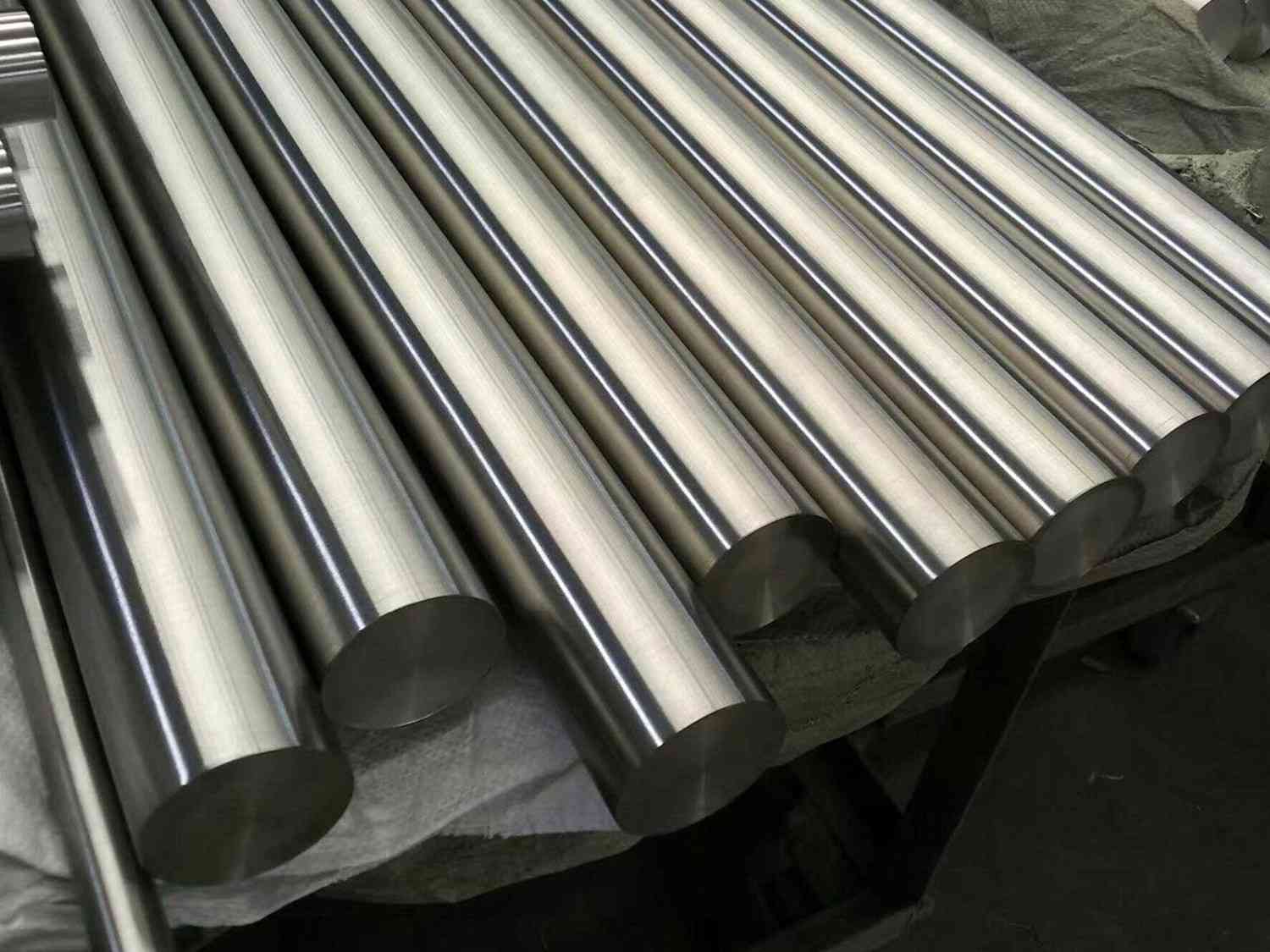 Monel K500 Round Bars
Monel K500 Round Bars Machining
Machining of ASTM B865 UNS N05500 round bar uses highly specialized cutting tools to shape and form a bar into a desired shape or size. The process involves using advanced technology such as CNC machining, computer-aided design (CAD), and high-speed spindles capable of achieving tight tolerance requirements. This process ensures precision control over the end product, allowing for uniformity in its finish and consistency in dimensions.
Monel K500 Round Bars Welding
Monel K500 round bars welding can be successfully achieved using the Gas-Tungsten Arc Welding (GTAW) process. The proper parameters must be used in order to ensure optimal results. For instance, a shielding gas of argon should be employed with the appropriate filler metal and varying heat inputs depending on the wall thickness of the material being welded. Additionally, slow cooling times must be observed to prevent cracking after welding has been completed. When done properly, this method yields excellent mechanical properties and provides strong joints for many applications.
Monel K500 Round Bars chemical Features
UNS N05500 is a nickel-copper alloy used in high-temperature and corrosion-resistant applications. It contains 63% nickel, 28-34% copper, 2.5-3.5% manganese, 1.5-2.5% iron and 0.35 to 0.85 per cent titanium and other trace elements for additional strength in extreme temperatures or corrosive environments. Its chemical composition gives Monel K500 round rods excellent resistance to corrosion, including seawater, brine solutions, acetic acid organic compounds, and moderate reducing acids like sulphuric acid and hydrochloric acid.
UNS N05500 Round Bars Uses
Monel K500 round bars are a nickel-copper alloy of at least 63% nickel and 28-34% copper. These bars offer excellent corrosion resistance to non-oxidizing acids such as hydrochloric and sulfuric acid while exhibiting moderate strength and toughness. It is often used in marine applications due to its exceptional resistance to saltwater corrosion. 2.4375 Alloy K500 Rod can also be used in chemical processing equipment for pumps, valves, tubing and fasteners due to their high strength properties at elevated temperatures compared to other alloys.
What are Monel K500 Round Bars?
Monel K500 Round Bars are a type of round bar made from the alloy Monel K500, which is a nickel-copper alloy with additions of aluminum & titanium. They are used in various industrial applications that require high strength, corrosion resistance, and durability.
What are the advantages of using Monel K500 Round Bars?
Monel K500 Round Bars have several advantages over other types of round bars. They have excellent corrosion resistance in a wide range of environments, including seawater, and acidic & alkaline solutions.
What are the applications of Monel K500 Round Bars?
Monel K500 Round Bars are used in various applications, including marine engineering, chemical processing, & the oil & gas industry. They are used to make parts that require high strength, corrosion resistance, & durability.
ASME SB164 Monel Alloy K500 Octagons Bar, Monel® K500 Cold Finish Round Bar, K500 Monel Alloy Round Bars, Monel® K500 Rectangular Bars Traders, Alloy K500 Round Bar, Monel® K500 Flat Bar Suppliers in Mumbai, DIN 2.4375 Nickel Alloy Hot-Rolled Round Rods Stockyards, K500 Monel Threaded Rods, K500 Spring Monel® Alloy Bars Exporters, Ferrochronin® K500 Bars Stockholder.
Monel K500 Bars Specification
Specifications: ASTM B164 / ASTM SB164
Dimensions : EN, DIN, JIS, ASTM, BS, ASME, AISI
Size: 5 mm To 500 mm
Diameter: 0.1 mm to 100 mm
Length: 100 mm To 3000 mm Long & Above
Finish: Black, Bright Polished, Rough Turned, NO.4 Finish, Matt Finish, BA Finish
Tolerance: H8, H9, H10, H11, H12, H13K9, K10, K11, K12 or as per clients' requirements
Form: Round, Square, Hex (A/F), Rectangle, Billet, Ingot, Forging Etc.
Grade : Monel K500 Round Bars UNS (N05500), DIN (2.4375)
Get Quote
K500 Monel® Alloy Round Bar Equivalent Indian Standard
| | | |
| --- | --- | --- |
| STANDARD | UNS | WNR. |
| Monel K500 | N05500 | 2.4375 |
ASTM B164 Monel K500 Cold Drawn Round Bar Chemical Composition
| | | | | | | | |
| --- | --- | --- | --- | --- | --- | --- | --- |
| Grade | C | Mn | Si | S | Cu | Fe | Ni |
| Monel K500 | 0.25 max | 1.5 max | 0.5 max | 0.010 max | 27.00 – 33.00 | 0.5 – 2 | 63.00 min |
ASME SB164 Monel® K500 Hot-Rolled Round Bars Mechanical Properties
| | | | | |
| --- | --- | --- | --- | --- |
| Density | Melting Point | Yield Strength (0.2%Offset) | Tensile Strength | Elongation |
| 8.44 g/cm3 | 1350 °C (2460 °F) | Psi – 115000 , MPa – 790 | Psi – 160000 , MPa – 1100 | 20 % |
Other Types of K500 Monel Round Bars & Rods
Cheap Monel® K500 Round Bars, Suppliers of Monel Round Bars, GOST МНЖМц 28-2,5-1,5 Monel® Forged Round Bars, Monel K500 Hot Rolled Round Bars Distributors in Maharashtra, Monel K500 Flat Bars, Monel® K500 Triangle Bars, Nickelvac® K500, Monel® Alloy K500 Bright Bars, Lowest Price Monel bars wholesalers, Exporters of Monel Alloy Round Rods, Monel® K500 Half Round Rods, Buy K500 Monel Threaded Rod, Monel® K500 Rectangular Bars vendors, Monel® K500 Black Round Bars, Monel® K500 Bars Manufactures in Mumbai India, K500 Monel Polished Round Bars Stockyard, ASME SB164 Monel Alloy K500 Square Bar, Monel® K500 Bars Stockholders, Monel K500 Rough Turned Bar, K500 Monel® Welding Rods, UNS N05500 Monel® Alloy Cold Drawn Bars, K500 Monel® Threaded Rods, Wrought Monel® Alloy K500 Bars, Monel K500 Peeled Round Bar, Grade K500 Monel® hot finished hexagon Rods, K500 Monel® Alloy Rods Stockists, Monel Alloy K500 Round Bars, K500 Monel Alloy Octagonal Bars, Ferrochronin® K500), Monel® K500 Smooth Turned Round Bars, Incoloy Alloy K500 Round Profile Bars, ASTM B164 Monel DIN 2.4375 Bars Traders, Monel K500 - UNS N05500 Common Trade Names (Monel K500®, Cold Finished Monel Alloy K500 Hex Bars
We are Suppliers and Exporters of Monel K500 Round Bars in Cities Like
Chandigarh, Chennai, Visakhapatnam, Noida, Madrid, Ahvaz, Lagos, Turkey, Coimbatore, Aberdeen, Doha, Kuala Lumpur, Edmonton, Houston, Manama, Abu Dhabi, Caracas, Faridabad, Calgary, Pune, Granada, Montreal, Toronto, Mexico City, Hong Kong, Santiago, Howrah, Gimhae-si, Geoje-si, Milan, Bangkok, Algiers, Nagpur, Kuwait City, Perth, Pimpri-Chinchwad, Vadodara, Ludhiana, Bhopal, Lahore, Colombo, Moscow, Thane, New Delhi, London, Dallas, Jakarta, Australia, Hyderabad, Al Jubail, Surat, Baroda, Hanoi, Dammam, Al Khobar, Ulsan, Ranchi, Ho Chi Minh City, Riyadh, Vung Tau, Navi Mumbai, Singapore, Courbevoie, Gurgaon, Secunderabad, Atyrau, Indore, Los Angeles, Cairo, Istanbul, Chiyoda, Port-of-Spain, Busan, Karachi, Nashik, Jamshedpur, Bengaluru, Kanpur, Dubai, Seoul, Ahmedabad, Tehran, La Victoria, Brisbane, Haryana, Thiruvananthapuram, Jeddah, Sharjah, Kolkata, Muscat, Sydney, Ernakulam, Petaling Jaya, Rio de Janeiro, Mumbai, Jaipur, New York, Rajkot, Bogota.
We are Suppliers and Exporters of Monel K500 Round Bars in Countries Like
Iran, Canada, Sweden, Slovakia, Egypt, Ukraine, Argentina, Denmark, Finland, Poland, Libya, Azerbaijan, Iran, Gambia, Romania, Brazil, Macau, Kazakhstan, Vietnam, Afghanistan, Germany, Namibia, Japan, Tibet, Norway, United Arab Emirates, Italy, Hungary, Bhutan, Spain, Taiwan, Philippines, Ecuador, Israel, Russia, Ireland, Switzerland, brazil, Poland, Nigeria, Costa Rica, Greece, Nigeria, Ghana, Gabon, Australia, Morocco, Mexico, Thailand, South Korea, Nepal, Chile, Belgium, Lebanon, Venezuela, Malaysia, India, Hong Kong, Algeria, Zimbabwe, Kuwait, Trinidad & Tobago,Tunisia, United Kingdom, Mongolia, mexico, srilanka, thailand, malaysia, Mexico, France, cyprus, Bangladesh, Bulgaria, Yemen, Indonesia, Sri Lanka, Serbia, Austria, Estonia, Oman, New Zealand, Bolivia, Singapore, Lithuania, Czech Republic, Belarus, Chile, Turkey, Bahrain, Jordan, Kenya, Saudi Arabia, South Africa, Colombia, Peru, Qatar, Netherlands, Portugal, Croatia, Puerto Rico, United States, China.