Renine Metalloys is a well-known leader in supplying Inconel Alloy 800HT Washers, which is a nickel-iron-chromium alloy, and also a modified version of alloy 800. In addition, heavy machines, sharps, slow speeds and deep cuts in Inconel 800HT Flat Washers to remove the work hardened layer are needed. Inconel 800HT Lock Washers is used industrial furnace and boiler components and equipment, equipment for heat-treating.
Ferrochronin® 800HT Square Washer Suppliers, Incoloy 800HT Fasteners, Nickel Alloy UNS N08811 Spring Washer, Distributors of Incoloy Alloy 800HT Dock Washers, DIN 1.4959 Incoloy ASME SA240 Ogee Washers in Mumbai, India, ASTM A240 Incoloy 800HT® Washers, Alloy 800HT Plain Washers Dealer, Nickelvac® 800HT Industrial Washers Stockists.
Inconel 800HT Sealing Washers can be joined by tungsten arc (GTAW), gas consumable electrode (MIG), or by stick electrode welding techniques commonly used on stainless steels. Inconel 800HT Split Washers has high creep-rupture strength, where forging may be done in the range of 2250 Degree F to 1850 Degree F. Inconel 800HT Slot Washers has good strength and resistance to oxidation and carburization in high temperatures.
ASTM A240 Nickelvac® 800HT Washers, ASME B18.22.1 Incoloy 800HT Customized Washer, ISO 7089 Ferrochronin® 800HT Washer, Incoloy 800HT Tab Washers Wholesaler, Alloy 800HT Tooth Lock Washer, DIN 125 Incoloy Alloy 800HT® Flat Washers Exporters, Incoloy Gr. 800HT Star Washer Manufacturer.
Inconel 800HT Star Washers are "C" class alloys, which are difficult to machine, along with oxide films and scales formed during heating can be removed by pickling. When cold formed extensively the grain size produces a visibly undulated surface of Inconel 800HT Machine Washers called "orange peel".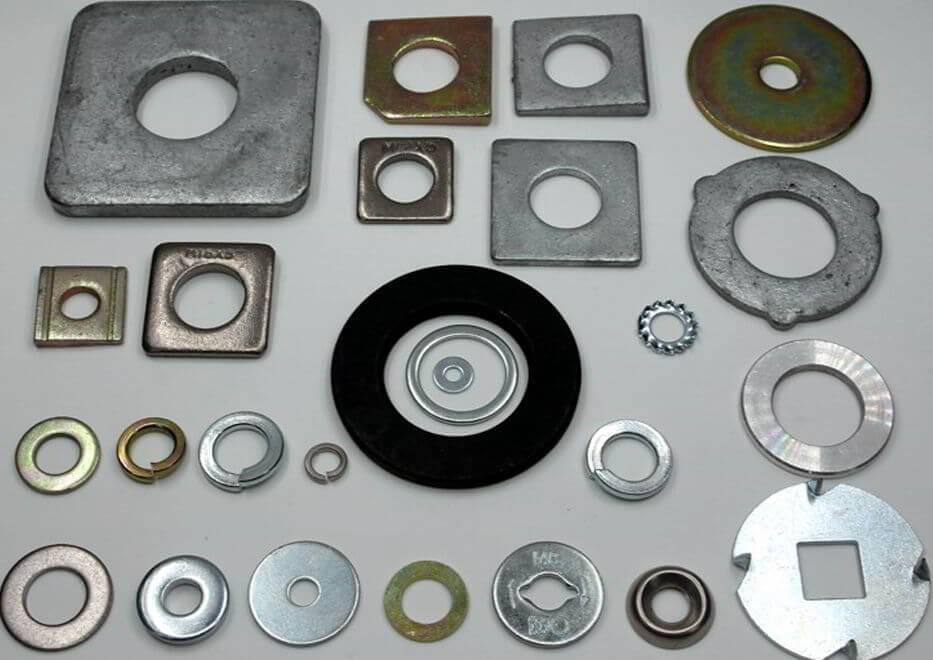 Incoloy 800HT Washers
However, because of the high strength of Inconel 800HT Flat Spring Washers, they require higher powered process equipment than standard austenitic stainless steels. Inconel 800HT Wire Spring Washers is readily machined by standard methods and resistance to aqueous corrosion at moderate temperatures. In addition to softening Inconel 800HT Spring Washers after forming operations, an additional purpose of this heat treatment is the development of larger grains for improved resistance to creep and rupture.
Incoloy 800HT Bevel Washers Exporters, Nicrofer® 3220 Washers, Incoloy 800HT® Slant Washer, Nickel Alloy 800HT Plate Washer Suppliers, Werkstoff No 1.4959 Incoloy Countersunk Washers Traders, DIN 127 Incoloy Alloy 800HT Fender Washer, UNS N08811 Incoloy Lock Washers, ISO 7090 Incoloy 800HT Hexagonal Washer.
Incoloy 800HT® Washer Specification
Standard ASTM A240 / ASME SA240
Dimensions DIN 125/127, ISO 7089/7090, ASME B18.22.1
Type Cold Forged, Hot Forged, Bar Stock Machined, Bar Stock Milling
Size M02 to M33
Length 3 mm to 200 mm
Get Quote
Incoloy Alloy 800HT Washers Equivalent Indian Standard
| | | | | | | | | |
| --- | --- | --- | --- | --- | --- | --- | --- | --- |
| STANDARD | UNS | WNR. | AFNOR | EN | JIS | BS | GOST | OR |
| Incoloy 800HT | N08811 | 1.4959 | - | X8NiCrAlTi32-21 | NCF 800HT | NA 15(HT) | ЭИ670 | XH32T |
ASTM A240 Incoloy Gr 800HT Washers Chemical Composition
| | | | | | | | | | | |
| --- | --- | --- | --- | --- | --- | --- | --- | --- | --- | --- |
| Grade | Ni | Fe | Cr | Cu | Ti | Al | C | Mn | S | Si |
| Incoloy 800HT | 30.0-35.0 | 39.5 min | 19.0-23.0 | .75 max | .25-.60 | .85-1.20 | .06-.10 max | 1.5 max | .015 max | 1.0 max |
ASME A240 Incoloy 800HT Washers Mechanical Properties
| | | | | |
| --- | --- | --- | --- | --- |
| Density | Melting Point | Tensile Strength | Yield Strength (0.2%Offset) | Elongation |
| 8.47 g/cm3 | 1413 °C (2580 °F) | 655 MPa, 95000 psi | 310 MPa, 45000 psi | 45 % |
Other Types of Incoloy 800HT Washers
Incoloy 800HT Fasteners, Incoloy 800HT Washer, Nickelvac® 800HT Washer Suppliers, Nicrofer® 3220 Washers, Ferrochronin® 800HT Washers Exporters, ASTM A240 Incoloy Alloy 800HT Flat Washer, Nickel Alloy UNS N08811 Lock Washers, Incoloy 800HT® Finishing Washers, ASME SA240 Alloy 800HT Bonded Sealing Washer, Nickel Alloy 800HT Hillside Washers, Incoloy Alloy 800HT Belleville Washers, UNS N08811 Incoloy® Industrial Washers, Incoloy 800HT Conical Washers, DIN 1.4959 Incoloy Round-Mall Washers, 800HT Incoloy® Wave Washers, Werkstoff No 1.4959 Fender Washers, Incoloy 800HT Tooth Washer, Incoloy Fasteners, Incoloy Washers, Alloy 800HT Internal Tooth Lock, Incoloy Alloy 800HT External Tooth Lock, Incoloy 800HT® Plain Washers Exporter, ASME SA240 800HT Incoloy Flat plain Washers, Incoloy 800HT® Square Washers Supplier, Incoloy 800HT Dome Plain Washers, Incoloy 800HT Countersunk Washers, Incoloy 800HT® Dock Washers, Incoloy 800HT® Ogee Washers, Nickelvac® 800HT Bevel Washers Stockist, Alloy 800HT USS flat washers, Ferrochronin® 800HT SAE flat washer, A240 Incoloy 800HT Split Lock Washers, Nickel Alloy UNS N08811 Spherical Washer, Incoloy 800HT Spring Washer, Incoloy 800HT® Slant Washer, Incoloy Alloy 800HT® Custom Washer Stockists, Incoloy 800HT Star Washers Stockists, ASTM A240 Incoloy 800HT Tab Washer, Nicrofer® 3220 Double Tab Washers Traders, Nickelvac® 800HT one Tab Washers Dealer, Incoloy 800HT Taper Washers, ASME SA240 Incoloy Grade 800HT Round Washers, Ferrochronin® 800HT Square Plate Washer, Incoloy 800HT Dome Tooth Washer Stockholder, Incoloy 800HT® Torque Washers, Supplier of High Quality Incoloy Alloy 800HT phenolic Washers, Manufacturer of Incoloy 800HT® split Washers Traders, Exporters of Incoloy 800HT Special Washers, Incoloy 800HT® Hex Washers Dealer, Incoloy 800HT Customized Washer Stockholders, DIN Standard Incoloy 800HT Washers, ANSI Standard Incoloy 800HT Washer, BS Standard Incoloy 800HT® Washers, ISI Standard Incoloy Alloy 800HT Washer, ISO Standard Incoloy 800HT Washers.
Trade Names and Owners of Nickel Alloys
HASTELLOY is a registered trade name of Haynes Intl.
INCOLOY, INCONEL, MONEL and NIMONIC are registered trade names of the INCO family of companies.
INVAR is a registered trademark of Imphy S.A.
MU-METAL is a registered trademark of Telcon Metals Ltd
NICORROS and NICROFER are registered tradenames of Krupp UM GmbH
RENE 41® is a Registered Trade Mark of General Electric Inc.
WASPALOY® is a Registered Trademark of United Technologies Corp.
NITRONIC® is a registered Trade Mark of AK Steel Corporation
ZERON® is a registered trademark of RA Materials
We are Suppliers and Exporters of Incoloy 800HT Washers in Cities Like
Jamshedpur, Bangkok, New York, Cairo, Bhopal, Chennai, Colombo, Tehran, Perth, Kuwait City, Indore, Lahore, Ahvaz, Noida, Al Jubail, Doha, Bogota, Santiago, Abu Dhabi, Jakarta, Secunderabad, Ulsan, Vung Tau, Nashik, Turkey, Navi Mumbai, Courbevoie, Montreal, Pimpri-Chinchwad, Mexico City, Baroda, La Victoria, Edmonton, Houston, Visakhapatnam, Sharjah, Bengaluru, Ahmedabad, Dubai, Chandigarh, Jaipur, Brisbane, Petaling Jaya, Mumbai, Rio de Janeiro, Kolkata, Manama, Milan, Granada, Ludhiana, Hanoi, Jeddah, London, Muscat, Istanbul, Ho Chi Minh City, Howrah, Chiyoda, Coimbatore, Seoul, Port-of-Spain, New Delhi, Hyderabad, Australia, Vadodara, Thane, Geoje-si, Lagos, Riyadh, Surat, Singapore, Madrid, Kanpur, Gurgaon, Calgary, Ranchi, Aberdeen, Dallas, Al Khobar, Nagpur, Haryana, Moscow, Sydney, Algiers, Karachi, Thiruvananthapuram, Los Angeles, Faridabad, Kuala Lumpur, Pune, Atyrau, Toronto, Rajkot, Ernakulam, Busan, Hong Kong, Gimhae-si, Dammam, Caracas.
We are Suppliers and Exporters of Incoloy 800HT Washers in Countries Like
Gambia, Denmark, Namibia, Canada, United Kingdom, Finland, Serbia, Venezuela, Peru, Kuwait, Colombia, Mexico, Lithuania, Slovakia, Spain, China, Brazil, Iran, Gabon, Chile, Turkey, Oman, Mexico, Libya, Croatia, South Korea, Nepal, Hong Kong, Bahrain, United States, Poland, Germany, Romania, Philippines, Czech Republic, Nigeria, United Arab Emirates, Singapore, Jordan, Taiwan, Azerbaijan, India, Israel, Switzerland, Algeria, Sweden, Zimbabwe, Macau, Argentina, Bulgaria, Portugal, Australia, cyprus, Estonia, Yemen, Poland, Indonesia, Afghanistan, New Zealand, Japan, Kazakhstan, brazil, Chile, Italy, Kenya, Vietnam, Netherlands, Bhutan, Mongolia, Bolivia, Puerto Rico, Ecuador, Iran, Russia, Bangladesh, Lebanon, Belgium, Ireland, Ukraine, Morocco, Norway, Thailand, South Africa, Egypt, France, Qatar, Hungary, Costa Rica, Greece, mexico, srilanka, thailand, malaysia, Malaysia, Ghana, Belarus, Trinidad & Tobago,Tunisia, Nigeria, Tibet, Saudi Arabia, Sri Lanka, Austria.