Inconel 718 Washers come in a variety of shapes and sizes depending on the needs. The most common types include flat, lock, fender, external tooth lock, starlock, spring tension (disc),wave or serrated or tabbed locking, internal tooth lock, metric shoulder or shim, knurled or grooved shim, countersunk head or fillister head screw locking and radius corner square neck round head screw locking. Selecting the right type of Inconel Alloy 718 Washers depends on the application need it for as each type has its own unique purpose. Different types of products are available, such as Alloy 20 Forged Fittings, UNS S21800 Forgings, etc.
Inconel Alloy 718 Square Washer Suppliers, DIN 2.4668 Inconel ASME SB670 Ogee Washers, Alvac® 718 Washer, ASTM B670 Inconel 718® Washers, Inconel 718 Flat Washer,Alloy 718 Plain Washers Dealer, Inconel 718 Fasteners, Nickel Alloy UNS N07718 Spring Washer, Distributors of Inconel Alloy 718 Dock Washers, Haynes® 718 Industrial Washers Stockists in Mumbai, India.
ASTM B670 Inconel 718 Washers are used in an array of engineering applications including aerospace components, automotive parts, marine components such as valves and pumps; nuclear power plant equipment, turbine blades, petrochemical processing units, fasteners like nuts and bolts; medical implants, heat exchangers, chemical feed systems, oil refineries, gas pipelines, vacuum chambers, electrical systems and more. Alloy 718 Washers are especially useful in applications where the environment is harsh due to high temperatures or corrosive chemicals. Inconel Bolts, Inconel Nuts and many more grades are also available.
ISO 7089 Nicrofer® 5219 Washer, Inconel 718 Tab Washers Wholesaler, Alloy 718 Tooth Lock Washer, DIN 125 Inconel Alloy 718® Flat Washers Exporters, Inconel Gr. 718 Star Washer Manufacturer, Inconel 718 Lock Washers, ASTM B670 Altemp® 718 Washers, ASME B18.22.1 Inconel 718 Customized Washer.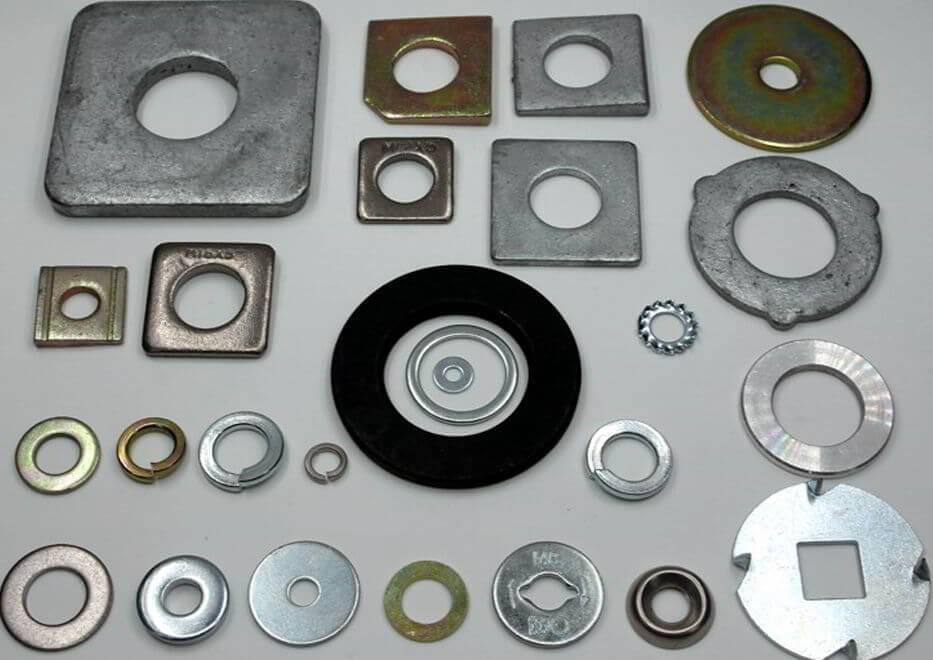 Inconel 718 Washers
Nickel Alloy UNS N07718 Washer offer superior strength and corrosion resistance compared to traditional steel or stainless steel washers making them ideal for a wide range of engineering applications where extreme temperatures or corrosive materials may be present. Whether there is a need a flat washer or a starlock one there is sure to be an DIN 125 Inconel Alloy 718 Washers option that fits your needs perfectly. For engineers and manufacturers alike who want reliable performance even under tough conditions - look no further than these specialized superalloy washers.
What is Inconel 718, and why is it used for washers?
Inconel 718 is a nickel-chromium alloy that is highly resistant to corrosion, oxidation, and high-temperature environments. Inconel 718 washers are used in various applications where resistance to these conditions and high strength are essential
What are the benefits of using Inconel 718 washers?
Inconel 718 washers have several advantages over other materials. They are highly resistant to corrosion and have excellent strength, making them ideal for use in harsh environments.
What are the common types of Inconel 718 washers?
The most common types of Inconel 718 washers are flat washers, spring washers, and lock washers. Flat washers are used to distribute loads and prevent damage to the surface of the material being fastened.
DIN 127 Inconel Alloy 718 Fender Washer, UNS N07718 Inconel Lock Washers, ISO 7090 Inconel 718 Hexagonal Washer Traders, 718 Inconel Washer, Inconel 718 Bevel Washers Exporters, Inconel 718® Slant Washer, Nickel Alloy 718 Plate Washer Suppliers, Werkstoff No 2.4668 Inconel Countersunk Washers.
Inconel 718® Washer Specification
Standard ASTM B670 / ASME SB670
Dimensions DIN 125/127, ISO 7089/7090, ASME B18.22.1
Type Cold Forged, Hot Forged, Bar Stock Machined, Bar Stock Milling
Size M02 to M33
Length 3 mm to 200 mm
Get Quote
Inconel Alloy 718 Washers Equivalent Indian Standard
| | | |
| --- | --- | --- |
| STANDARD | UNS | WNR. |
| Inconel 718 | N07718 | 2.4668 |
ASTM B670 Inconel Gr 718 Washers Chemical Composition
| | | | | | | | | | | | | | | |
| --- | --- | --- | --- | --- | --- | --- | --- | --- | --- | --- | --- | --- | --- | --- |
| C | Mn | P | S | Si | Cr | Ni | Mo | Cb | Ta | Ti | Al | Co | B | Cu |
| 0.08 | 0.35 | 0.015 | 0.015 | 0.35 | 17-21 | 50-55 | 2.8-3.30 | 4.75-5.50 | 0.05 | 0.65-1.15 | 0.20-0.80 | 1.00 | 0.006 | 0.30 |
ASME B670 Inconel 718 Washers Mechanical Properties
| | | | |
| --- | --- | --- | --- |
| Ultimate Tensile Strength, psi | .2% Yield Strength psi | Elongation % | Hardness Rockwell B |
| 135,000 | 70,000 | 45 | 100 |
Other Types of Inconel 718 Washers
Inconel 718 Fasteners, Inconel 718 Washer, Haynes® 718 Washer Suppliers, Alvac® 718 Washers, Altemp® 718 Washers Exporters, Nicrofer® 5219 Washers, ASTM B670 Inconel Alloy 718 Flat Washer, Nickel Alloy UNS N07718 Lock Washers, Inconel 718® Finishing Washers, ASME SB670 Alloy 718 Bonded Sealing Washer, Nickel Alloy 718 Hillside Washers, Inconel Alloy 718 Belleville Washers, UNS N07718 Inconel® Industrial Washers, Inconel 718 Conical Washers, DIN 2.4668 Inconel Round-Mall Washers, 718 Inconel® Wave Washers, Inconel Fasteners, Inconel Washers, Werkstoff No 2.4668 Fender Washers, Inconel 718 Tooth Washer, Alloy 718 Internal Tooth Lock, Inconel Alloy 718 External Tooth Lock, Inconel 718® Plain Washers Exporter, ASME SB670 718 Inconel Flat plain Washers, Inconel 718® Square Washers Supplier, Inconel 718 Dome Plain Washers, Inconel 718 Countersunk Washers, Inconel 718® Dock Washers, Inconel 718® Ogee Washers, Haynes® 718 Bevel Washers Stockist, Alloy 718 USS flat washers, Inconel Alloy 718 SAE flat washer, B670 Inconel 718 Split Lock Washers, Nickel Alloy UNS N07718 Spherical Washer, Inconel 718 Spring Washer, Inconel 718® Slant Washer, Inconel Alloy 718® Custom Washer Stockists, Inconel 718 Star Washers Stockists, ASTM B670 Inconel 718 Tab Washer, Inconel 718 Double Tab Washers Traders, Altemp® 718 one Tab Washers Dealer, Inconel 718 Taper Washers, ASME SB670 Inconel Grade 718 Round Washers, Alvac® 718 Square Plate Washer, Nicrofer® 5219 Dome Tooth Washer Stockholder, Inconel 718® Torque Washers, Supplier of High Quality Inconel Alloy 718 phenolic Washers, Manufacturer of Inconel 718® split Washers Traders, Exporters of Inconel 718 Special Washers, Inconel 718® Hex Washers Dealer, Inconel 718 Customized Washer Stockholders, DIN Standard Inconel 718 Washers, ANSI Standard Inconel 718 Washer, BS Standard Inconel 718® Washers, ISI Standard Inconel Alloy 718 Washer, ISO Standard Inconel 718 Washers.
Trade Names and Owners of Nickel Alloys
HASTELLOY is a registered trade name of Haynes Intl.
INCOLOY, INCONEL, MONEL and NIMONIC are registered trade names of the INCO family of companies.
INVAR is a registered trademark of Imphy S.A.
MU-METAL is a registered trademark of Telcon Metals Ltd
NICORROS and NICROFER are registered tradenames of Krupp UM GmbH
RENE 41® is a Registered Trade Mark of General Electric Inc.
WASPALOY® is a Registered Trademark of United Technologies Corp.
NITRONIC® is a registered Trade Mark of AK Steel Corporation
ZERON® is a registered trademark of RA Materials
We are Suppliers and Exporters of Inconel 718 Washers in Cities Like
Nagpur, Karachi, Cairo, Vadodara, Atyrau, Muscat, Dallas, Colombo, Manama, Lahore, Moscow, Rajkot, Faridabad, Secunderabad, Dubai, Tehran, Bhopal, Bogota, Jaipur, Ho Chi Minh City, Ludhiana, Pune, Montreal, Howrah, Kanpur, Noida, Mumbai, Turkey, Los Angeles, Ranchi, Petaling Jaya, Rio de Janeiro, Gimhae-si, Hanoi, Mexico City, New Delhi, Calgary, Al Khobar, Visakhapatnam, Kolkata, Dammam, Lagos, Busan, Singapore, Aberdeen, Brisbane, Jakarta, Thane, Algiers, Sydney, Surat, Australia, Santiago, Edmonton, New York, Seoul, Chiyoda, Nashik, Perth, Courbevoie, Caracas, Milan, Granada, Vung Tau, Istanbul, Ahmedabad, Sharjah, Bengaluru, Port-of-Spain, Doha, Ulsan, Kuala Lumpur, Jeddah, Ernakulam, Indore, Geoje-si, Hong Kong, Hyderabad, Al Jubail, Chennai, Toronto, Jamshedpur, Kuwait City, Pimpri-Chinchwad, Coimbatore, Haryana, Riyadh, Gurgaon, Thiruvananthapuram, La Victoria, Ahvaz, London, Navi Mumbai, Abu Dhabi, Houston, Baroda, Madrid, Bangkok, Chandigarh.
We are Suppliers and Exporters of Inconel 718 Washers in Countries Like
Azerbaijan, Czech Republic, Belgium, Venezuela, Gambia, Israel, Philippines, Nigeria, Germany, Bangladesh, cyprus, Morocco, Poland, Poland, Mexico, Italy, Libya, mexico, srilanka, thailand, malaysia, South Africa, Brazil, Gabon, Canada, Portugal, India, Croatia, Taiwan, Hungary, Egypt, Finland, Nepal, France, Belarus, Spain, Iran, Japan, Jordan, Iran, Turkey, Kazakhstan, Algeria, Yemen, Sweden, Vietnam, Ireland, Netherlands, Oman, Chile, Kenya, Thailand, Russia, Ecuador, Namibia, United Kingdom, Zimbabwe, Indonesia, Slovakia, Tibet, Bhutan, Romania, Lithuania, Austria, Bulgaria, Macau, Puerto Rico, New Zealand, brazil, Saudi Arabia, Sri Lanka, Mexico, Trinidad & Tobago,Tunisia, Bolivia, Denmark, Lebanon, United States, Costa Rica, Colombia, Switzerland, Greece, Estonia, United Arab Emirates, Mongolia, Peru, Chile, Malaysia, Serbia, Qatar, Ghana, South Korea, Nigeria, Kuwait, Argentina, Bahrain, Afghanistan, Norway, Singapore, China, Ukraine, Hong Kong, Australia.