Inconel 602 washers are a type of fastener used in various industrial applications. Inconel Alloy 602 Washers are made of an alloy that combines nickel and chromium with small amounts of other metals, giving them superior strength and resistance to heat, corrosion, and oxidation. This makes 602 Inconel Washers ideal for high-temperature resistance and chemical processing applications. Inconel 602 Washers come in a variety of sizes and shapes to suit different needs. Standard flat washers have beveled edges for uniform spacing between the nut or bolt head and surface being clamped. Inconel 602 Wire Spring Washers have teeth on one side to provide extra secure fastening against vibration or movement. Split lock washers are designed with two tabs that create tension when the nut is tightened down, making them ideal for keeping bolts from loosening under pressure or shock loads. Inconel X750 Washers, Incoloy 800 Washers and many more grades are also available.
Distributors of Inconel Alloy 602 Dock Washers, DIN 2.4633 Inconel ASME SB168 Ogee Washers, ASTM B168 Inconel 602CA Washers, Alloy 602 Plain Washers Dealer, Alloy 602 CA Industrial Washers Stockists, Nicrofer 6025 HT Square Washer Suppliers, Inconel 602 Fasteners, Nickel Alloy UNS N06025 Spring Washer in Mumbai, India.
Inconel 602 Star Washers can withstand extreme temperatures up to 2000 degrees Fahrenheit (1093 degrees Celsius). Inconel 602 Machine Washers are often used in power generation plants, gas turbines, petrochemical refineries and other environments where high temperature performance is needed. Inconel 602 Slot Washers can also handle exposure to caustic chemicals such as hydrochloric acid or sodium hydroxide without corroding or weakening over time. Their strength makes them an excellent choice for securing heavy machinery components such as pumps, fans, valves and motors in factories or industrial settings. Different types of products are available, such as Inconel 718 Pipe Fittings, Inconel 625 Pipe Fittings, etc.
ASTM B168 Alloy 602 CA Washers, ASME B18.22.1 Inconel 602 Customized Washer, ISO 7089 Nicrofer 6025 HT Washer, Inconel 602 Tab Washers Wholesaler, Alloy 602 Tooth Lock Washer, DIN 125 Inconel Alloy 602® Flat Washers Exporters, Inconel Gr. 602 Star Washer Manufacturer.
The most obvious benefit of using Inconel 602 Sealing Washers is their ability to hold up under extreme temperatures and exposure to corrosive chemicals without diminishing their strength or effectiveness over time. Moreover, Inconel 602 Flat Washers offer much greater corrosion resistance than standard steel fasteners when exposed to salt water or other harsh environments with high humidity levels. Their versatility also means they can be used in a variety of different applications where conventional steel fasteners would not be suitable due to their susceptibility to rusting or breaking down prematurely under extreme conditions.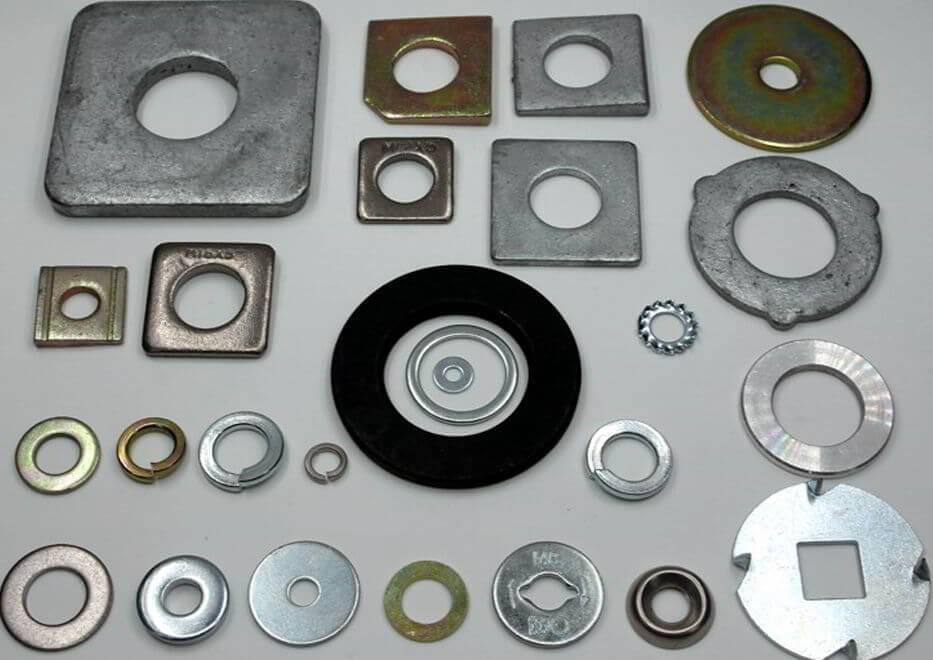 Inconel 602 Washers
The use of Inconel 602 Lock Washers offers many benefits over conventional steel fasteners due to their superior strength and durability as well as their ability to withstand extreme temperatures and corrosive substances without losing their effectiveness over time. As such, they are an excellent choice for use in any industrial application where performance matters most.
What are Inconel 602 Washers?
Inconel 602 washers are flat circular discs made from Inconel 602 alloy, which is a high-temperature, nickel-based alloy. These washers are used to distribute the load of a threaded fastener, such as a bolt or screw, and to prevent damage to the surface of the material being fastened.
What are the benefits of Inconel 602 Washers?
Inconel 602 washers offer excellent resistance to high-temperature environments, as well as oxidation and corrosion resistance. They are also durable & have high strength, making them ideal for use in high-stress applications.
What applications are Inconel 602 Washers used for?
Inconel 602 washers are used in a variety of high-temperature applications, including gas turbine components, exhaust systems, and heat exchangers.
Inconel 602CA Slant Washer, Nickel Alloy 602 Plate Washer Suppliers, Werkstoff No 2.4633 Inconel Countersunk Washers Traders, DIN 127 Inconel Alloy 602 Fender Washer, Inconel Alloy 602 Washers, Washers. Nickel Alloy, 602 Inconel Washers, UNS N06025 Inconel Lock Washers, ISO 7090 Inconel 602 Hexagonal Washer, Inconel 602 Bevel Washers Exporters.
Inconel 602® Washer Specification
Standard ASTM B168 / ASME SB168
Dimensions DIN 125/127, ISO 7089/7090, ASME B18.22.1
Type Cold Forged, Hot Forged, Bar Stock Machined, Bar Stock Milling
Size M02 to M33
Length 3 mm to 200 mm
Get Quote
Inconel Alloy 602 Washers Equivalent Indian Standard
| | | |
| --- | --- | --- |
| STANDARD | UNS | WNR. |
| Alloy 602 | N06025 | 2.4633 |
ASTM B168 Inconel Gr 602 Washers Chemical Composition
| | | | | | | | | | | | |
| --- | --- | --- | --- | --- | --- | --- | --- | --- | --- | --- | --- |
| Inconel 602CA | Cr | Ni | C | Al | Ti | Y | Zr | Mn | Si | Cu | Fe |
| Min | 24.00 | | 0.15 | 1.80 | 0.10 | 0.05 | 0.01 | – | – | – | 8.00 |
| Max | 26.00 | Balance | 0.25 | 2.40 | 0.20 | 0.12 | 0.10 | 0.15 | 0.50 | 0.10 | 11.00 |
ASME B168 Inconel 602 Washers Mechanical Properties
| | | | | |
| --- | --- | --- | --- | --- |
| Density | Melting Range | Tensile Strength (Min Mpa) | Yield Strength (0.2%Offset) | Elongation |
| 7.89 g/cm³ | 1340 1400°C | 680 | 270 | 30 % |
Other Types of Inconel 602 Washers
Inconel 602 Fasteners, Inconel 602 Washer, Alloy 602 CA Washer Suppliers, Nicrofer 6025 HT Washers Exporters, Inconel 602CA Washers, ASTM B168 Inconel Alloy 602 Flat Washer, Nickel Alloy UNS N06025 Lock Washers, Inconel 602® Finishing Washers, ASME SB168 Alloy 602 Bonded Sealing Washer, Nickel Alloy 602 Hillside Washers, Inconel Alloy 602 Belleville Washers, UNS N06025 Inconel® Industrial Washers, Inconel 602 Conical Washers, DIN 2.4633 Inconel Round-Mall Washers, 602 Inconel® Wave Washers, Inconel Fasteners, Inconel Washers, Werkstoff No 2.4633 Fender Washers, Inconel 602 Tooth Washer, Alloy 602 Internal Tooth Lock, Inconel Alloy 602 External Tooth Lock, Inconel 602CA Plain Washers Exporter, ASME SB168 602 Inconel Flat plain Washers, Inconel 602CA Square Washers Supplier, Inconel 602 Dome Plain Washers, Inconel 602 Countersunk Washers, Inconel 602® Dock Washers, Inconel 602® Ogee Washers, Alloy 602 CA Bevel Washers Stockist, Alloy 602 USS flat washers, Nicrofer 6025 HT SAE flat washer, B168 Inconel 602 Split Lock Washers, Nickel Alloy UNS N06025 Spherical Washer, Inconel 602 Spring Washer, Inconel 602® Slant Washer, Inconel Alloy 602® Custom Washer Stockists, Inconel 602 Star Washers Stockists, ASTM B168 Inconel 602 Tab Washer, Inconel 602 Double Tab Washers Traders, Alloy 602 CA one Tab Washers Dealer, Inconel 602 Taper Washers, ASME SB168 Inconel Grade 602 Round Washers, Nicrofer 6025 HT Square Plate Washer, Inconel 602 Dome Tooth Washer Stockholder, Inconel 602CA Torque Washers, Supplier of High Quality Inconel Alloy 602 phenolic Washers, Manufacturer of Inconel 602CA split Washers Traders, Exporters of Inconel 602 Special Washers, Inconel 602® Hex Washers Dealer, Inconel 602 Customized Washer Stockholders, DIN Standard Inconel 602 Washers, ANSI Standard Inconel 602 Washer, BS Standard Inconel 602® Washers, ISI Standard Inconel Alloy 602 Washer, ISO Standard Inconel 602 Washers.
Trade Names and Owners of Nickel Alloys
HASTELLOY is a registered trade name of Haynes Intl.
INCOLOY, INCONEL, MONEL and NIMONIC are registered trade names of the INCO family of companies.
INVAR is a registered trademark of Imphy S.A.
MU-METAL is a registered trademark of Telcon Metals Ltd
NICORROS and NICROFER are registered tradenames of Krupp UM GmbH
RENE 41® is a Registered Trade Mark of General Electric Inc.
WASPALOY® is a Registered Trademark of United Technologies Corp.
NITRONIC® is a registered Trade Mark of AK Steel Corporation
ZERON® is a registered trademark of RA Materials
We are Suppliers and Exporters of Inconel 602 Washers in Cities Like
Nagpur, Karachi, Cairo, Vadodara, Atyrau, Muscat, Dallas, Colombo, Manama, Lahore, Moscow, Rajkot, Faridabad, Secunderabad, Dubai, Tehran, Bhopal, Bogota, Jaipur, Ho Chi Minh City, Ludhiana, Pune, Montreal, Howrah, Kanpur, Noida, Mumbai, Turkey, Los Angeles, Ranchi, Petaling Jaya, Rio de Janeiro, Gimhae-si, Hanoi, Mexico City, New Delhi, Calgary, Al Khobar, Visakhapatnam, Kolkata, Dammam, Lagos, Busan, Singapore, Aberdeen, Brisbane, Jakarta, Thane, Algiers, Sydney, Surat, Australia, Santiago, Edmonton, New York, Seoul, Chiyoda, Nashik, Perth, Courbevoie, Caracas, Milan, Granada, Vung Tau, Istanbul, Ahmedabad, Sharjah, Bengaluru, Port-of-Spain, Doha, Ulsan, Kuala Lumpur, Jeddah, Ernakulam, Indore, Geoje-si, Hong Kong, Hyderabad, Al Jubail, Chennai, Toronto, Jamshedpur, Kuwait City, Pimpri-Chinchwad, Coimbatore, Haryana, Riyadh, Gurgaon, Thiruvananthapuram, La Victoria, Ahvaz, London, Navi Mumbai, Abu Dhabi, Houston, Baroda, Madrid, Bangkok, Chandigarh.
We are Suppliers and Exporters of Inconel 602 Washers in Countries Like
Azerbaijan, Czech Republic, Belgium, Venezuela, Gambia, Israel, Philippines, Nigeria, Germany, Bangladesh, cyprus, Morocco, Poland, Poland, Mexico, Italy, Libya, mexico, srilanka, thailand, malaysia, South Africa, Brazil, Gabon, Canada, Portugal, India, Croatia, Taiwan, Hungary, Egypt, Finland, Nepal, France, Belarus, Spain, Iran, Japan, Jordan, Iran, Turkey, Kazakhstan, Algeria, Yemen, Sweden, Vietnam, Ireland, Netherlands, Oman, Chile, Kenya, Thailand, Russia, Ecuador, Namibia, United Kingdom, Zimbabwe, Indonesia, Slovakia, Tibet, Bhutan, Romania, Lithuania, Austria, Bulgaria, Macau, Puerto Rico, New Zealand, brazil, Saudi Arabia, Sri Lanka, Mexico, Trinidad & Tobago,Tunisia, Bolivia, Denmark, Lebanon, United States, Costa Rica, Colombia, Switzerland, Greece, Estonia, United Arab Emirates, Mongolia, Peru, Chile, Malaysia, Serbia, Qatar, Ghana, South Korea, Nigeria, Kuwait, Argentina, Bahrain, Afghanistan, Norway, Singapore, China, Ukraine, Hong Kong, Australia.