Renine Metalloys is a known supplier and manufacturer of SS 321 / 321H Round Bars, which is quite ductile and forms easily. Our Stainless Steel 321 Round Bars cannot be hardened by heat treatment, only by cold working. The overall characteristics of these Stainless Steel 321 Bars make it an excellent, relatively low cost choice for many applications.
Stainless Steel 321 Round Bar, SS 321H Rod, Steel 321/321H Bars, AISI Steel 321 Black Round Rods Suppliers, ASTM A276 SS 321H Bright Round Bars Manufactures, ASME SA479 SS 321 Forged Bars, 321H Austenitic stainless steel Peeled / Turned Round Bars Stockholders, Grade 321 Stainless Steel Hot–Finished Round Bars Exporters, SUS 321H SS Cold Drawn Round Bars in Mumbai India.
Typical applications of our Stainless Steel 321 Rods are: Aircraft Exhaust Stacks and Manifolds, Welded Equipment, Chemical Processing Equipment, Jet Engine Parts, etc. These 321 Stainless Steel Round Bars can be stress-relief annealed within the sensitization temperature range 450 Degree C – 800 Degree C without carbide precipitation occurring, thus avoiding the possibility of inter - granular corrosion. In some cases, however, a differing composition of our Stainless Steel 321H Round Bars may improve e.g. weldability or structural stability.
Type 321 Stainless Steel Square Bar, UNS S32109 Hex Rods Dealers in India, Stainless 321H Forged Round Bars Distributors, SS 321 Hexagon Bars, SS 321H Welding Rod, UNS S32100 Stainless Steel Polished Bars Stockists in Mumbai.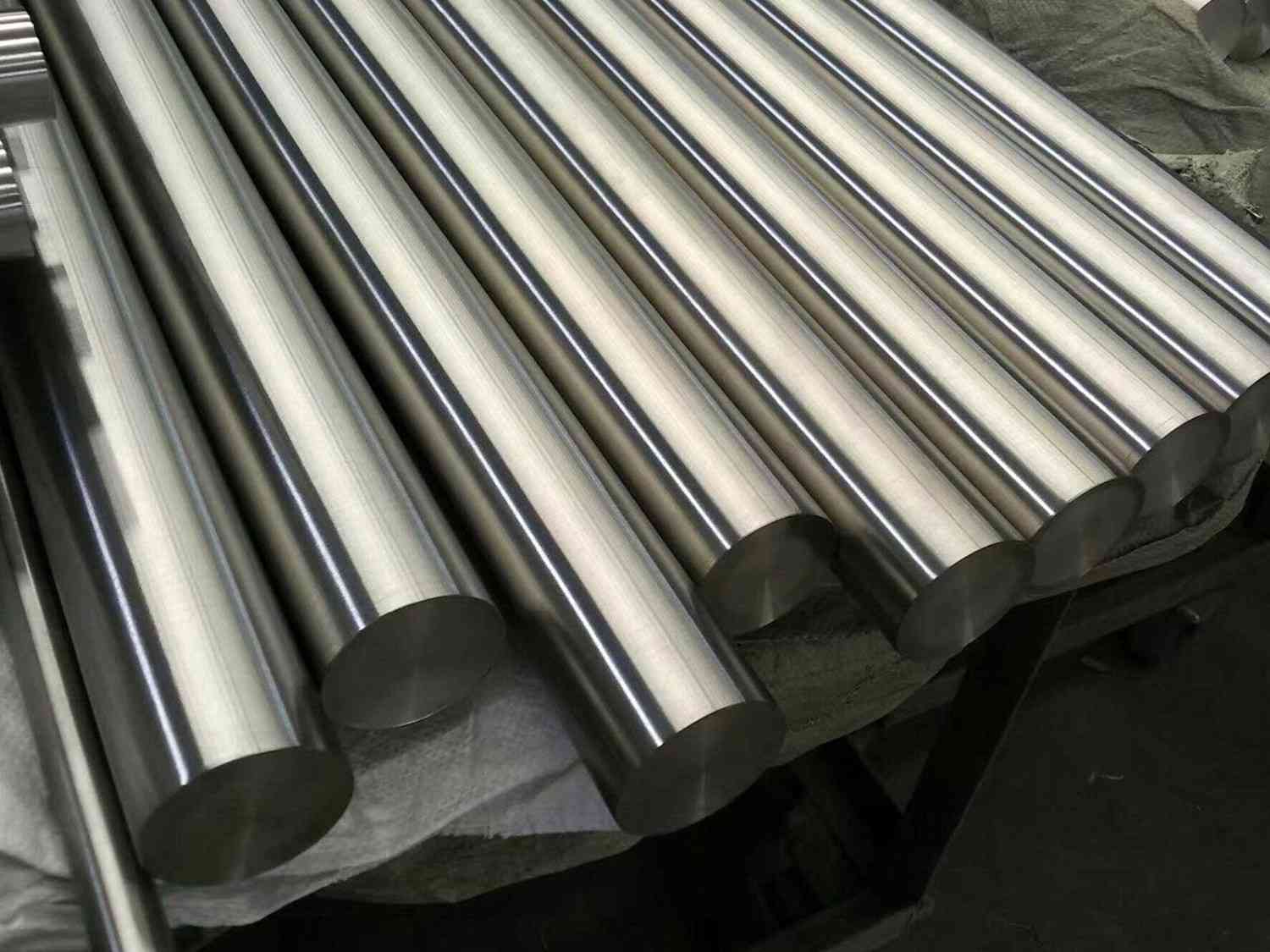 Stainless Steel 321/321H Round Bars
These Stainless Steel 321H Bars is generally used for parts which are intermittently heated up to 1500 degree F, whereas for continuous service, the alloy is good to 1650 degree F. Our Stainless Steel 321H Rods is a general purpose austenitic stainless steel that is stabilized against carbide precipitation and designed to work within the carbide precipitation temperature range 427 Degree C to 816 Degree C (800 Degree F to 1500 Degree F). The cold work hardening rate of these 321H Stainless Steel Bars makes it less machinable than 410 stainless steel, but similar to SS 304.
321H Spring Steel Bar Exporters, DIN 1.4878 Steel Hot-Rolled Round Rods Stockyards, ASTM A479 SS 321H Cold Finish Round Bar, SS 321 Rectangular Bars, ASME SA276 Stainless Steel 321H Octagons Bar, SS DIN 1.4541 Flat Bar Suppliers in Mumbai, 321 Stainless Steel Threaded Rods Traders
Stainless Steel 321/321H Bars Specification
Standard ASTM A276, A479 / ASME SA276, SA479
Range 3.17 MM TO 350 MM DIA
Diameter 25mm to 152mm
Size Tolerance h8, h9(DIN 671), h10, h11, ASTM A484, DIN 1013
Finish Bright, Polish & Black
Form Round, Square, Hex (A/F), Rectangle, Wire (Coil Form), Wiremesh, Billet, Ingot, Forging Etc.,
Condition Cold Drawn & Polished Cold Drawn, Centreless Ground & Polished
Other Services Machining (CNC), Centreless Grinding (CG), Heat Treatment, Anneling, Pickling, Polish, Rolling, Forging, Cutting, Bending, Minor Fabrication
Get Quote
SUS 321/321H Steel Round Bar Equivalent Indian Standard
| | | | | |
| --- | --- | --- | --- | --- |
| STANDARD | WERKSTOFF NR. | UNS | JIS | EN |
| SS 321 | 1.4541 | S32100 | SUS 321 | X6CrNiTi18-10 |
| SS 321H | 1.4878 | S32109 | SUS 321H | X12CrNiTi18-9 |
ASTM A276 Stainless Steel 321/321H Cold Drawn Round Bar Chemical Composition
| | | | | | | | | | |
| --- | --- | --- | --- | --- | --- | --- | --- | --- | --- |
| Grade | C | Mn | Si | P | S | Cr | N | Ni | Ti |
| SS 321 | 0.08 max | 2.0 max | 1.0 max | 0.045 max | 0.030 max | 17.00 - 19.00 | 0.10 max | 9.00 - 12.00 | 5(C+N) – 0.70 max |
| SS 321H | 0.04 – 0.10 | 2.0 max | 1.0 max | 0.045 max | 0.030 max | 17.00 - 19.00 | 0.10 max | 9.00 – 12.00 | 4(C+N) – 0.70 max |
ASME SA276 SS 321/321H Hot-Rolled Round Bars Mechanical Properties
| | | | | |
| --- | --- | --- | --- | --- |
| Density | Melting Point | Tensile Strength | Yield Strength (0.2%Offset) | Elongation |
| 8.0 g/cm3 | 1457 °C (2650 °F) | Psi – 75000 , MPa – 515 | Psi – 30000 , MPa – 205 | 35 % |
Other Types of 321/321H Stainless Steel Round Bars & Rods
Stainless Steel 321 Flat Bars, SS 321H Rectangular Bars vendors, Buy 321H Stainless Steel Threaded Rod, SS 321 Triangle Bars, DIN 1.4541 Round Profile Bars, DIN 1.4878 Stainless Steel Polished Round Bars Stockyard, SS 321H Smooth Turned Round Bars, SS 321 Rough Turned Bar, Stainless steel 321 Peeled Round Bar, SUS 321 SS Threaded Rods, 321H Stainless Steel Octagonal Bars, AISI 321 SS Welding Rods, Stainless Steel 321/321H Bars Manufactures in Mumbai India, Stainless Steel Round Bars, Stainless Steel Round Rods, SS Bars Stockholders, SS Rods Stockists, Cheap Steel Round Bars, Stainless Steel 321 Round Bars, Exporters of SS 321H Forged Round Bars, SS 321 Bright Bars, Austenitic stainless steel 321H Black Round Bars, ASTM A276 Stainless Steel Bars Traders, ASME SA276 Stainless Steel 321 Square Bar, Wrought Steel Bars, ASTM A479 Grade 321H SS hot finished hexagon Rods, ASME SA479 cold finished stainless steel 321H Hex Bars, Lowest Price ASTM A484 wrought stainless steel bars wholesalers, UNS S32100 Cold Drawn Bars, Suppliers of UNS S32109 Hot Rolled Round Bars Distributors in Maharashtra, SS 321/321H Half Round Bars.
We are Suppliers and Exporters of Stainless Steel 321/321H Round Bars in Cities Like
Ulsan, Sydney, Hyderabad, Dallas, Indore, Montreal, New York, Caracas, Navi Mumbai, Kanpur, Ahmedabad, Hong Kong, Nagpur, Kolkata, Doha, Gurgaon, Thiruvananthapuram, Jeddah, Tehran, Kuwait City, Mumbai, Lagos, Atyrau, Nashik, Cairo, Calgary, New Delhi, Aberdeen, Vadodara, Ho Chi Minh City, Manama, Toronto, Granada, Istanbul, Riyadh, Pimpri-Chinchwad, Courbevoie, Rajkot, Los Angeles, Chandigarh, Jamshedpur, Abu Dhabi, Singapore, Rio de Janeiro, Muscat, Perth, Santiago, Ernakulam, Edmonton, Chiyoda, Houston, Hanoi, Noida, Ludhiana, Ahvaz, Seoul, Karachi, Thane, London, Turkey, Bhopal, Secunderabad, Jaipur, Mexico City, Sharjah, Gimhae-si, Kuala Lumpur, Ranchi, Madrid, Busan, Geoje-si, Milan, Haryana, Jakarta, Bengaluru, Australia, Dubai, Vung Tau, Al Khobar, Chennai, La Victoria, Pune, Petaling Jaya, Algiers, Colombo, Baroda, Moscow, Brisbane, Surat, Bogota, Visakhapatnam, Port-of-Spain, Faridabad, Bangkok, Dammam, Lahore, Al Jubail, Howrah, Coimbatore.
We are Suppliers and Exporters of Stainless Steel 321/321H Round Bars in Countries Like
Saudi Arabia, South Africa, Israel, Sri Lanka, Poland, Mongolia, Morocco, Argentina, Sweden, Iran, Hungary, Kazakhstan, Venezuela, Norway, Lebanon, Greece, Ireland, mexico, srilanka, thailand, malaysia, Canada, Azerbaijan, Singapore, Belgium, Australia, Ukraine, Iran, Algeria, Libya, Vietnam, Bahrain, Denmark, Turkey, Finland, Slovakia, Puerto Rico, Mexico, Bangladesh, Estonia, Romania, Spain, Costa Rica, Kenya, Indonesia, Ecuador, Serbia, Thailand, Egypt, Bulgaria, Lithuania, Hong Kong, Switzerland, India, Netherlands, Nigeria, Czech Republic, China, Peru, Tibet, Mexico, Portugal, Gambia, Malaysia, Japan, Nepal, Zimbabwe, Italy, United States, Nigeria, Chile, brazil, Trinidad & Tobago,Tunisia, Bolivia, Taiwan, Qatar, Macau, Afghanistan, Gabon, Oman, Philippines, Namibia, United Arab Emirates, Germany, cyprus, United Kingdom, Belarus, Yemen, South Korea, Russia, Chile, Croatia, Brazil, Bhutan, Ghana, Poland, Colombia, Jordan, Austria, Kuwait, France, New Zealand.