Incoloy Alloy 825 Forgings are specialized pieces of metal forged with high temperatures and pressure. This process creates pieces of metal that are stronger than their starting materials. The process also helps create tight grain structures, which help contribute to the resilience and strength of the forgings. Incoloy 825 Forgings has many excellent properties, making it ideal for use in many different environments. It has excellent corrosion resistance to both acidic and alkaline solutions and good weldability. It also has a high level of ductility, making it easier to shape into complex parts or components. Its toughness at elevated temperatures makes it ideal for high-temperature applications such as heat exchangers and boilers. Finally, its high strength-to-weight ratio can be used in heavier load-bearing applications without compromising strength or durability. Inconel 625 Forgings, Inconel 900 Forgings, and many more grades are also available.
Due to its unique combination of strength, corrosion resistance, weldability, and ductility, Nickel Alloy 825 Forgings can be used in a wide variety of industries, from petrochemical production and power generation to oil & gas production and offshore drilling operations. It is also commonly used in medical equipment, such as surgical instruments, due to its non-toxic nature and ability to withstand sterilization temperatures without becoming deformed or corroded. Also, due to its low carbon content, it can be used safely around food products without risk of contamination or taste alteration by leaching out metals from the forging material. Different types of products are available, such as Stainless Steel 317L Pipe Fittings, ASTM A479 UNS S32760 Stud Bolts, etc.
Incoloy 825 Forging, Alloy 825 Forged Ring Stockists, ASTM B564 UNS N08825 Forgings Manufacturers, ASTM B564 Nickel Alloy 825 Die Forging, Inconel 825 Closed Die Forging, Inconel 825 Forgings, Alloy 825 Hot Forging, Inconel® 825 Machined Hot Forging Dealer, ASME SB564 Incoloy® 825 Upset Forging, Incoloy 825 Forging Suppliers in Mumbai, India.
In addition to the properties, many advantages are associated with using Incoloy UNS N08825 Forgings over other materials like stainless steel or aluminum alloy forgings. One advantage is that they have a higher thermal conductivity, which makes them more efficient at transferring heat away from sensitive components like electrical contacts or pressure-sensitive valves. Incoloy DIN 2.4858 Forgings have higher fatigue life than most other metals meaning they will last longer when subjecting them to cycles between extreme temperatures or pressures which is common in many industrial processes.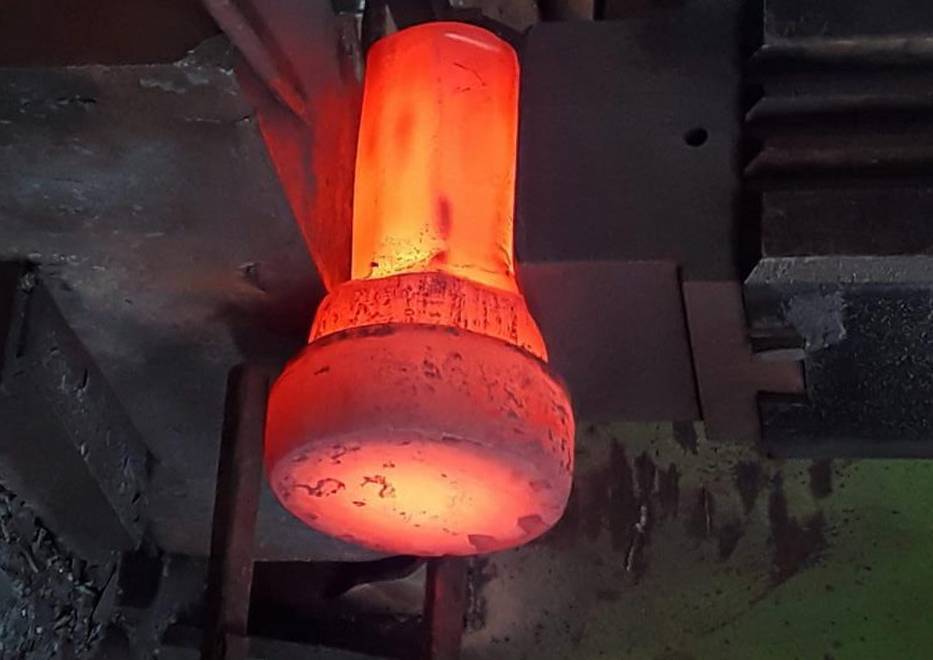 Incoloy 825 Forgings
Also, their superior corrosion resistance makes them ideal for use in harsh environments where regular maintenance may not be possible such as offshore platforms where access is difficult or impossible due to weather conditions or geographical constraints, such as remote locations far from industrial centers with repair facilities nearby making them an increasingly attractive option for many industries today looking for more reliable long-lasting components for their processes.
Manufacturers of Incoloy 825 Alloy Forging, Incoloy 825® Forging Flanges, UNS N08825 Forgings, Incoloy Grades 825 Seamless Rings Forging, Nickel Alloy 825 Forgings, Nickel 825 Circle Forgings, Incoloy Alloy 2.4858 Forgings, Incoloy 825 Bars Forgings Distributor, UNS N08825 Incoloy Sprockets Forging, 825 Incoloy DIN 2.4858 Forged Blocks, Incoloy 825 Forging Exporters.
Common Trade Names: Incoloy 825®, Nickelvac 825, Nicrofer 4241
Are Incoloy 825 suitable for welding?
If proper welding techniques are used, 825 Incoloy can be welded, but preheat and post-weld heat treatment may be required to prevent cracks or distortions. It is also crucial to use a filler metal that is compatible with the fitting's material.
What is the temperature range of Incoloy 825 Forging?
Incoloy 825 Forging can withstand temperatures between 2150 ºF (1180ºC) / 1600ºF (870ºC).
What is the difference between Incoloy 825 and other Incoloy grades?
Incoloy 825 contains high levels of nickel and molybdenum, which provides excellent resistance to both reducing and oxidizing environments, as well as good resistance to stress corrosion cracking. It also has superior resistance to pitting and crevice corrosion over other Incoloy Grades.
Alloy 825 Inconel Forgings, Inco 825 Open Die Forging, 825 Nickel Alloy Forging, Forging Incoloy WNR 2.4858 Shafts Traders, ASTM B564 Alloy 825 Hand Forgings Suppliers, Forged Incoloy 825 Discs, Incoloy 825 Gear Blanks Forgings, Incoloy 825 Circular Plates Forgings.
Incoloy Alloy 825 Forgings Specification
Specifications ASTM B564 / ASME SB564
Flat bar blocks up to 27" width and 15,000 lbs.
Cylinders and sleeves up to 50" maximum O.D. and 65" maximum length
Discs and hubs up to 50" diameter and 20,000 lbs.
Rolled, hand forged or mandrel forged rings up to 84" maximum O.D. and 40" maximum length
Rounds, shafts and step shafts up to 144" maximum length and 20,000 lbs.
Get Quote
Incoloy 825 Equivalent Material of Forging
| | | | | | | | | |
| --- | --- | --- | --- | --- | --- | --- | --- | --- |
| STANDARD | UNS | WNR. | AFNOR | EN | JIS | BS | GOST | OR |
| Alloy 825 | N08825 | 2.4858 | NC22DNB4M | NiCr22Mo9Nb | NCF 825 | NA 21 | ЭП703 | ЭИ602 |
ASTM B564 Incoloy 825 Chemical Composition for Forging
| | | | | | | | | | |
| --- | --- | --- | --- | --- | --- | --- | --- | --- | --- |
| Grade | C | Mn | Si | S | Al | Ti | Fe | Ni | Cr |
| Incoloy 825 | 0.10 max | 0.50 max | 0.50 max | 0.015 max | 0.40 max | 0.40 max | 5.0 max | 58.0 min | 20.0 - 23.0 |
ASME SB564 Incoloy 825 Material Properties for Forging
| | | | | |
| --- | --- | --- | --- | --- |
| Density | Melting Point | Tensile Strength | Yield Strength (0.2%Offset) | Elongation |
| 8.4 g/cm3 | 1350 °C (2460 °F) | Psi - 1,35,000 , MPa -930 | Psi - 75,000 , MPa - 517 | 42.5 % |
Physical Properties of ASME SB564 Incoloy Alloy 825 Forgings
| | |
| --- | --- |
| Density | 8.1 g/cm³ |
| Melting point | 1370-1400℃ |
Other Types of Incoloy 825 Forgings
Incoloy Forgings, High Temperature Alloy 825 Forgings, Incoloy 825 Forgings, Nickelvac® 825 Forgings Importers, Nicrofer 4221® Forgings, Inconel 825 Forgings, Cheap Incoloy 825® Seamless Rolled Ring Forgings, ASTM B564 Incoloy 825 Flat Bars Forgings, UNS N08825 Forgings, DIN 2.4858 Forgings, ASTM B564 Incoloy 825 Hub Forgings, ASME SB564 Incoloy Alloy 825 Blocks Forgings Exporters in Mumbai, Nickelvac® 825 Circles Forgings Traders, Nicrofer 4221® Circular Plates Forging Suppliers, ASME SB564 Incoloy® 825 Forged Ring Forging Stockholders, Incoloy 825 Forged Discs Forgings, Incoloy Alloy 825 Custom Forged Shapes Forgings, Incoloy 825 Gear Blanks Forgings Dealers Maharashtra, Incoloy 825 Shafts Forgings, Incoloy 825 Hollow Bars Forgings, UNS N08825 Incoloy Flanges Forgings, EN 2.4858 Incoloy Sleeves Forging, Nickelvac® 825 Hooks Forgings, ASTM B564 Nicrofer 4221® Forged Cylinders Forgings, Incoloy 825® Blind Hole Cylinders Forgings, Incoloy 825 Forging Billets, ASME SB564 Incoloy 825 Open Die Forging Manufactures in India, Incoloy Alloy 825 Closed Die Forging, Incoloy 825 Forging Rolled Rings, Incoloy 825 Upset Forgings, Incoloy 825 Machined Hot Forgings, Incoloy 825 Hand Forgings, Incoloy 825® Forgings Bars.
Trade Names and Owners of Nickel Alloys
HASTELLOY is a registered trade name of Haynes Intl.
INCOLOY, INCONEL, MONEL and NIMONIC are registered trade names of the INCO family of companies.
INVAR is a registered trademark of Imphy S.A.
MU-METAL is a registered trademark of Telcon Metals Ltd
NICORROS and NICROFER are registered tradenames of Krupp UM GmbH
RENE 41® is a Registered Trade Mark of General Electric Inc.
WASPALOY® is a Registered Trademark of United Technologies Corp.
NITRONIC® is a registered Trade Mark of AK Steel Corporation
ZERON® is a registered trademark of RA Materials
We are Suppliers and Exporters of Incoloy 825 Forgings in Cities Like
Nagpur, Australia, Ranchi, Santiago, Kuala Lumpur, Surat, Ernakulam, Granada, Busan, Baroda, Muscat, Chennai, Pune, Al Jubail, Indore, Secunderabad, Hanoi, Edmonton, Ahmedabad, Kuwait City, Turkey, Istanbul, Noida, Ulsan, Lahore, Doha, Chiyoda, London, Thiruvananthapuram, Bogota, Tehran, Gurgaon, Jamshedpur, Aberdeen, Manama, Geoje-si, New York, Seoul, Milan, New Delhi, Perth, Bengaluru, Madrid, Houston, Ho Chi Minh City, Atyrau, Moscow, Toronto, Vadodara, Jakarta, Riyadh, Lagos, Singapore, Courbevoie, Bhopal, Hyderabad, Algiers, Gimhae-si, Sharjah, Bangkok, Haryana, Dubai, Sydney, Rio de Janeiro, Petaling Jaya, Jeddah, La Victoria, Dammam, Visakhapatnam, Karachi, Kolkata, Faridabad, Vung Tau, Kanpur, Calgary, Dallas, Los Angeles, Ludhiana, Navi Mumbai, Brisbane, Thane, Ahvaz, Howrah, Rajkot, Coimbatore, Nashik, Mumbai, Jaipur, Caracas, Colombo, Abu Dhabi, Hong Kong, Al Khobar, Montreal, Mexico City, Pimpri-Chinchwad, Chandigarh, Cairo, Port-of-Spain.
We are Suppliers and Exporters of Alloy 825 Forgings in Countries Like
Ukraine, Ecuador, Brazil, Mexico, Sweden, Macau, Chile, Sri Lanka, Serbia, Argentina, Indonesia, Slovakia, United States, Chile, India, Denmark, Gabon, brazil, mexico, srilanka, thailand, malaysia, Mongolia, Kazakhstan, Colombia, Switzerland, Belgium, Singapore, Gambia, Austria, Bhutan, Croatia, Turkey, Ireland, Egypt, Bangladesh, United Kingdom, Lebanon, Philippines, Iran, Nepal, Namibia, Finland, Germany, Belarus, South Africa, Qatar, Canada, Spain, Puerto Rico, Norway, Czech Republic, Trinidad & Tobago,Tunisia, Tibet, Malaysia, Morocco, Yemen, France, Vietnam, Bulgaria, Thailand, Bolivia, Kenya, Ghana, Poland, Nigeria, Poland, Venezuela, Portugal, Hong Kong, Costa Rica, Nigeria, Japan, Mexico, Estonia, Taiwan, Azerbaijan, New Zealand, Lithuania, Romania, Oman, Hungary, Netherlands, Algeria, Bahrain, China, Kuwait, Greece, United Arab Emirates, Afghanistan, Russia, Italy, Zimbabwe, Saudi Arabia, Libya, Iran, Israel, South Korea, Australia, Peru, cyprus, Jordan.