In addition to sheets, bars and plates, Renine Metalloys stocks commercial and industrial clients with high-quality Inconel® 617 forgings.
What is Inconel 617 Material?
It is a high-temperature nickel-chromium-cobalt-molybdenum alloy with an exceptional combination of metallurgical stability, high-temperature strength, & resistance to oxidation at temperatures up to 2000°F (1093°C). It is an alloy of 22% chromium, 12% cobalt, 9% molybdenum, and smaller amounts of iron, silicon, carbon, aluminium, titanium, & other elements. The alloy has high resistance to both carburization and oxidation in high-temperature environments. It is commonly used in gas turbine components, heat-treating fixtures, and petrochemical processing equipment.
Forging Inconel 617 Properties
Inconel 617 is a popular choice for forging because of its impressive strength and flexibility at high temperatures. It can endure the heat produced during forging without warping and can be molded into different shapes with ease. Moreover, Alloy 617 is resistant to oxidation and carburization, making it perfect for forging applications that require high temperatures. Its metallurgical stability guarantees consistent properties during the forging process, leading to top-notch forgings with exceptional mechanical properties.
Inconel 617 Forging, Inconel 617 Forging Manufacturers in India, Alloy 617 Forged Ring, Nickel Alloy 617 Machined Hot Forging Dealer, ASTM A564 UNS N06617 Forgings, AMS 5887 Nickel Alloy 617 Upset Forging Suppliers in Mumbai.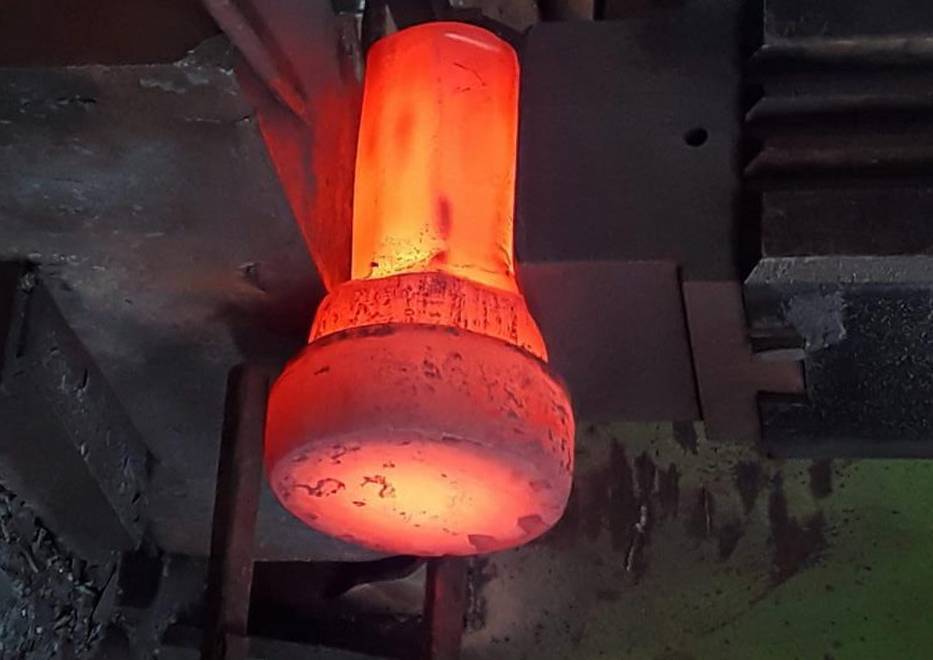 Inconel 617 Forgings
Inconel 617 Forging Temperature Range
When it comes to forging this alloy, it requires specific temperature ranges and controlled cooling to ensure its strength is not compromised. Inconel 617 is mainly forged at 2200 ºF (1010)ºC to 1850ºF (1205ºC), with lighter reductions possible down to 1700ºF (925ºC).
Heat treatment of inconel 617 forgings typically involves solution treatment at temperatures ranging from 2050°F to 2150°F followed by air or water quenching. This process helps to prevent the formation of harmful carbide phases and enhances the alloy's corrosion resistance.
Inconel 617® Nickel Alloy Forging Flanges, Forging Inconel 617 Seamless Rings Stockist, Inconel® 617 Circle Forgings, Forged Inconel 617 Bars Wholesaler, UNS N06617 Inconel Sprockets Forging, Inconel 2.4663 Forged Blocks Exporters, Inconel 617 Forging Exporters.
Inconel 617 forgings exhibit excellent machinability due to their high nickel and chromium content. With their exceptional strength and machinability, 617 forgings are highly valuable in the aerospace, energy, and chemical manufacturing industries. The team at Renine Metalloys specializes in producing the best quality nickel alloy n06617 forgings with unparalleled precision and efficiency.
When it comes to weldability, 617 is generally regarded as weldable using techniques such as gas tungsten arc welding and gas metal arc welding. However, due to the presence of high levels of carbon and other alloying elements, preheating may be necessary to avoid cracking and ensure optimal weld quality. Despite these challenges, the high strength and corrosion resistance of 617 makes it a popular choice in industries such as aerospace and power generation.
Inconel 617 Alloy Open Die Forging, 617 Inconel Closed Die Forging, 617 Inconel® Alloy Shafts Forging Traders, ASTM B564 Inconel 617 Hand Forgings, Inco 617 Forged Discs, Inconel 617 Gear Blanks Forgings, Inconel 617 Circular Plates Forgings Distributors.
Common Trade Names: Inconel 617®, Nicrofer® 617
Inconel 617 forgings offer many benefits over other materials due to their high-temperature strength, resistance to oxidation and carburization, and superior resistance to stress-corrosion cracking and pitting in high-purity environments. They are available in various shapes and sizes, making them suitable for a wide range of applications.
What are Inconel 617 forgings used for?
Inconel 617 forgings are used in a wide range of high-temperature applications, including gas turbine engines, chemical processing, and aerospace components. They are also used in petrochemical processing, power generation
What are the advantages of using Inconel 617 forgings?
Inconel 617 forgings offer excellent high-temperature strength and resistance to oxidation, carburization, and other forms of high-temperature corrosion. They also have good ductility and toughness, which makes them ideal for use in high-stress applications. Additionally, they can be forged into complex shapes and designs
What are the different types of Inconel 617 forgings?
Inconel 617 forgings come in various shapes and sizes, including rings, discs, shafts, and custom shapes. They can be customized to meet specific requirements, such as size, weight, and dimensional tolerances.
Inconel Alloy 617 Forgings Specification
Specifications ASTM B564 / ASME SB 564, AMS 5887
Flat bar blocks up to 27" width and 15,000 lbs.
Cylinders and sleeves up to 50" maximum O.D. and 65" maximum length
Discs and hubs up to 50" diameter and 20,000 lbs.
Rolled, hand forged or mandrel forged rings up to 84" maximum O.D. and 40" maximum length
Rounds, shafts and step shafts up to 144" maximum length and 20,000 lbs.
Get Quote
Inconel 617® Forgings Equivalent Indian Standard
| | | |
| --- | --- | --- |
| STANDARD | UNS | WNR. |
| Alloy 617 | N06617 | 2.4663 |
ASTM B564 Inconel 617 Forgings Chemical Composition
| | | | | | | | | | | | | |
| --- | --- | --- | --- | --- | --- | --- | --- | --- | --- | --- | --- | --- |
| C | Mn | S | Si | Cr | Mo | Ni | Cu | Ti | Al | B | Co | Fe |
| 0.05-0.15 | 1.0 Max | 0.015 Max | 1.0 Max | 20.0-24.0 | 8.0-10.0 | 44.5 Min | 0.5 Max | 0.6 Max | 0.8-1.5 | 0.006 Max | 10.0-15.0 | 3.0 Max |
ASME SB564 Inconel Alloy 617 Forgings Mechanical Properties
| | | | | |
| --- | --- | --- | --- | --- |
| Density | Melting Point | Tensile Strength | Yield Strength (0.2%Offset) | Elongation |
| 8.1 g/cm3 | 1411 °C (2571 °F) | Psi – 80,000 , MPa – 550 | Psi – 30,000 , MPa – 205 | 30 % |
Other Types of Inconel 617 Forgings
Inconel Forgings, High Temperature Alloy 617 Forgings, Inconel 617 Forgings, Pyromet® 617 Forgings Importers, Nicrofer® 617 Forgings, Cheap Inconel 617® Seamless Rolled Ring Forgings, AMS 5887 Inconel 617 Flat Bars Forgings, UNS N06617 Forgings, DIN 2.4663 Forgings, ASTM B564 Inconel 617 Hub Forgings, ASME SB564 Inconel Alloy 617 Blocks Forgings Exporters in Mumbai, Pyromet® 617 Circles Forgings Traders, Nicrofer® 617 Circular Plates Forging Suppliers, Inconel® 617 Forged Ring Forging Stockholders, Inconel 617 Forged Discs Forgings, Inconel Alloy 617 Custom Forged Shapes Forgings, Inconel 617 Gear Blanks Forgings Dealers Maharashtra, Inconel 617 Shafts Forgings, Inconel 617 Hollow Bars Forgings, UNS N06617 Inconel Flanges Forgings, EN 2.4663 Inconel Sleeves Forging, Pyromet® 617 Hooks Forgings, ASTM B564 Nicrofer® 617 Forged Cylinders Forgings, Inconel 617® Blind Hole Cylinders Forgings, Inconel 617 Forging Billets, ASME SB564 Inconel 617 Open Die Forging Manufactures in India, Inconel Alloy 617 Closed Die Forging, Inconel 617 Forging Rolled Rings, Inconel 617 Upset Forgings, Inconel 617 Machined Hot Forgings, Inconel 617 Hand Forgings, Inconel 617® Forgings Bars.
Trade Names and Owners of Nickel Alloys
HASTELLOY is a registered trade name of Haynes Intl.
INCOLOY, INCONEL, MONEL and NIMONIC are registered trade names of the INCO family of companies.
INVAR is a registered trademark of Imphy S.A.
MU-METAL is a registered trademark of Telcon Metals Ltd
NICORROS and NICROFER are registered tradenames of Krupp UM GmbH
RENE 41® is a Registered Trade Mark of General Electric Inc.
WASPALOY® is a Registered Trademark of United Technologies Corp.
NITRONIC® is a registered Trade Mark of AK Steel Corporation
ZERON® is a registered trademark of RA Materials
We are Suppliers and Exporters of Inconel 617 Forgings in Cities Like
Dammam, Kuwait City, Montreal, Colombo, Kanpur, Houston, Hanoi, Indore, Ahmedabad, Perth, New Delhi, Los Angeles, Geoje-si, Howrah, Abu Dhabi, New York, Riyadh, Baroda, Turkey, Bangkok, Ranchi, Atyrau, Calgary, Nashik, Port-of-Spain, Al Khobar, Dallas, Rio de Janeiro, Lahore, Caracas, Kolkata, Busan, Hong Kong, Noida, Pimpri-Chinchwad, Navi Mumbai, Ulsan, Ludhiana, Karachi, Secunderabad, Madrid, Nagpur, Rajkot, Ernakulam, Petaling Jaya, Doha, Jeddah, Dubai, Coimbatore, Al Jubail, London, Mumbai, Pune, Vadodara, La Victoria, Cairo, Chiyoda, Australia, Seoul, Singapore, Tehran, Moscow, Thane, Granada, Courbevoie, Ho Chi Minh City, Aberdeen, Toronto, Jaipur, Gimhae-si, Edmonton, Bhopal, Kuala Lumpur, Brisbane, Bogota, Jamshedpur, Algiers, Ahvaz, Thiruvananthapuram, Lagos, Surat, Chennai, Jakarta, Chandigarh, Istanbul, Milan, Santiago, Muscat, Visakhapatnam, Manama, Faridabad, Vung Tau, Haryana, Mexico City, Sharjah, Sydney, Bengaluru, Gurgaon, Hyderabad.
We are Suppliers and Exporters of Inconel Alloy 617 Forgings in Countries Like
Mexico, Japan, Colombia, Gabon, Portugal, brazil, Nepal, Italy, Iran, Russia, Romania, Macau, Costa Rica, Netherlands, Hong Kong, Ecuador, Kazakhstan, Lithuania, mexico, srilanka, thailand, malaysia, Bolivia, Australia, Estonia, Bhutan, Denmark, Zimbabwe, Nigeria, China, Belgium, Ghana, Peru, Finland, Yemen, Mongolia, Mexico, Spain, Trinidad & Tobago,Tunisia, Indonesia, New Zealand, South Africa, Azerbaijan, Sweden, Libya, Algeria, Bangladesh, Serbia, Argentina, Venezuela, Turkey, Slovakia, Canada, Israel, Norway, Brazil, Taiwan, Philippines, Poland, Namibia, Oman, Qatar, Gambia, Chile, Jordan, Nigeria, South Korea, India, Morocco, Croatia, Singapore, Chile, Afghanistan, Lebanon, Ireland, United States, Kuwait, Sri Lanka, Ukraine, cyprus, Kenya, Austria, Bahrain, United Kingdom, Hungary, Greece, Malaysia, Iran, Puerto Rico, Czech Republic, Saudi Arabia, Belarus, France, Germany, Poland, United Arab Emirates, Thailand, Tibet, Bulgaria, Vietnam, Egypt, Switzerland.