Inconel X750® Forgings, Nickelvac® X750 Forgings, Haynes X750® Forgings, Inconel Forgings, Alloy X-750 Forged Rolled Ring Suppliers, AMS 5668 Nickel Alloy UNS N07750 Forgings, ASTM B637 Inconel X-750 Die Forging, Nickel Alloy X750 Machined Hot Forging Dealer, ASME SB637 Inconel® X750 Upset Forging Stockists in Mumbai, India.
High Temperature Inconel X750 Alloy Forging, Inconel X750® Forging Flanges, Inconel X-750 Seamless Rings Forging Suppliers, Inconel® X750 Circle Forgings, Inconel X750 Bars Forgings Wholesaler, UNS N07750 Inconel Sprockets Forging, Inconel DIN 2.4669 Forged Blocks Exporters.
Renine Metalloys is a prominent supplying unit of Inconel Alloy X-750 Forgings, which is a precipitation hardenable nickel-chromium superalloy. Nickel X-750 Forgings is widely used for high temperature conditions but is not as strong as Nimonic 90. The excellent relaxation of Nickel Alloy X-750 Forgings resistance is useful for high-temperature springs and bolts. Inconel X-750 Forged Flat Bars has good resistance to corrosion and oxidation along with high tensile and creep rupture properties at temperature up to 700 Degree C. Although much of the effect of precipitation hardening is lost with increasing temperature over 1300 Degree F, heat-treated material like Inconel X-750 Forged Blocks has useful strength up to 1800 Degree F. Inconel X-750 Forged Circles is very good at cryogenic temperatures and has high temperature dynamic applications. Inconel X-750 Forged Discs is a precipitation-hardenable alloy which has been used in applications such as high temperature structural members for jet engine parts, gas turbines, nuclear power plant applications, forming tools, heat-treating fixtures, and extrusion dies.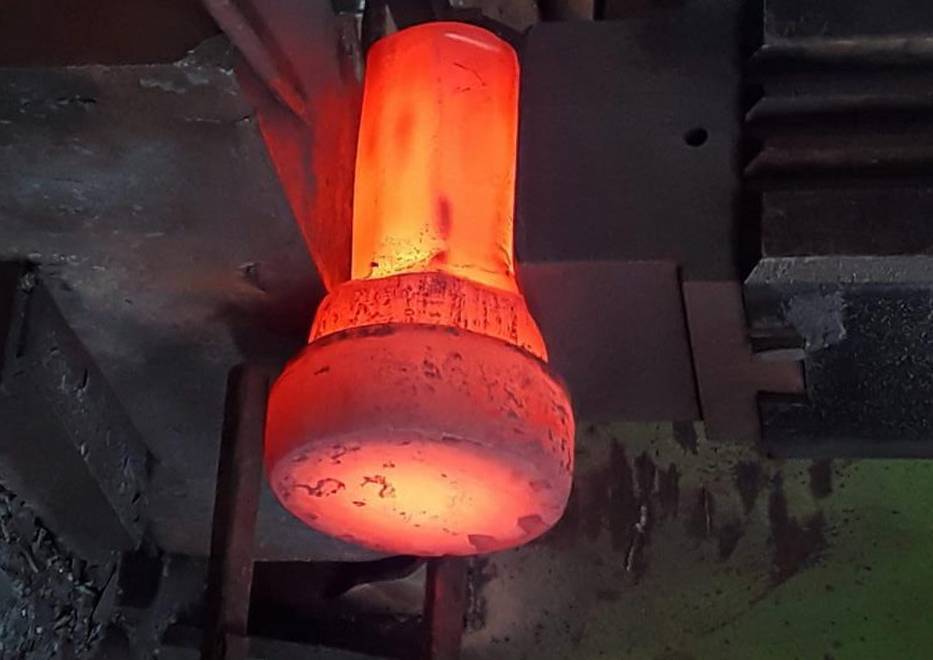 Inconel X750 Forgings
Inconel X-750 Forged Circular Plates is often used in Oil & Gas Extraction and Processing, Aerospace, Nuclear, Power Generation and Automotive. Inconel X-750 Forged Shafts has high strength at temperatures to 1500 Degree F (816 Degree C) after suitable heat treatment. Inconel X-750 Hollow Bars can be hardened by: Cold Working, Age Hardening, and Cold Working followed by Age Hardening. Inconel UNS N07750 Forgings is ordered to specific decimal thicknesses and can also be slit to your desired width.
Pyromet® X750 Open Die Forging, Inconel X750 Closed Die Forging, Inconel® Alloy X-750 Shafts Forging Traders, ASTM B637 Nicorros® 7016 Hand Forgings Suppliers, Inconel X750 Forged Discs Forgings, Inconel X-750 Gear Blanks Forgings, Inconel X750 Circular Plates Forgings Exporters.
Inconel Alloy X750 Forgings Specification
Specifications ASTM B637 / ASME SB637, AMS 5667, 5668, 5669, AMS 5670, AMS 5671, AMS 5747
Flat bar blocks up to 27" width and 15,000 lbs.
Cylinders and sleeves up to 50" maximum O.D. and 65" maximum length
Discs and hubs up to 50" diameter and 20,000 lbs./p>
Rolled, hand forged or mandrel forged rings up to 84" maximum O.D. and 40" maximum length
Rounds, shafts and step shafts up to 144" maximum length and 20,000 lbs.
Get Quote
Inconel X750® Forgings Equivalent Indian Standard
| | | |
| --- | --- | --- |
| STANDARD | UNS | WNR. |
| Inconel X-750 | N07750 | 2.4669 |
ASTM B637 Inconel X750 Forgings Chemical Composition
| | | | | | | | | | | | |
| --- | --- | --- | --- | --- | --- | --- | --- | --- | --- | --- | --- |
| Al | C | Cr | Co | Cu | Fe | Mn | Nb | Ni | Ti | S | Si |
| 0.40-1.0 | .08 max | 14.0-17.0 | 1.00 max | 0.50 max | 5.0-9.0 | 1.00 max | 0.70-1.20 | 70.0 min | 2.25-2.75 | .01 max | .50 max |
ASME SB637 Inconel Alloy X750 Forgings Mechanical Properties
| | | |
| --- | --- | --- |
| Ultimate Tensile Strength | .2% Yield Strength | Elongation % |
| 1250 MPa, 181000 psi | 850 MPa, 123000 psi | 30 |
Other Types of Inconel X750 Forgings
Inconel Forgings, High Temperature Alloy X750 Forgings, Inconel X750 Forgings, Nickelvac® X750 Forgings Importers, Haynes X750® Forgings, Cheap Inconel X750® Seamless Rolled Ring Forgings, AMS 5668 Inconel X750 Flat Bars Forgings, Pyromet® X750 Forgings, Nicorros® 7016 Forgings, UNS N07750 Forgings, DIN 2.4669 Forgings, ASTM B637 Inconel X750 Hub Forgings, ASME SB637 Inconel Alloy X750 Blocks Forgings Exporters in Mumbai, Nickelvac® X750 Circles Forgings Traders, Haynes X750® Circular Plates Forging Suppliers, Inconel® X750 Forged Ring Forging Stockholders, Inconel X-750 Forged Discs Forgings, Inconel Alloy X-750 Custom Forged Shapes Forgings, Inconel X750 Gear Blanks Forgings Dealers Maharashtra, Inconel X750 Shafts Forgings, Inconel X750 Hollow Bars Forgings, UNS N07750 Inconel Flanges Forgings, EN 2.4669 Inconel Sleeves Forging, Nickelvac® X750 Hooks Forgings, ASTM B637 Haynes X750® Forged Cylinders Forgings, Inconel X-750® Blind Hole Cylinders Forgings, Inconel X750 Forging Billets, ASME SB637 Inconel X-750 Open Die Forging Manufactures in India, Inconel Alloy X750 Closed Die Forging, Inconel X-750 Forging Rolled Rings, Inconel X750 Upset Forgings, Inconel X750 Machined Hot Forgings, Inconel X750 Hand Forgings, Inconel X750® Forgings Bars.
Trade Names and Owners of Nickel Alloys
HASTELLOY is a registered trade name of Haynes Intl.
INCOLOY, INCONEL, MONEL and NIMONIC are registered trade names of the INCO family of companies.
INVAR is a registered trademark of Imphy S.A.
MU-METAL is a registered trademark of Telcon Metals Ltd
NICORROS and NICROFER are registered tradenames of Krupp UM GmbH
RENE 41® is a Registered Trade Mark of General Electric Inc.
WASPALOY® is a Registered Trademark of United Technologies Corp.
NITRONIC® is a registered Trade Mark of AK Steel Corporation
ZERON® is a registered trademark of RA Materials
We are Suppliers and Exporters of Inconel X750 Forgings in Cities Like
Jakarta, Rio de Janeiro, Istanbul, Thiruvananthapuram, Caracas, Noida, Jamshedpur, Al Khobar, Perth, Port-of-Spain, Abu Dhabi, Pimpri-Chinchwad, Colombo, Madrid, Granada, Dallas, Busan, Sharjah, La Victoria, Lagos, Secunderabad, Riyadh, Kolkata, Gurgaon, Nagpur, Al Jubail, Howrah, Bhopal, Ranchi, Jeddah, Los Angeles, Cairo, Surat, Thane, Ahmedabad, Vung Tau, Bengaluru, Tehran, Pune, Ludhiana, Haryana, Bangkok, Hyderabad, Dammam, Karachi, Chandigarh, Mumbai, Toronto, Petaling Jaya, Indore, Singapore, Sydney, Bogota, Ho Chi Minh City, Navi Mumbai, Gimhae-si, Turkey, Rajkot, Jaipur, Santiago, Houston, Ahvaz, Kuwait City, Mexico City, Australia, Seoul, Manama, Nashik, Chiyoda, Milan, Montreal, Moscow, Lahore, Hong Kong, Doha, London, Muscat, Hanoi, Edmonton, Aberdeen, Geoje-si, Algiers, Coimbatore, Ulsan, Faridabad, Vadodara, Atyrau, Visakhapatnam, Kuala Lumpur, Courbevoie, Brisbane, Dubai, Chennai, New York, Calgary, Kanpur, Ernakulam, Baroda, New Delhi.
We are Suppliers and Exporters of Inconel Alloy X750 Forgings in Countries Like
Romania, Singapore, Mexico, Indonesia, Egypt, Malaysia, Yemen, Austria, Croatia, Serbia, United Kingdom, Greece, Portugal, Ghana, Peru, Vietnam, Bhutan, Afghanistan, Ukraine, India, Sweden, Namibia, Tibet, Iran, Bangladesh, Netherlands, Ecuador, Saudi Arabia, Hungary, Mongolia, Oman, Libya, Australia, Nigeria, cyprus, Nepal, Brazil, France, Switzerland, Belarus, Japan, United States, Taiwan, Azerbaijan, Germany, Philippines, Macau, Morocco, brazil, Lebanon, Trinidad & Tobago,Tunisia, Puerto Rico, Bahrain, Norway, Ireland, Thailand, Finland, Poland, Zimbabwe, Chile, Qatar, Italy, Belgium, Lithuania, Chile, Iran, Bulgaria, Argentina, Czech Republic, Gambia, South Africa, Costa Rica, Canada, South Korea, Bolivia, Russia, China, Israel, Kuwait, Sri Lanka, Mexico, Hong Kong, Nigeria, Denmark, New Zealand, Gabon, Spain, Poland, Kenya, Algeria, mexico, srilanka, thailand, malaysia, Colombia, Estonia, Jordan, Venezuela, Kazakhstan, Turkey, Slovakia, United Arab Emirates.